Quotes About Photography & What You Can Learn from Them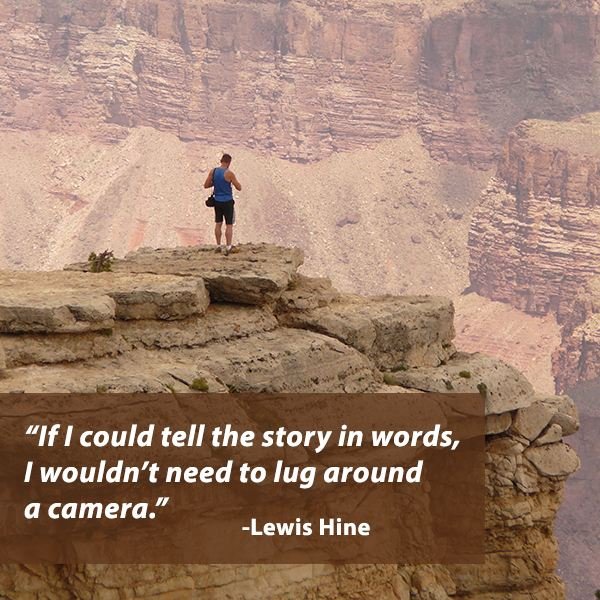 If you are a photographer yearning to learn more about photography, it is good to learn some philosophical points of view in addition to technical knowledge. Here are some quotes about photography, what they mean and what you can learn from them,
"Photography is an ambiguous challenge to chance." - Guy Le Querrec
What this quote means is that photography, no matter how technical it can be when it comes to equipment, is never an exact science. Most of the time, beautiful photos are products of great skill and chance.
"Twelve significant photographs in any one year is a good crop." - Ansel Adams
This saying offers the ugly truth that even though you are a very good photographer, in your eyes or in other people's, it does not mean that you can consistently churn out significant photos after significant photos. Of course, great photographers can constantly produce beautiful photographs, but it takes more than beauty to make a photograph relevant and significant.
"You don't take a photograph; you make it." - Ansel Adams
This is another great piece of wisdom about photography from Ansel Adams. With this quote, he tells other photographers that they should be aware of what makes a great photo so that before they take a photograph, they are already fully aware of all the elements that would make that shot great. It is not just about pointing and shooting at something that remotely looks interesting.
"Which of my photographs is my favorite? The one I'm going to take tomorrow." - Imogen Cunningham
As a photographer, you should never settle on your current skills. If you fall in love with your current style and your current works, you will find it hard to develop new skills and new styles. You will find it hard to grow as a photographer. Your talent will be stagnant and eventually, your skills in photography will die.
"Your first 10,000 photographs are your worst." - Henn Cartier-Bresson
It will take a lot of practice and time before you can be truly satisfied with how your talent in photography has developed. That is what the quote is talking about and that is what photographers, especially beginners, should remember. Taking a lot of photos and evaluating them in an objective manner is an effective way of improving one's skills in photography.
"If I could tell the story in words, I wouldn't need to lug around a camera." - Lewis Hine
It is often said that a picture is worth a thousand words and that is the essence of this quote. By taking one photo, a photographer can tell an entire story with depth. There are stories that cannot be described in words, so it is up to the photographer to show the story through a photo. It is the photographer's job to focus on the story and sow everything that makes it interesting.
"No place is boring if you've had a good night's sleep and have a pocket full of unexposed film." - Robert Adams
The message, the story and the visual impact of a photo does not just rely on the subject. The subject can any of the most ordinary things in everyday life. It is the photographer that adds character and enhances the already existing beauty of everyday things.
"My portraits are more about me than they are about the people I photograph." - Richard Avedon
Photography can be a great tool for self-expression, and that is what this quote from Richard Avedon teaches photographers. Taking photos can be a job, but as something to express one's self, it can speak volumes with one's sense of style and personality.
"A photograph that has not been shared or at least printed is almost an unexistent photograph, is almost an untaken picture." - Sergio Garibay
Photos are meant to be shared and displayed according to this quote. It almost loses its purpose and worth if it is not seen by anyone other than the person who took the photo. This is a lesson for photographers that tells them that they should share their photos because they are meant to be seen and admired by other people.
"The trouble with photographing beautiful women is that you never get into the dark room until after they've gone." - Yousuf Karsh
One of the things Yousuf Karsh could be saying with this quote is that photographers can sometimes enjoy the whole process of photography so much that they forget the other forms of beauty around them. It can serve as a warning to photographers that they can easily lose themselves in the whimsical world of photography. It is definitely one of the quotes about photography that can be interpreted in many ways.
References
https://www.quotegarden.com/photography.html
https://www.digital-photography-school.com/photography-quotes