How to Make A Watermark Using Adobe Photoshop Elements 6.0 - Part 2 - Photoshop Elements Tutorial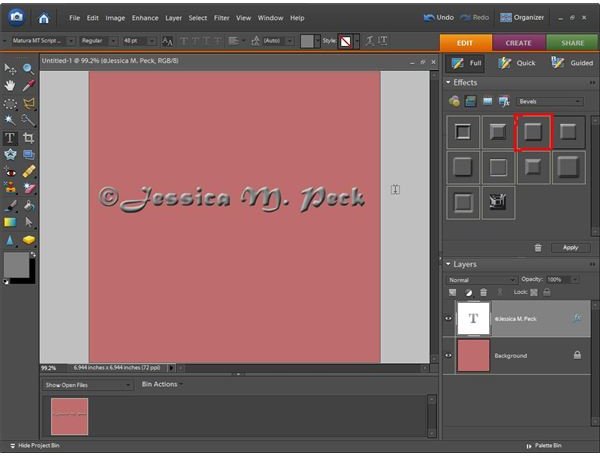 Adding The 3-D Effect To Your Watermark
From the Effects panel select the Bevel option. Double click on Simple Inner (highlighted in red below) and the effect will be added to your text. Alternatively, you can drag and drop the Simple Inner Bevel onto your canvas. Now, click the "FX" within your layers palette to bring up the options menu. Set the size of the Bevel to 0 pixels (the default is usually 5 pixels) and then click OK. To make the watermark transparent, change the mode of your layer from "Normal" to "Hard Light" by clicking on the drop-down menu in your layers palette (shown in the photo below.) Once the watermark is finished to your liking, go to the File menu and choose save giving the watermark a title such as "Joe's watermark" or just simply "watermark."
Creating A Watermark Help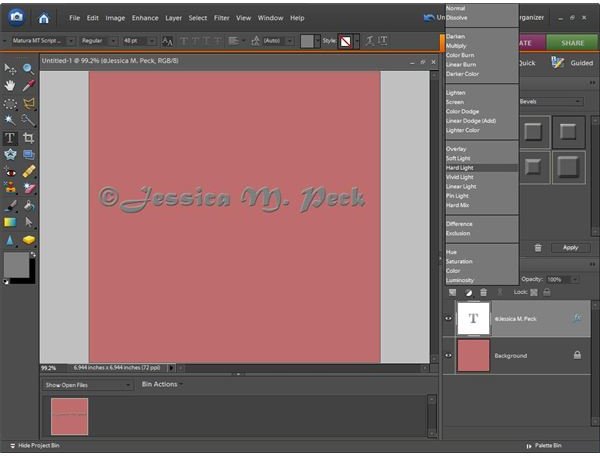 Adding Your Watermark To A Photo
Once you've created your watermark you can add it to your photo. Go to your File menu and choose "Open." Choose a photo that you'd like to add the watermark to and open that file. Go back to your watermark document and click on the Move tool (the icon that looks like an arrow with a compass next to it). Drag your watermark to your photo in the Bin at the bottom of your screen. This will bring up your photo and allow you to drag and re-size your watermark. Once you're happy with the placing, click the green checkmark.
Saving For The Web
To save your file, go to the File menu and click on "Save for web." Give the photo a specified height and width (500 pixels or so is fine for the web) make sure the photo is set to JPEG high quality from the drop down menu shown in the photo below, and click OK. Give your file a name such as "flowers with watermark" or anything else describing the photo, and click Save.
Creating A Watermark Help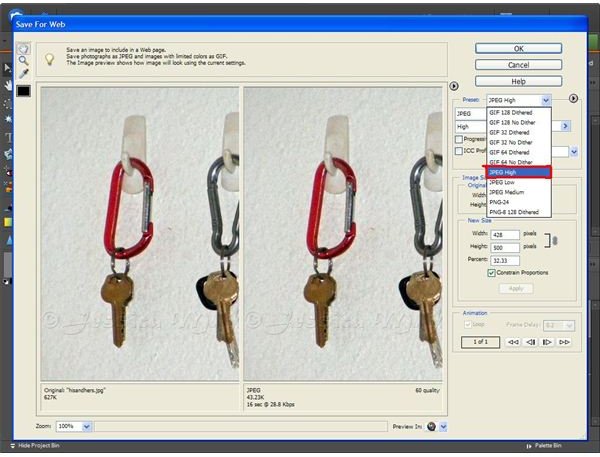 Why Use A Watermark?
People use watermarks for many reasons. The most common reason is to stop thieves on the web from using your photograph and either marketing it as their own, or using it for monetary gain. With a watermark, people can still use your photo, but it will have a mark stating that it's yours, rather than allowing them to claim it as their own work.
Watermarks can also be used to mark your photo as a "sample" on a webpage so that people know that is not the actual size, color, or photograph that they will be ordering. This is common when people have a lot of products they offer. It's much easier to mark one photo as a sample than to watermark each photo of each product individually.
For more information on watermarks, what information you should include in your watermark and where within your image you should place your watermark, please read Visible Watermarks and Your Photos – The Benefits of Watermarking Your Images and What You Should Include
This post is part of the series: Creating and Adding A Watermark to Your Photos Using Adobe Photoshop Elements
ThisPhotoshop Elements tutorial series will explain to you in layman's terms how to create a watermark using Adobe Photoshop Elements 6.0, how to add a watermark to your images and what watermarks are used for.