Power Tab Editor Review - Make Your Own Tablature Files with This Free Music Editor
Power Tab Introduction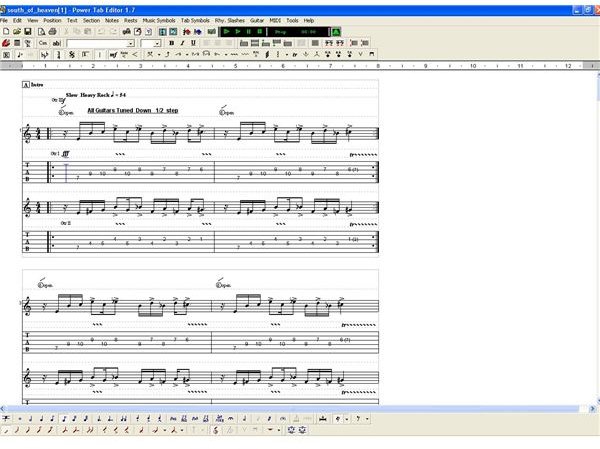 The first thing you'll notice about using Power Tab is it features a word processor-like interface which makes it easy to use but intimidating if you don't have much knowledge of writing music. You can enter in any tablature notes and have them displayed along with the regular music on the staff. At the bottom of the editor is a handy note selector so you can add different note values to your song. Time signatures, tempo, chords, new music bars, and text are all easily added into your work. You'll find a chord dictionary for finding chords, different tunings, score checking for music accuracy, and a score polisher to get your music ready for printing. You can also import and export MIDI files of your work from the editor.
Ease of Use (3 out of 5)
Power Tab Editor isn't for everyone and if you are new to making music with tablature you might have problems with all the features. Musicians who have been playing for a while should have no trouble creating files suitable for printing. The score checker and polisher does make it easy to figure out where you went wrong in your work and quickly correct the mistake whether it's a timing issue, or a misplaced note.
Key Features (4 out of 5)
The Power Tab Editor has a number of great features:
Easily create both guitar and bass tablature and have your work displayed as tab and regular music.
Add timing, note values, key signatures, insert and move new music bars.
Full selection of tablature symbols such as hammers, pulls, bend variations, palm muting, legato slides, and tapping.
Chord dictionary makes it easy to add chords to your work and you can add chord names above your music.
Playback your work via MIDI.
Print great looking scores complete with chords at the top of the page.
My Impressions (4 out of 5)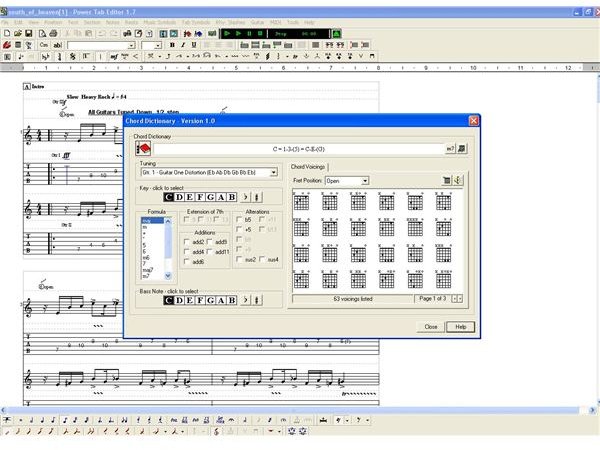 As a guitar player and teacher I still use Power Tab Editor. The program has been around for several years but it works well. The editor never crashes, doesn't eat my RAM, loads quickly, and does what I need. Whether I'm writing a song for a student, making a scale sheet, or creating riffs, the editor is there to help me create the tablature and print it for my lessons. I like the word processor-like interface since it's much like creating a document only with music. On the negative side is that the sound output is quite weak so don't expect great quality, but the music will sound like the song your trying to play. The program also has no support for drum tracks. It can take time to get used to this program so don't get frustrated.
Price to Value (5 out of 5)
In the price to value category Power Tab Editor shines because it's freeware. No fees, no subscription, just a good free music program. You won't find much support since it's quite old but it should work on newer systems. The program doesn't have the advanced features of software like Guitar Pro, but for a freeware program to edit tablature it shines.
You can download Power Tab Editor here.