Cool Record Edit Deluxe Review - A Versatile Audio Program with Generous Features
Introduction
Cool Record Edit Deluxe works with Windows 7, Vista, XP, 2003 or 2000. The system requirements are a bit on the up side. It requires a processor speed of at least 2 GHz and 512MB RAM. If you're using a new computer you would not have a problem fulfilling these requirements.
Cool Record Edit Deluxe retails for $39.95 at the time of writing, available in English and French. A trial version is available for download (19.5 MB) at the developer's website, valid for 30 days. You can use it like the full version but the `Save File As' function is disabled.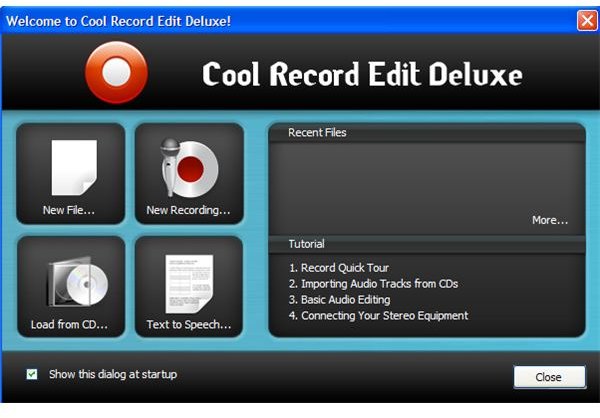 Launching Cool Record Edit Deluxe brings up a wizard window that allows you quick access to these functions – new file, new recording, load from CD and text to speech.
The wizard window also gives you access to the program tutorials. You can choose to remove this window. Just untick the `show this dialog at the startup' box.
Interface (5 out of 5)
Cool Record Edit Deluxe opens with a pleasing bluish-gray interface. On the top half are icons lined up to give you easy access to the common functions the program offers.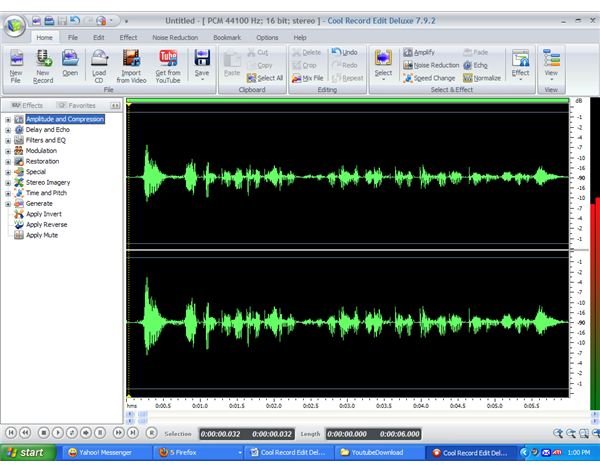 Right smack in the middle is a block of black space where your input audio waveform is displayed. On the left panel are icons of audio effects that are popularly used.
The pleasing interface is easy on the eye and makes you want to instantly explore the program. Frankly, it's rare to see an audio editor program with such an inviting interface.
Ease of use (4 out of 5)
Icons over the program interface will help you get started immediately.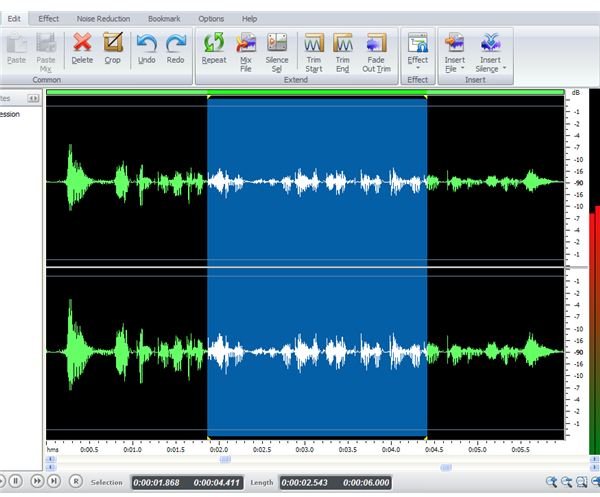 Trimming an audio file is pretty straightforward. Click on the Edit menu button and after making your selection over the waveform of your audio file, you can choose any of the tasks you would like to perform – delete, crop, insert silence or effects.
An attractive feature here is the trim from start to a selected point and trim from a selected point to the end of the audio file. This is especially useful if you're recording from an Internet radio station.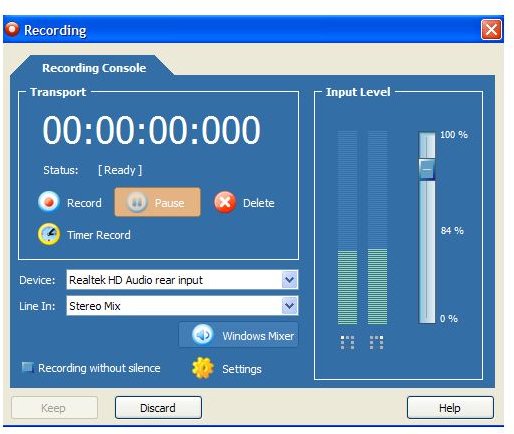 To undertake a recording, click on the microphone icon and the Recording Console window pops up. You're now ready to do a voice recording or record any music that's playing over your computer.
Special Features (5 out of 5)
Cool Record Edit Deluxe goes beyond what most audio editors offer. These features save the user the inconvenience of switching to another application to undertake a related task.
The one feature that stands out is the Get from YouTube feature that allows you to download videos from YouTube and extract their audio tracks. Alternatively, you could import a video clip from your hard disk and extract the audio track from it.
The other feature that will captivate you is the text to speech feature. Just key in the text you wish spoken and choose the desired voice or speech engine. You'll greatly benefit from this feature if you have text-to-speech voices from AT&T, Acapela or Scansoft installed. It dispenses with the need to purchase a text-to-speech program.
Other features worthy of note are burn CD, which comes with a disc erase function, batch convert tool, file merger and even a CD ripper.
Value for Money (5 out of 5)
At $39.95, Cool Record Edit Deluxe is a steal, considering the generous amount of features thrown in. If you're looking for an audio recording and editing program that also performs related tasks, Cool Record Edit Deluxe would fit the bill.
Shortfalls
The Play button and other controls are not given prominence. The buttons are tiny, lack visibility and are located at the bottom left corner of the interface. It's quite an inconvenience as you have to figure out where each control is before you can execute a mouse click.
Cool Record Edit Deluxe also disappoints by offering only WAV, MP3, OGG and WMA as export formats. One certainly expected more from the program, judging by the host of features offered.