Expstudio Audio Editor Review - Addressing Your Audio Processing Needs
Expstudio Audio Editor does not only edit your audio files and save them in formats of your choice; it can also add special effects to your audio files, and has audio recording capabilities.
There's a free version of Expstudio Audio Editor available for download, The Pro version is available for purchase for $34.95. At the time of writing, the program works with Win98/NT/Me/2000/2003/XP or Vista.
The only limitation of the free version compared to the Pro version is that the free version only allows you to save your audio files in WAV and MP2 formats. The Pro version, on the other hand, allows for conversion to MP3, WMA, OGG and VOX, among others.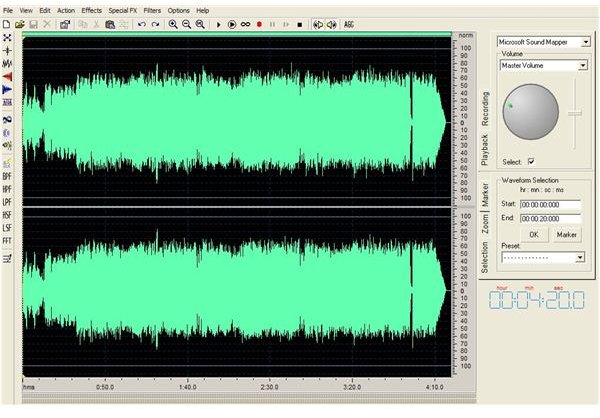 Expstudio Audio Editor opens with a simple interface with a large, black middle section where the waveforms of your input video files would be displayed.
There are icons, lined up at the top and the left panel of the interface, representing important functions you would use when editing your audio files, functions such as insert silence, fade in and fade out, among others.
Versatility (4 out of 5)
In the file open mode, you can import file formats ranging from MPEG audio files, CD tracks (.cda), WAV, OGG, WMA and even Apple AIFF files. This is certainly an impressive range of file formats. You're sure to find support for your preferred audio file format in Expstudio Audio Editor.
Ease of Use (4 out of 5)
Expstudio Audio Editor is pretty straightforward to use. Once you load your audio file, you can save the file in a different format, changing its frequency and bit rate. To take full advantage of the available formats, you would have to upgrade to the Pro version.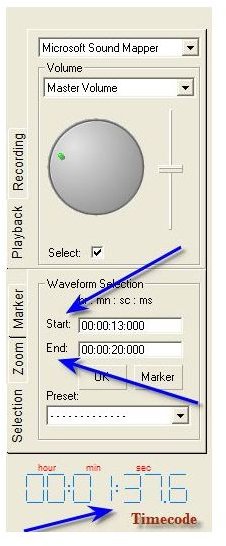 Trimming your audio file is also a breeze. The first thing you would have to do is select the portion of the audio you would like to trim. An easy way to do it is to use the waveform selection panel at the bottom right of the interface. Pause the audio at the desired start point. Note the time code in blue below the panel. Enter the reading in the start time code box. Do the same for the end point. When you hit the OK button a selection would be made for you over the waveform. You can now proceed to delete the portion you don't require. You could do the same if you would want to cut and paste or copy and paste a portion of the clip.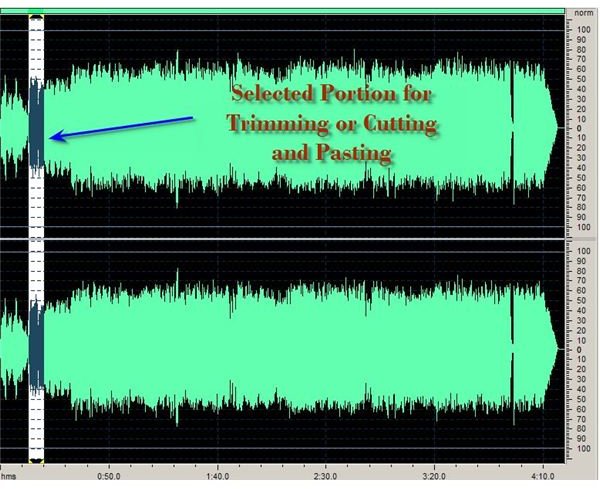 The other thing you could do in the editing mode is to insert silence into a portion of the audio.
Features (4 out of 5)
Like any audio editor of its range, Expstudio Audio Editor gives you the ability to amplify audio and normalize it, especially if you're merging a audio clips from different sources and want them to have the same volume level.
Other features you can use are chorus, reverb, increase or decrease tempo, time shift and reverse.
Special Effects (4 out of 5)
One attractive option that comes with the program is the voice changer feature. If you have an audio recording of your voice, and are not satisfied with how you sound, you can switch it to a different voice.
You can either switch a male voice to a female one and vice versa. Also, you can replace the voice with a chipmunk-like voice for comic effect. Under the Zeus Mode, you can make a voice sound robotic, useful if you're doing a recording for a science fiction project.
If you're looking forward to applying filters, you can choose anything from notch, peak, EQ, bass, pass, low pass and high pass, among others.
Value for Money (3 out of 5)
As has been mentioned earlier, the trial version of the Expstudio Audio Editor doesn't come with any limitation except in the export file mode. You won't even need to upgrade to the Pro version if you already own an audio converter program. Even then, if you decide to upgrade to the Pro version to enable you to export to the various file formats, $34.95 is not an exorbitant sum to fork out after considering the versatile features the program offers.
Shortfalls
Expstudio Audio Editor doesn't offer the convenience of the right-click function, through which the user would hope to execute some important functions. Also most audio editors allow the spacebar to be used to stop or play a file. Expstudio Audio Editor doesn't allow for it.