The Best Wireless Mic: Buying Guide & Recommendations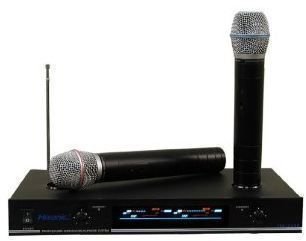 Introduction
The best wireless mic should provide great sound reproduction by preventing noise and interference from other devices. Its design should also be considered because it would be easy to have wireless mics thrown around in gatherings. It must be tough as well as usable. Check these top wireless microphones you can purchase online through Amazon.com.
Hisonic VHF Dual Rechargeable Wireless Microphone System
Hisonic's dual channel wireless microphone system is designed to cater to all kinds of performance needs, whether it is for business or for home recreation use. One of the most useful features of this microphone system is its built-in battery charger which can be used to recharge the batteries in the mic transmitters when they are not in use and are placed on the base in the charging position. This feature allows the transmitters to always be charged with power that can last up to 7 hours of nonstop use. In addition to this, you can have more than 2 microphones at one time because of the system's 4 different frequencies, each having the ability to handle 2 microphones.
Price: $99.99
PylePro PDWM94 Dual Function Wireless/Wired Microphone System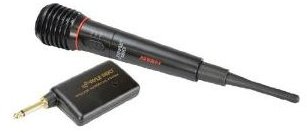 As a wireless mic, you can use this at an operation range of up to 45 feet in a unidirectional manner. If you prefer to use a wired mic, this product can also do the job for you since it can also be used with a wire. Whatever kind of need you have in using a mic, this adjustable microphone system is more than capable of delivering the goods.
Price: $17.99
Nady DKW-DUO Dula Channel VHF Hand-Held Microphone System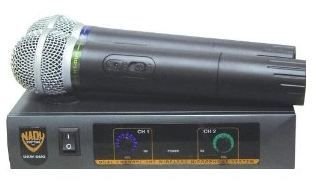 With its dual receiver, you can use 2 microphones at a time, which is perfect if you like singing duets with friends. It can also be used for a host of other instances like parties or karaoke bars. It is designed to be used easily by even the most novice of electronics users, thanks to its simple controls and connections. It also has built-in features that prevent interference from other devices, as well as pop noise.
Price: $39.99
VocoPro VHF-3300 2 Channel VHF Rechargeable Wireless Microphone System
VocoPro's wireless microphone system is designed to be compact and easy to use, making it perfect for events that require highly portable microphone systems including voice recording needs. Its dual channels have separate volume controls, making operation of each of the 2 microphones totally independent. Mounting the microphones on the receiver not only secures the mics, it also charges the microphones' batteries. If you are planning on using it on top of a rack, you can easily do so because it has a built-in mounting brackets system for easy rack mounting.
Price: $159
Nady SP-4C Dynamic Microphone

It is made with highly durable materials like zinc for its die-cast case and steel for its mesh widescreen that has an anti-dent ring. It is designed to withstand the most rugged type of use possible, ensuring users that it is very reliable in any kind of situation. This rugged design is not the only attractive feature of this prime candidate for best wireless mic. Its sound quality is also formidable thanks to its ultra-light aluminum humbucking voice coil that provides sound reproduction across the audio spectrum with great accuracy and without distortion.
Price: $14.99
Photos Courtesy of Amazon.com