Raise Money and Have Fun: How to Host a Renaissance Faire Fundraiser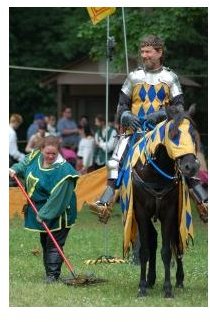 Won't it be a Lot of Work?
There are jousts to coordinate, vendors to consult with, and costumes - who can forget those - but hosting a Renaissance faire fundraiser follows the same premises as other fundraisers. It all falls down to how well you plan before you begin putting your plan into action. Because the success of any fundraising event lies upon how well it is planned out beforehand, we need to start with the planning process.
The very first thing you should do is put together a fundraising proposal. The purpose of this document is to plan out the event and get sponsors for your event. When putting on a production as large as a Renaissance faire, it is important to make sure you budget well, and that you find the best deals for your money. It also helps you to define what the fundraiser will raise funds for, why those funds are needed, and how those funds will be allocated once they are raised. You'll find that ultimately putting on a Renaissance faire fundraiser requires similar steps to putting on a fundrasing gala - only your event has a theme and is a bit less formal..
When and Where to Hold the Event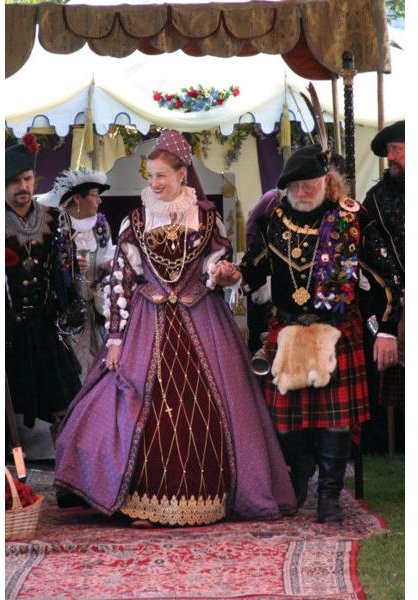 Renaissance Faires do best if you can hold them in an open space such as a public or regional park. While you could hold a Faire at an indoor venue, it won't have the same feel, and you will work harder to pull together the right atmosphere for your event. Of course, if you do not have a regional park nearby, and you want to hold the event locally, you'll have to make do with what is available.
Contact the city or county parks bureau in your area to talk about your event. Depending upon the organization you are fundraising for, you might even find the parks and recreation office donates the area to you for a given time as a sponsor for your fundriasing event. Most Renaissance Faires are held during the summer and fall, but so long as the weather will be good, you can host such an event in the spring.
image Queen Elisabeth 1 Ren-faire - copyright David Ball - Wikipedia Commons given permission
Do You Have a Permit?
In some states, and even at the city level, there are permits you are required to acquire should you elect to serve food or alcoholic beverages at your event. Most of the time, when you sign up with a parks and recreation department to use their space, they will talk with you about the permits you will need should you be serving or selling alcohol and food at your event. If there will be alcoholic beverages at the event (mead anyone?), then you will need to be sure you tell the officials and file the required paperwork. Otherwise, you could end up with a hefty fine. Once you receive the permit, make sure you adhere to all state and local laws governing the distribution and consumption of alcohol, or you could wind up in jail.
Procuring Entertainment
Entertainment is the cornerstone of a good Renaissance faire. After all, if you didn't have knights or games, then it would just be a costume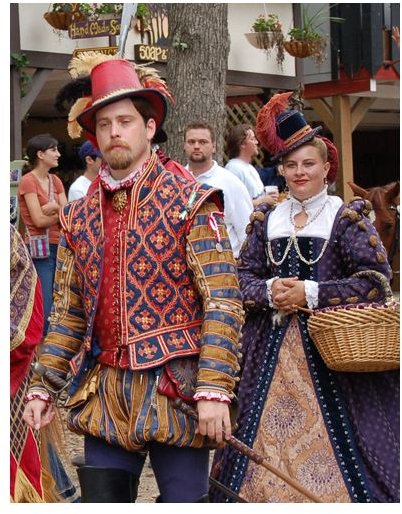 party. Renaissance faires have a variety of entertainment, form the family-oriented to the risque (though you may want to steer away from this for a fundraising event.) Some of these events have stage shows, dance productions, short plays, and of course the joust. If you're doing a joust, you'll need horses. (This will need experts and strictly controlled conditions.) It is probably not something to count on having at a fundraiser - not all professional Ren-faires have jousts either.
For any performance-oriented aspect, while you could hire professionals, why not look into having an acting class or dance studio put on a show? Local colleges or high schools might be looking for a venue for their talented students to perform. You might hire a comedian or magician - just make sure that the jokes and tricks are in keeping with the theme and the era - there are some people who will call you on inauthenticity at your Faire! If you can get people to volunteer for the cause, then it will help to keep the costs of hosting the faire down.
image Elizabethan Ren Faire costumes by Artemis-Arethusa at Wikipedia Commons
Please continue reading on the next page for more Renaissance Faire fundraiser ideas.
Catering the Event
There are a few options when it comes to food vendors for your Renaissance Faire event, and this may depend upon what your food permit says. You may have outside vendors come in and sell food with a promise to donate a percentage proceeds to the charity cause, you may hire a caterer, or if the event will be smaller, then you may organize a food committee to research and provide some medieval themed food. Fruit, bread, cheeses & sausages are all great options. Depending on where you live, you might work with a local farmer's market to provide your guests with local and organic food.
Costumes!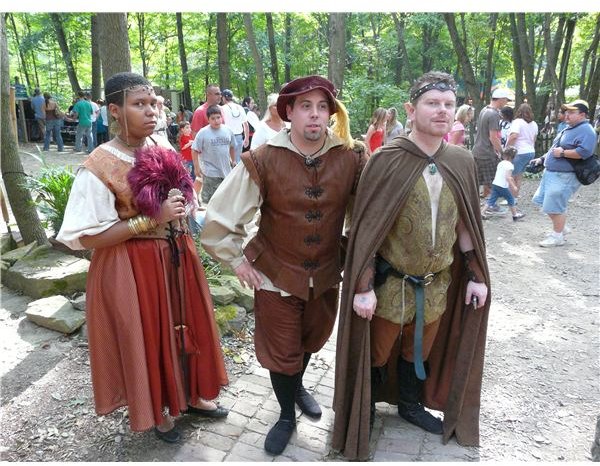 Costumes are where it's at when it comes to a Ren-Faire (as they are fondly called in some circles). People really get into their costumes. You can either have the staff for the event rent costumes, or if there's a person in your organization who is talented when it comes to sewing, he or she might be able to make costumes. All participants in the faire should be in costume - the performers, food vendors, caterers, security, etc. Guests often come in costume, but not everyone does. You can choose whether to make costumes required. Be aware that clothing indicated social status, and that cotton was a rare commodity worn by royals. There are many places where you can get costume ideas, including,renfaire.com. If you could get a local costume shop or even a college theater department to work with you, you might be able to have costumes that could be rented donated to the fundraiser for the occasion. In that case, you would want a deposit when you rent a costume, so the costumes can be returned in the same condition, or the organization compensated for an accident.
image Renaissance fair people by Piotrus on Wikipedia Commons
Advertising
As with any fundraiser, you'll want to get the word out about your event. With a Renaissance fundraiser, especially if you are putting a lot of money into it, it will be especially important to get a good turnout for it. You might want to consider advertising on the radio and in the newspaper. Press releases can be created and sent to local media outlets. You can create an event for the fundraiser on Facebook and promote it on other social networking websites. Be sure to stress in your advertising that the event is, indeed a fundraiser, and let people know what the money raised will be used for.
When designing and writing the advertisements, keep in step with the Renaissance faire theme. You might want to have a print ad look like a royal decree. In a radio announcement, consider using an old English accent.
Don't overlook the power of creating specialized Renaissance-themed invitations for prominent figures in your community, media representatives, and others who can help you to promote your event through word of mouth. It's amazing how popular an event can become if the right people know about it. If you have the option, offering them costumes to wear while they attend could create enthusiastic attendees who give even more free publicity to the fundraiser.
Pricing Your Admissions
While this is listed last in the things you will need to account for, it is a vital part of planning your fundraiser. When you are putting together your proposal, an important component of this is putting together your fundraising buget. When you have researched vendors, permit costs, advertising costs, and costs for entertainment, you will know how much you will expect to spend. Add up all the expected expenses, subtract any of the items that will be donated, and any money sponsors are donating to the production of the event.
What you have left after performing the math is the minimum amount you will need to make in order to break even with your event. How much do you hope to make with your fundraising event? What's the minimum amount necessary to raise over the break even amount to feel as though your event were successful? How many guests do you estimate will show up to your event? Keep your estimates reasonable. Divide the sum of the break even amount and the minimally successful amount by the number of guests you expect to bring in. This is the amount you should charge for admittance. If the amount is too low and will draw too many people, raise it a little. If the amount is too high for the economy in your area, you may need to lower it a little and be vigilant about promoting the event.
Once you decide on the admissions price, you can use software to create custom tickets. Also you need to decide whether to sell tickets prior to the event (in which case, you need to keep track of who has bought tickets, and how many are attending), or only sell tickets at the event.
A Renaissance faire can be a lot of fun, and even though a lot of planning and work goes into putting on a successful event, it may become an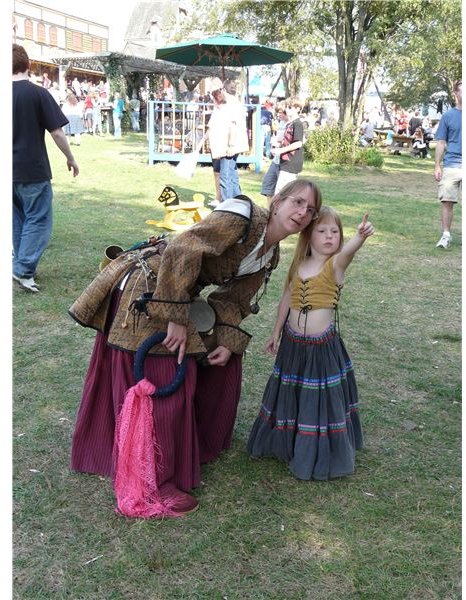 annual or bi-annual event for your organization. The most important thing to remember is to have fun!
image people at Renaissance fair - by Piotrus on Wikipedia Commons
References
Renaissance Faire https://www.renfaire.com/
Northern California Renaissance Faire https://www.norcalrenfaire.org/
New York Renaissance Faire https://www.renfair.com/ny/
Image courtesy of sxc.hu/gallery/mrsmas