Top Windows Mobile GPS Apps to Download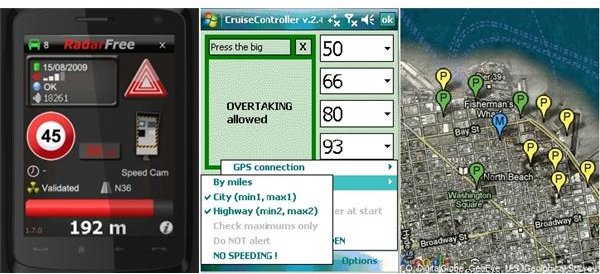 Great GPS Apps for Windows Mobile 6.5
GPS is a great tool that can allow some really fascinating and useful mobile apps. If your phone is equipped to receive data from global positioning system satellites, you can use it to beat traffic, record your physical training, enjoy Geocaching or gain directional and altitude information, find parking spaces and even get directions.
We've collected together a top selection of GPS apps that can be used for exercise, in your car, for getting directions and even for security.
The apps listed here are all freeware and can all be downloaded via www.freewarepocketpc.net or via the listed links.
Installation is via .CAB or .EXE – the latter method requires your Windows Mobile device is connected to your PC and synced with ActiveSync or Windows Mobile Device Centre, while the former method requires that you copy the file to your phone and run it from there to install.
Windows Mobile GPS for Cars and Motor Vehicles
One of the most obvious uses for a Windows Mobile GPS app is in the car, and as long as you have a useful dashboard mount, a power connector from the cigarette lighter socket and a hands-free arrangement, you should be good to go.
The first Windows Mobile GPS app you might try is RadarFree, a utility that alerts you when entering a zone with speed cameras and allows you to advise the RadarFree central server, allowing other users of the app to drive appropriately. This app is available from www.radarfree.com and can be used across Europe; a similar app and a good alternative is Trapster.
Another tool that will come in handy while you're on the road is Cruise Controller, an app that allows you to program in a maximum and minimum speed; the app will advise you when you go beyond either limit and this is very useful for anyone regularly driving on long, desolate roads. GPS technology measures your speed, making this app possible, and you can get a copy from www.pmaker.biz.
Parking Assistant is the final car-based Windows Mobile GPS app, a useful little tool for helping you to find car parks/parking lots and determine which are free and which are paid parking. Download your free copy from www.anagog.com.
(Images via corresponding links)
Leisure GPS Software Windows Mobile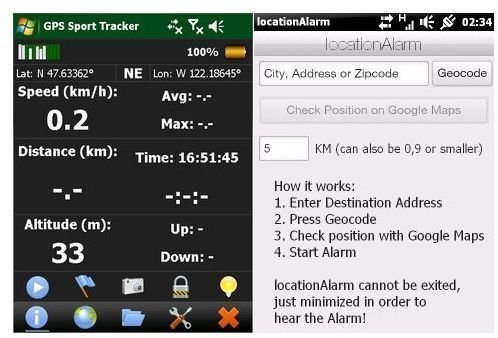 There are many Windows Mobile GPS apps for use with exercise and personal fitness programs, but the most impressive and popular is GPS Sport Tracker, a utility for measuring your current speed, altitude and distance while cycling, mountain biking, skiing, running, hiking or walking. Information from the app can be exported for analysis on your PC later on, and the app can be downloaded from gpssporttracker.com.
There is other GPS software for Windows Mobile that doesn't require you to own a car or be active. For instance LocationAlarm is a useful tool for anyone on a plane or train that needs to be awake after a certain distance. A free copy of this app can be downloaded from erst0r.de.
(Images via corresponding links)
Directions for Windows Mobile Users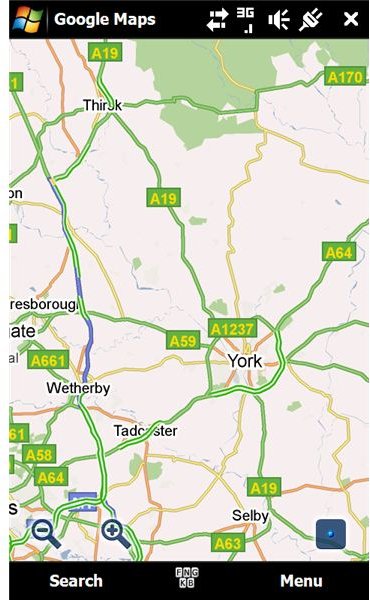 If you're regularly struggling to find your way to places there are plenty of useful Windows Mobile GPS apps you can try.
Probably the most obvious choice is Google Maps Mobile, which is available for Windows Mobile users from m.google.com (pictured) and also includes Street View and Google Latitude. You don't have to be driving to use Google Maps Mobile, and it is particularly useful for finding your way around new towns and cities.
On a similar note, Waze is a useful GPS app that combines the principle of a map with that of a social networking tool, with the result of a free app displaying speed traps, traffic, construction and roadworks and pretty much anything that can slow down your journey and lead you to take another course. Get your copy from waze.s3.amazonaws.com.
(Image by author)