How To Tether Your Windows Mobile To Take Advantage Of Internet Sharing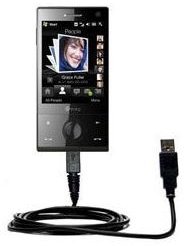 Tether Your Windows Phone
BlackBerry and iPhone users have been getting excited about "tethering" over the past few months – the ability to connect your mobile device to a PC or laptop and use it as a modem.
However Windows Mobile smartphones have had this ability for around 5 years now. It's a simple function to activate, easy to setup on a Windows 6 or 6.x phone and, as long as you have a generous data plan with your carrier/network, you can take advantage of hi-speed mobile networks such as 3G and HSDPA.
All you need to hook (or "tether") your Windows Mobile phone to your PC is a USB cable – note that USB 2.0 cables and connections work better.
Internet Sharing on Windows Mobile 6.x
Windows Mobile 6 and later devices come with a number of great utilities – among them is Internet Sharing.
This is found in the Programs menu and is an efficient method of connecting your PC or laptop to the internet via the myriad of software modems and protocols stored in a Windows Mobile device. Effectively your phone is acting as your PC's new modem!
Before continuing, there are some things to bear in mind.
1. Your network might reduce image quality – larger images on webpages might be compressed by your network provider's web servers in order to minimise overhead and maximise the available bandwidth.
2. If you plan to use your new modem to access an FTP site, you might need to find an alternative route – FTP is usually blocked by mobile networks.
3. For the best results, you'll need to situate your phone in a position where it can pick up the best signal.
Setup Internet Sharing on Your Windows Mobile Device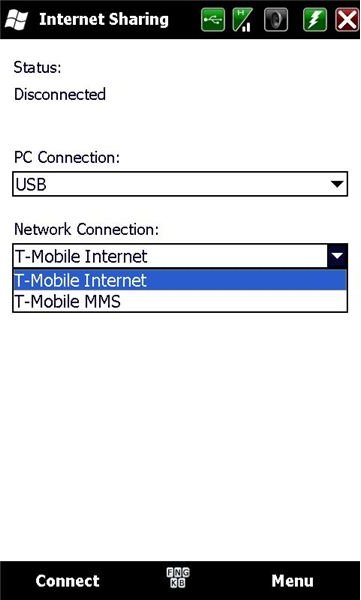 With your Windows Mobile 6 or later device connected via USB to your PC and ActiveSync running, browse to the Programs menu and run Internet Sharing. (Note that the location of this tool differs from version to version. Users with TouchFLO should get an option to use Internet Connection Sharing when they initially connect.)
Once Internet Sharing is running, ActiveSync will close. On your Windows Phone you'll see the Internet Sharing screen – Status will show as Disconnected and your PC Connection type will be displayed as will the Network Connection.
Press Connect to start Internet Connection Sharing – your modem is ready to use and will be picked up as a new connection on your PC!
To use, open your browser and load up your home page. You may need to change your settings – in Internet Explorer, go to Tools > Internet Options > Connections > LAN Settings and confirm that Automatically detect settings is enabled.