Syncing Data with Windows Mobile - Ultimate ActiveSync Guide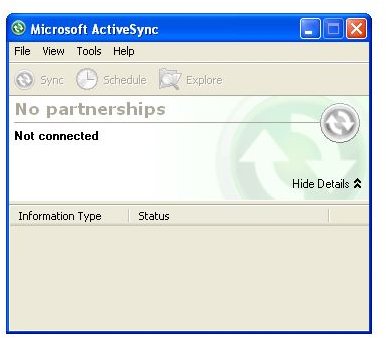 ActiveSync is Microsoft's cross-device synchronization system, first popularised with the Pocket PC platform and later used with success with Microsoft Exchange. It is commonly found installed on Windows computers whose users need to have a Windows Mobile device synced, although in its current form you won't even know that ActiveSync is there – it works completely in the background on the Windows Phone 7 platform.
Understanding ActiveSync means knowing how to use, troubleshoot and disable it when necessary. If you can handle all of these, then you should be able to enjoy trouble-free data synchronization on your Windows device!
Transferring Business Contacts from Outlook to Mobile Device
One of the first things that you might like to do with ActiveSync and a suitable mobile device running Pocket PC or Windows Mobile is to transfer your contacts from Outlook. This is a pretty straightforward task in all honesty, and fortunately you can also spend a few minutes synchronizing calendar appointments and tasks while you're at it!
Troubleshooting Windows Phone 7 and Microsoft Exchange Accounts
Windows Phone 7 has a very different relationship with ActiveSync – the software exists purely on the phone so there is no way of syncing contacts with Outlook unless you have a Windows Live Hotmail account or access to a Microsoft Exchange account which can be set up on your phone. This method makes for a much more efficient synchronization.
Tips for Removing Windows Mobile Apps
Another useful purpose for ActiveSync is the addition and removal of Windows Mobile software. Removing apps from a Windows Mobile device (the Microsoft mobile operating system that was retired in 2009) is fast and efficient via ActiveSync – all you need to do is connect your phone, establish a connection and then the process echoes the standard Windows add and remove programs screen.
Windows Mobile Sync - Using Multisync In Linux
It isn't only with Windows that you can sync a Windows Mobile device. Linux users can also take advantage of these devices using the Multisync software. This article provides an overview of the utility which allows a Windows Mobile handset to be set up and configured as an accessible device in Linux.
Sync Windows Mobile with Linux
Providing additional background is important for any complicated set of instructions, and while it is ultimately satisfying to be able to successfully sync your Windows Mobile with a Linux computer, it can potentially take a chunk out of your day as you work to install the tools and establish a connection.
Synchronizing Windows Mobile with Linux
When you have successfully installed Multisync, however, you will be equipped to sync data between your Linux box and your Windows Mobile phone. This could be contacts, calendar data and tasks or simply photos, MP3s, etc. Success with Multisync allows you to sync virtually any data from your Linux computer to your phone.
Guide to Backing Up Contacts on the Samsung Omnia
While syncing contacts between your phone and PC is one use for ActiveSync, it can also be used to provide a means of backing up contacts. Many people prefer to use on-board apps to create archives of their contacts, but it is just as easy to copy them all onto your PC (or copy and then edit down) by using ActiveSync.
Get ActiveSync Exchange Functionality with Moxier Mail
By default, early versions of Android don't support Microsoft Exchange. While this is no longer necessarily true, owners of older Android devices that require access to Exchange can use Moxier Mail. A Windows Mobile or Windows Phone handset will use an on-board version of ActiveSync to send and receive emails from their device – Moxier Mail provides similar functionality for Android phones.
Guide To Dealing With Exchange Email Problems With the iPhone iOS 4 Update
Apple's iPhone is also capable of connecting to Microsoft Exchange, again using an exclusive piece of software, this time designed for the iOS 4 platform. From time to time you might encounter a few problems, however, but on the whole these can be easily resolved.
Running Microsoft Office 2010 with Windows Mobile
Syncing data with Windows Mobile and Microsoft Office 2010 is possible via either ActiveSync or the Vista/7-only Windows Mobile Device Center. Word, Excel and OneNote files can be synchronized between your phone and computer ready for editing later on, and by coupling this functionality with the Outlook syncing and phone call capabilities you can turn your handset into a mobile office.
Guide to Firewall Configuration for Microsoft ActiveSync
One problem that can cause ActiveSync connection issues related to your firewall software. Some firewall utilities don't recognize ActiveSync when it is set up, and this can obviously lead to a problem or two. Understanding how to correctly configure your firewall in this situation will allow you to overcome these problems.
Solve ActiveSync Connection Errors
Various ActiveSync connection errors can occur between your phone and your computer. These might be Bluetooth related, for example, or might simply stem from a damaged USB cable. Additionally, faulty USB connectors on the computer or your phone can result in problems.
Fix Windows Mobile Synchronisation Error 86000107
There are several common syncing errors that you can encounter when using ActiveSync with Windows Mobile. Error 86000107 is probably the most famous. This error occurs when you have multiple desktop or laptop devices synced with a single mobile, and can typically be traced to a single large item in your sync schedule. Removing this should alleviate the problem.
References