Four Ways to Install Software on a Windows Phone

With Windows Phone 7.5 Mango come a couple of new ways to install apps and games on to your Windows Phone. While the existing methods of connecting to the Marketplace via the Internet on your phone and through the Zune client on your desktop remain, a new exciting home for apps and games can be found in your web browser!
Following the iTunes App Store and the Android Market, the Windows Phone Marketplace has now found a home on the web!
Various useful options for any Windows Phone owner can be found at this location, but most importantly it provides browsable access to the Marketplace from anywhere around the world!
Rather than worrying about whether your phone has an Internet connection at the moment or scrabbling around to find the USB cable, this new service will make installing new apps over the air very easy indeed…
Why You Need Windows Live
Regardless of how you install apps on your phone, there is one thing that you will need – a Windows Live account. This might be a Hotmail account, an Xbox LIVE account or any linked service. All you need to do to use this is set up your Windows Phone with the username and password, confirm that you wish to link the account to Windows Live (if appropriate) and wait a few seconds for everything to be set up.
You can do this on your Windows Phone via Start > Settings > Email + accounts > Add an account > Windows Live. It shouldn't take too long to set up, and will make using your phone so much simpler than using it without one of these accounts.
Payment for games, apps and music in the Marketplace depend on your Windows Live account having a credit or debit card attached. If you haven't done this yet, go to www.zune.net, sign into your account, then select My Account > Add /manage credit card and follow the instructions for adding a payment method.
Installation via Phone
Finding and installing apps and games via your phone requires you to have a connection to the Internet, through which you will be able to access the Marketplace Hub.
This is split into three (perhaps four, depending on your mobile phone manufacturer) sections:
Tapping each of these takes you to the relevant screen where the most recent releases are listed. Applications and games usually have a trial mode, while music generally comes with a short preview of the track you're interested in to listen to before you purchase.
Downloading apps, games and music requires you to find the item you're interested in, checking the reviews for the item (always important to find out whether it is worth downloading or not) and then clicking the Buy or Download button. Using your Windows Live account the Marketplace will charge you for any paid apps, games or music that you are downloading, so make sure you have a debit or credit card attached to this as mentioned above.
Your download should begin, with the app coming to your phone via the mobile Internet or your local wireless connection. Note that games typically require a Wi-Fi connection for downloading as they tend to be bigger files.
Find New Apps and Games with Zune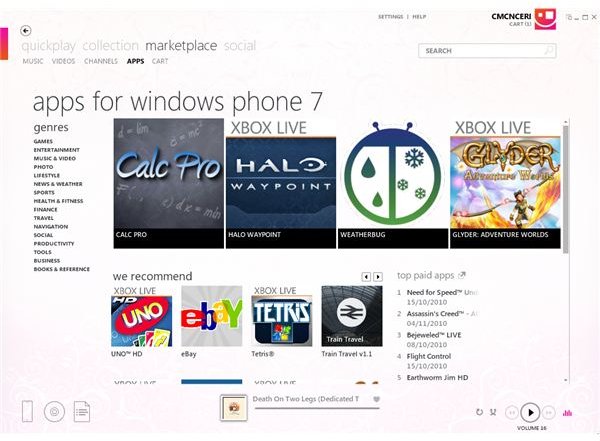 You don't have to rely on the Marketplace Hub on your Windows Phone for acquiring new games; the Zune client (available from www.zune.net) for syncing photos, music and video clips to and from your phone and PC can also be used to find, download and install software to your phone.
Begin by connecting your phone to your computer via the USB cable and if you haven't done so before, establishing a sync relationship. You will also need to wait for the drivers to install. Next, open the Zune app – if this is your first time running it then you will need to sign in with your Windows Live account.
With the Marketplace option selected, you can either browse for apps and games or use the search facility. You can also search for music to purchase and videos to rent or buy on your computer or phone. The purchase/download process is the same here as it is on your Windows Phone, and again requires you to have a card attached to your account.
What is "Side-Loading"?
Before exploring the options of the new browser-based Windows Phone Marketplace, we shouldn't forget side-loading. This is a third, unofficial means of installing apps onto your WP7 handset. Note that the software installed this way should be "homebrew" or in development - this isn't a method to be used for official apps from the Marketplace.
The reason for this is that it is in fact intended for developers to test their apps, and as such requires the Windows Phone Developer Tools. The process for side-loading requires the tools to be installed and up-to-date, and your phone to be configured as a development device. Standard users won't be able to do this without some complicated reconfiguring of your phone settings or by paying Microsoft to enable this.
Side-loading is enabled by connecting your Windows Phone, running the Application Deployment tool and selecting your phone in the drop-down menu. Then all you need to do is browse for the XAP application file on your PC, and after confirming that the screen is unlocked, click deploy. The app will then install to your phone via the side-loading method.
Installing Software via the Browser-Based Marketplace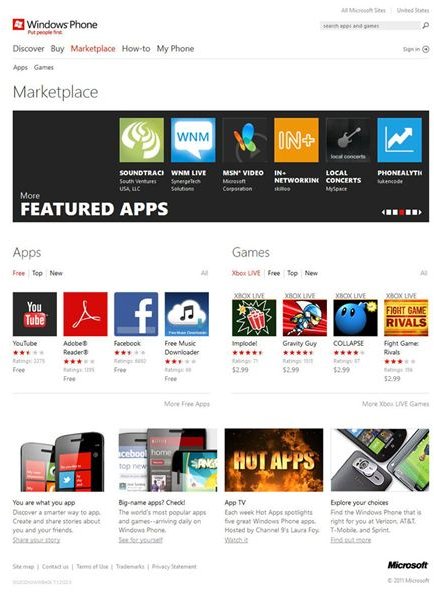 So what does the new method of installing apps and games bring to Windows Phone?
Well, you can take a look at it (if you haven't already) by heading to www.windowsphone.com/en-US/marketplace. Here you will find all available apps for your territory along with their prices. The search tool makes it easy to browse for apps, while categories are listed on the left in the Applications and Games views.
Installing apps via this method works in one of two ways. When you have found the software you want to install on your phone, make all of the usual checks (such as look out for any potential issues with your model in the reviews, check ratings, view the screenshots) and then select the Get application button. Payment works in the same way for paid apps, clicking the second Get application option will either send the app to your phone directly over the air (assuming it is connected to the web) or provide you with a web link to open the app page in Zune.
The second method is a little unwieldy – the first over the air option, however, is excellent – a welcome addition to Windows Phone!
References