Microsoft's Windows Phone platform is a critical success but has proved to be a bit of a slow-burner. If you're new to this exciting and slick new mobile operating system then you should spend some time exploring it and extolling its virtues to your friends and family!
There are so many tips and tricks that you should be aware of on Windows Phone, from discovering how to tether your phone to customizing the user interface and syncing your phone with a PC or Mac.
Guide to Customizing Your WP7 Background
Probably the first thing you will want to do with your Windows Phone is customize your background. Both the user interface background and the lock screen wallpaper can be adjusted to your preference, and these are very easy changes to make to your phone.
How Data Is Displayed in Live Tiles on WP7

Something else that you might decide to configure is the tiles on your Windows Phone Start screen. Some tiles are considered "live" as they can display information directly from the Internet such as weather updates or live scores from sports events, and all tiles can easily be repositioned across the Start screen as required.
Top 10 Windows Phone 7 Tips & Tricks
If you're looking for a hardcore selection of tips and tricks for Windows Phone, offering suggestions for creating passwords, using the superb software keyboard, disabling Facebook integration or creating an email signature these are all easily achieved thanks to the Windows Phone user interface, Metro, which makes completing many tasks far quicker than you might expect.
Improving Battery Life on Windows Phone 7
One thing that you will probably notice after a few days of using your Windows Phone is that regular use of GPS and Wi-Fi will lead to your battery running down pretty quickly. It doesn't have to be this way, however – simply tweaking a few settings and disabling connectivity options when they're not in use can reduce the frequency of recharging considerably.
Windows Phone Update Explained
When first released, Windows Phone was Microsoft's last-gasp in the mobile phone industry, and as a result it was launched with a stripped-down selection of features that could be added to with future updates. Performing a Windows Phone update can also resolve a small number of errors, so if your phone has not yet been updated this is something that you should consider doing.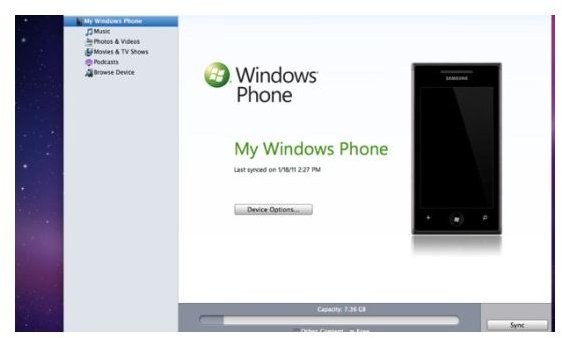 Updating Windows Phone 7 on a PC is a simple case of plugging in your phone and running the update via the Zune client, but what if your primary computer is a Mac? Zune isn't available for Mac OS X, so instead you will need to use the Windows Phone Connector for Mac to manage the update process.
Sync Movies, Music and Photos from Windows Phone 7 to Mac OS X
Similarly, Windows Phone Connector for Mac can be used to manage the synchronization of music, photos and movies from iTunes to your Windows Phone. In fact, contrary to popular belief, there is little need for you to have a PC when using a WP7 handset!
Help: How Can I Get WP7 Zune to Show Album/Artist Backgrounds?
The Zune client offers an enhanced degree of functionality that simply isn't available with Windows Phone Connector for Mac, so for the best results you should use your phone with a Windows computer. This is ideal for resolving problems with the way in which your albums and artists backgrounds display during playback, for instance.
How to Download Windows Phone Apps and Music Without Mobile Internet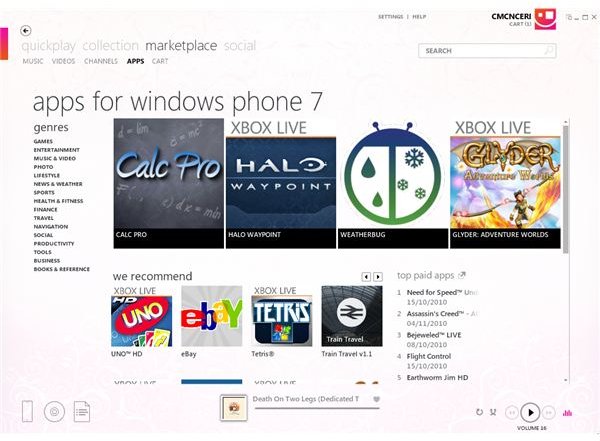 Another way in which the Zune client for Windows outranks the Windows Phone Connector for Mac is in its ability to download apps to your phone, a feature that simply isn't available for Mac users. This is a great way of avoiding considerable mobile Internet charges if your mobile phone contract isn't suitable for lots of downloading tasks.
Updating Apps and Games on Windows Phone 7
Apps and games are regularly updated on the Windows Phone Marketplace, requiring you to download the enhancements from time to time. To do this you will need an Internet connection (preferably Wi-Fi as games cannot be downloaded over mobile Internet) but the updates are extremely easy to perform thanks to the streamlined nature of the process.
Find Hidden Functions on Your Samsung Focus
Windows Phone devices are built by several different manufacturers such as HTC, LG and Samsung. Some handsets are pretty much locked-down, but if you own a Samsung Focus you will be able to easily access some advanced features that are not covered within the standard user interface.
Getting the Most out of Windows Phone 7
Windows Phone 7 is a feature-packed operating system, with a range of great tools such as Bing search and a useful way of avoiding problems calling the right phone numbers when you're overseas. You'll also find that it offers ways to quickly deal with unexpected phone calls as well as managing downloads from the Marketplace.
How to Tether a Samsung Windows Phone 7
Tethering on Windows Phone 7 is an unusual situation. Officially, tethering isn't possible, and wasn't included within the original specification for the devices that would run the OS. However, handset manufacturers such as Samsung decided to include the feature anyway in a hidden menu!
Guide to Tethering LG Windows Phones
LG also provided an "under the bonnet" tethering option for their Windows Phones, but this can only be performed on devices that have never had any of the Windows Phone updates applied. Just as with the Samsung devices, LG phones can be tethered by simply accessing a secret menu and having a suitable driver downloaded and installed on your PC.
Most Windows Phone devices are geared for general use, but the Dell Venue Pro features a slider keyboard and feels more like a BlackBerry or Palm style device. As a result of the design and its manufacturer, the Venue Pro has proven popular with business users and, like the Samsung and LG models, this handset can be easily tethered to a PC or laptop for mobile Internet access.
Guide to Tethering an HTC WP7 Handset
If you own an HTC Windows Phone (such as the HD7, Surround or Trophy devices) you will find that there are no hidden menus that you can use to activate tethering – instead, you will need to unlock your phone and take advantage of a homebrew app to connect your PC or laptop to the Internet via your mobile.
References