Get Free Development Tools for WP7 with Dreamspark!

If you have fallen in love with Windows Phone 7 and have identified it as a platform that you want to develop for, then you might have started researching just how to get started. With a quickly growing app store and a new release of the platform (Mango) set to attract many new users, getting your app built and listed in the Marketplace is probably a priority.
However, there is one downside – developing for Windows Phone is expensive.
Now you might have $99 spare to register your phone as a developer device and be ready to submit your app to the Marketplace – but if you're don't you might be left thinking that this platform is excluding young new developers in favor of established teams.
Fortunately, there is a way around this high outlay in the shape of Microsoft Dreamspark, a student-focused service offering development tools free to registered students.
What is Dreamspark?
Designed to allow students access to a wide selection of development tools that might normally be beyond their budgets, Dreamspark is a great way to get started developing for any number of Microsoft technologies.
While there are plenty of other ways in which these various technologies can be developed for, using the approved software and SDKs is required at some point, so it makes sense to be able to arrange access to the tools one way or another. If you're a student, that is made possible with Dreamspark.
As well as access to the Windows Phone SDK and other tools, Dreamspark allows you access to Visual Studio, the Kinect for Windows SDK, SQL Server 2008 Developer, XNA Game Studio, Kodu Game Lab and many other tools, all of which would be available only to registered developer accounts in most cases.
Wait a Minute – Did You Say Free Microsoft Developer Tools?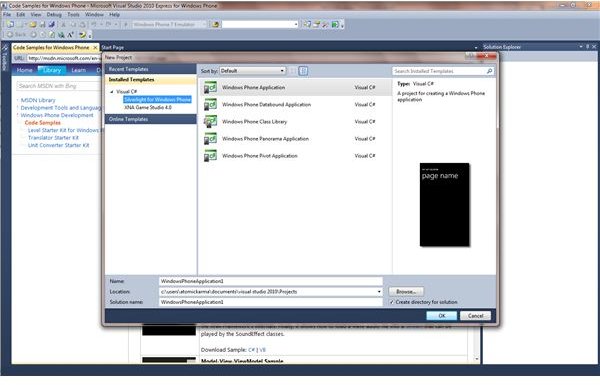 That's right– students registered with Dreamspark get access to a selection of great development tools:
Visual Studio 2010 Express.
Windows Phone Emulator.
Silverlight.
XNA Game Studio 4.0.
Microsoft Expression Blend for Windows Phone.
.NET Framework 4.
With these tools installed on your Windows PC you will be ready to develop any type of Windows Phone app, such as a game, RSS feed viewer or something more complicated such as a GPS app.
As it happens, the majority of the Windows Phone Developer Tools are already available free, but with a Dreamspark account you can also make use of various updates and additional tools for connecting to a WP7 handset, not to mention various code samples and entire apps that you can use to learn how a Windows Phone app is put together.
For full details on downloading the Windows Phone SDK for non-students, see our Guide to the Windows Phone 7 SDK.
Accessing Dreamspark
Of course, Dreamspark is only free to those who qualify – i.e. students.
To get started, you need to head to www.dreamspark.com/default.aspx and Sign In with an existing Windows Live account.
Once you have done this, you will need to verify your account, which is done via the Get Verified link on the left-side of the page. To do this, you will need to select your country and then Verify as a Student. You are then presented with three options to verify your account:
I have an Activation Code.
I have an ISIC Card.
Get verified through my school.
The first and third options are only open to students who have been earmarked for access to Dreamspark already, perhaps via the course that they are studying. The second option, however, is to sign up for an International Student Identity Card (ISIC).
Intended for full-time students, ISIC is issued each academic year, and the cards are valid for 16 months from September 1st until Dec the following year. You can sign up for one of these cards via www.isiccard.com/get_it_now, although you should note that you will require the right documents to prove that you are attending an educational institution.
With the correct credentials entered, your verification will be complete, and you will be ready to select the SDK that you want to download. In this case, select Windows Phone to acquire access to the SDK and app hub, where you will be presented with a download page. Use the Download button to save the installer to your PC, and you will be ready to set up the development tools listed above!
It shouldn't be long before you're up and running – your Dreamspark account allows you to list up to 100 apps on the Windows Phone Marketplace, so get a move on, there's work to do!
References