Guide to Using Last.fm for Windows Phone 7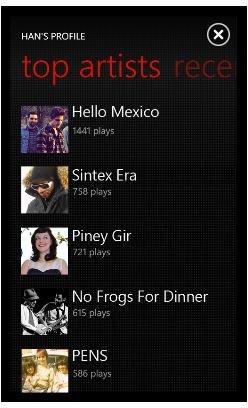 Free Streaming for Windows Phone 7 Owners
Since it was revealed that Android and iPhone users would have to pay for the opportunity to use their mobile service, Last.fm has become even more popular on the Windows Phone platform.
Windows Phone 7 users avoided having to pay a monthly fee for the app thanks to Microsoft's prior arrangement with Last.fm that allows Xbox LIVE Gold users to enjoy the service through their consoles, and this basically means that wherever you are you can listen to music chosen just for you based on previous suggestions you might have made!
Available free from the Zune Marketplace, Last.fm for Windows Phone is ready and waiting for you to download – so install it now, and carry on reading to find out just how easy it is to use!
Getting Started with Last.fm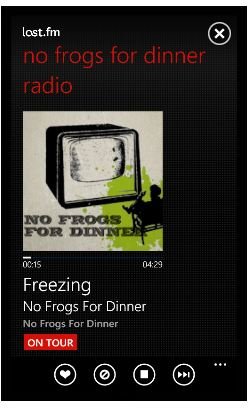 To take full advantage of the Last.fm app, you will need an account. If you have one already, you can enter this on the first screen of the app, or use the Sign up link to set up an account in the browser.
Note that you will need to agree to the Last.fm terms of use before proceeding. Once signed in, you can use the Music search tool on the first screen, or swipe left and right to look at any recent tracks and stations that you have listened to in your library.
If you're new to Last.fm, the idea is simple: simply search for music you like, and Last.fm will play a track for you, then line up other, similar tracks based on your choices. For instance if you searched for Led Zeppelin, you might be presented with subsequent tracks by prominent hard rock/blues artists from the late 1960s and early 1970s.
In addition, Last.fm will also allow you to skip a track that you don't like or mark another as "Loved". When a search and subsequent songs have been created they can be saved as and accessed in the Recent Stations screen.
Listening is Just Part of Last.fm for Windows Phone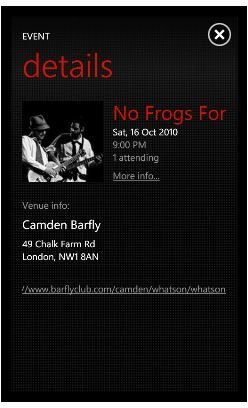 There is more to Last.fm than just streaming tailored music to your phone, however.
In the Profile screen you can access details about the Recent tracks and Recent stations that you have listened to (note that stations are not actual radio stations, but selections of tracks from particular artists), while Top artists lists a table of the artists you have listened to the most.
The Events screen, meanwhile, will display any recommended events based on the types of music you enjoy on your Windows Phone. For instance right now, thanks to my earlier choice, I'm being told that 1980s rock band Whitesnake are playing not far from me in a couple of months' time. By tapping this information I can then find out about the venue, the contact details and even book online!
The Best Way to Use Last.fm
Perfect for listening to great new music wherever you have an Internet connection, if your mobile operator gives you a good service for accessing the mobile web within the terms of your monthly agreement, mounting your Windows Phone 7 device in your car, connecting it to your car stereo with an adaptor and cruising to Last.fm is probably the best way to enjoy this app!
Anywhere you can get a strong and fast mobile Internet connection should be good enough, however.
References
References and screenshots from Last.fm for Windows Phone 7.