Editing Windows Phone 7 Office Documents with Internet Explorer Mobile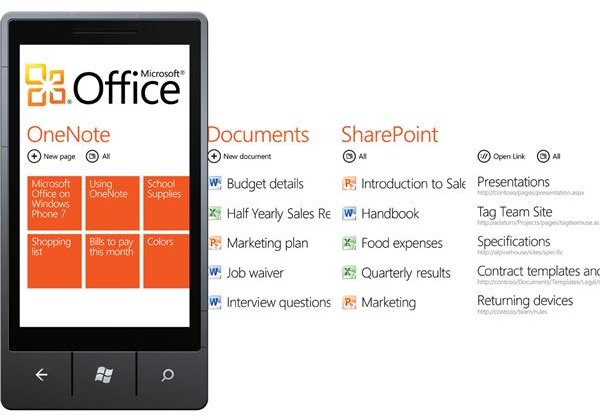 Why Can't I Sync Word Documents with Windows Live SkyDrive?
One of the few drawbacks with the Windows Phone 7 platform is the inability to edit Word, Excel and PowerPoint documents that have already been created and saved elsewhere. While the Office Hub provides a link to a Windows Live SkyDrive account, this cannot be used to store any document other than one created in OneNote.
While this is set to change with a future update, the fact remains that this is inconvenient. Other mobile platforms – Windows Mobile included – offer the ability to create, edit and save office format documents to the device.
Microsoft have provided a workaround for editing documents stored in the SkyDrive, however, but sadly there are currently restrictions on how this can be done.
Creating Documents in Windows Phone 7
A Microsoft Word, Excel or PowerPoint document can easily be created on Windows Phone 7 via the Office Hub. Here, all that you need to do is select +New Document and select New Word or New Excel – meanwhile PowerPoint presentations can be edited by opening them from an e-mail attachment. Excel and Word documents can also be opened in this way; once complete, they can also be shared by e-mail, the only means of getting the document off the phone at this stage. A local save option is also available.
Note: There is better functionality available for devices with access to SharePoint Server 2010 websites – however, these are largely restricted to business use.
Clearly, until changes are made as to how documents are synced with the Windows Live SkyDrive this is a frustrating limitation. However, you don't have to have documents stored on your phone to edit them – in fact, you don't even need to create them on your handset!
Accessing Microsoft Office Web Apps on Windows Phone 7
To directly access your Windows Live SkyDrive and Microsoft Office Web Apps in Windows Phone 7, open Internet Explorer Mobile.
In the address bar, enter https://office.live.com, and look for the Sign In link on the right-hand side. Once you have logged in you will be able to view Recent documents on SkyDrive – things that you might have saved manually or your OneNote files – and you will also be able to Create a new document online.
For instance to create a new Microsoft Word document, tap the Word icon and assign this a name, tapping Save to proceed. Microsoft Word Web App will open in your mobile browser, and you will be able to begin editing straightaway, using your finger to access the various controls (you may need to use the pinch/spread zoom gesture to tap some formatting buttons) and the Windows Phone keyboard to create the document.
Once you're done, Save the document – using the File tab you can save the document to your SkyDrive or even enable other Windows Live users to Share it. Although an option is listed in the File tab to Open in Word, this feature is limited to desktop users with a copy of Microsoft Word installed – currently this doesn't include the Microsoft Office Hub on a Windows Phone 7 device.
References
Source: Author's own experience
Image Credit: Windows Phone Newsroom, https://www.microsoft.com/presspass/presskits/windowsphone/