How to Sync a Windows Phone 7 Podcast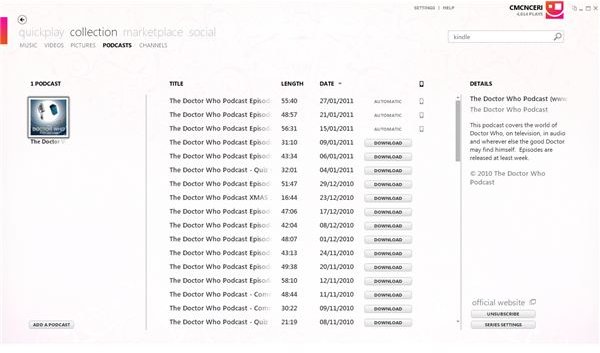 How Can I Listen to Podcasts on Windows Phone 7?
Podcasts are pre-recorded, on-demand audio media that has been created by amateurs in bedrooms and offices since the late 1990s. These amateurs (soon succeeded by expert professionals as the medium took off) were popularised because of the enthusiasm they had for the subjects they were talking about and soon developed large followings of people downloading the tracks to their iPods – hence the term "podcast".
Still enjoyed today, podcasts are used by radio companies, businesses and fan websites to promote services and spread information and opinion, and are usually updated via RSS feeds.
Along with synchronising music, video and photos, Windows Phone 7 and the Zune client can be used to download, sync and enjoy your favourite podcasts.
Using the Zune Client
If you have a Windows Phone 7 handset, you're missing out on a lot of functionality if you don't have the Zune client installed on your PC.
Effectively acting in the same way that iTunes does with the iPhone, Zune can also be used as an alternative to Windows Media Player and will provide you with a useful, larger interface with the Windows Phone 7 Marketplace, as well as providing some integration with your Xbox LIVE account.
The Zune client provides access to all the media that you can sync with your Windows Phone 7 handset, such as music, images and podcasts.
Adding a Podcast to Zune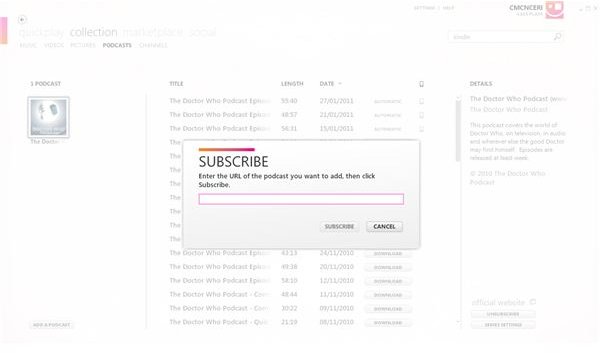 With the Zune client running, you can easily add a new podcast to be synced with your Windows Phone 7 handset via Collection > Podcasts > Add a podcast.
In the dialog box that appears you should add the URL of the podcast you want to follow. Once you have done this, you should check the Series Settings, where you can select how many Episodes of the podcast to sync at any one time, and the Playback Order. You can also use the Syncing options to decide how you're going to sync the podcast with your phone – you can even opt to not sync any episodes if you would rather the podcast stayed on your PC.
A podcast can be removed from Zune by right-clicking the tile and selecting Delete. You can also use the Unsubscribe button if you would prefer to simply stop syncing this particular podcast.
You will also notice that any other episodes of the podcast that you haven't downloaded will be available for you to listen to if you click the Download button, while those that are present will be labelled with Automatic; podcasts that are synced for playback on your phone will be labelled with a small Windows Phone 7 icon.
Enjoying Windows Phone 7 Podcasts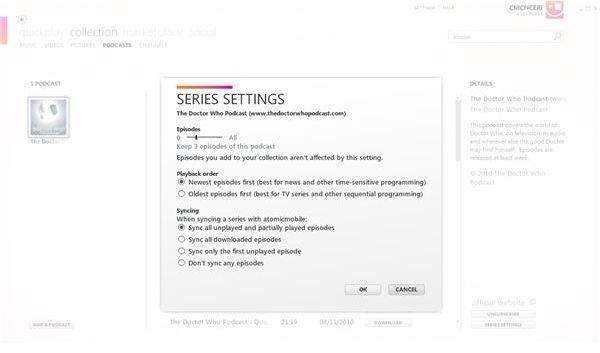 In order to listen to a synced podcast on your Windows Phone 7 handset, you will need to find it in the Music and Videos Hub, which is the Zune player.
Under the podcasts section you will find two tabs, Audio and Video, for listing different types of podcast. All you need to do is press play on the podcast you want to listen to or view, and you can begin enjoying Windows Phone 7 podcasts!