Marketplace Alternatives to the Native Windows Phone Search Tools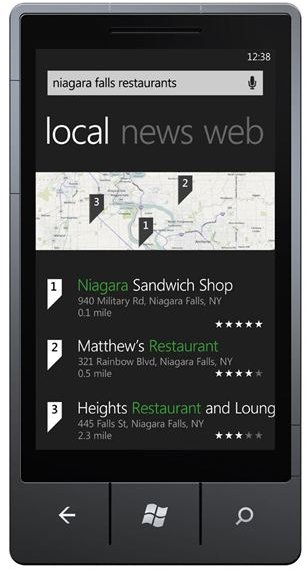 Alternatives to Windows Phone 7's Native Search Tools
Search is one of the most important businesses on the web for companies like Google, Microsoft and Yahoo, just as it was in the pre-online days for Yellow Pages.
Being able to find what or who you want, when you want it, is an important element of using the web, and search engines make this easy by finding what is out there, indexing it and then delivering it to you in the form of a search engine results page, allowing you to choose the most suitable page.
Although Windows Phone 7 comes with a built in search engine and access to Yahoo, this might not be enough for some users. If Bing's not your thing or you can't find what you're looking for on the Windows Phone 7 Marketplace, these apps can help.
Onboard Search
To get started using search on Windows Phone 7, you would press the Search button on the handset, one of the 3 buttons across the lower section of the phone. This will open the Bing search engine, from where you can enter your search query. These results will be localized if you have this option enabled for your phone and for Search – you can disable localization in the Settings menu.
Curiously, however, if you are viewing a web page already and press the Search button, Bing won't launch – instead you will be presented with a Yahoo search page.
You can also take advantage of voice-activated speech recognition search with Windows Phone 7.
Third Party Search – Google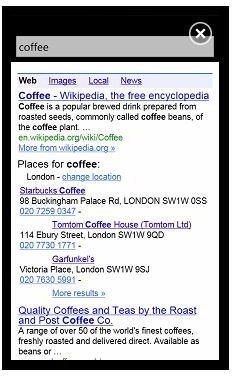 If the search results received with Bing and Yahoo are deemed unsatisfactory, you can always try Google! Thanks to a free Google Search app in the Windows Phone 7 Marketplace, you can take advantage of the Google search tools to return the optimum search results – and hopefully what you're looking for!
However, be aware that like the Yahoo search, Google Search is browser-based; there is no integration with the Windows Phone 7 Metro UI as there is with Bing.
Be aware also that the Google Search app currently only seems to work in the US and UK.
Marketplace Search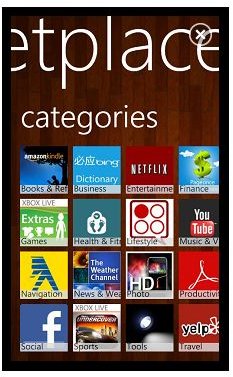 Finally, in response to the slightly difficult organization of the Windows Phone 7 Marketplace (set to be resolved with the first update for the platform) some useful search apps have been released to make this process easier and separate apps and games from music.
The first of these is Marketplace Search (pictured); free to download and easy to use this app separates games and apps and provides a table of categories that can be browsed as easily as they can via the desktop Zune client.
Also available is Appfinder. Another free app, this one might survive the release of the improved Marketplace, adding instant search as you type and a filter to separate the free apps from the paid apps.