Review of the Nokia 3710 Fold
Introduction
The Nokia 3710 Fold is the successor of the Nokia 3610. It is available in three colors - pink, plum and black and the availability of these colors depends on the region where you buy it. It is a stylish and reasonably priced phone with a decent feature set.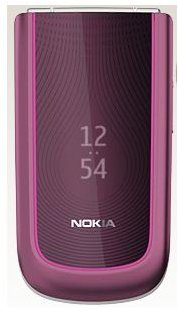 Design (4 out of 5)
The Nokia 3710 has two displays. The main 2.2 inch TFT screen is capable of displaying 16 million different colors with a resolution of 240 x 320 pixels and the external display or secondary display is a monochrome TFT screen with a 128 x 160 pixel resolution. The external screen shows the time and shows details during an incoming call or when a text is received. The keypad is large and there is a lot of space in between the keys making it easy for people who text a lot. Dedicated volume keys are available on this phone so that the navigation keys don't have to double up as volume keys. The secondary camera enables you to make video calls if it is supported by your service provider.
Features (4 out of 5)
The Nokia 3710 is feature rich. It has GPRS, EGPRS, 3G, TCP/IP support, PC synchronisation, mobile transfer protocol (MTP) support, video calling, etc. Except for the small screen, it has every right to be called a smartphone. With 70MB of internal memory and support for up to 8GB expandable memory, you can carry your favorite songs, videos and important files wherever you go.
The 3.2 MP camera lets you take crisp images and also provides the option of 4x digital zoom. The inclusion of a flash lets you take good images even at night or in places where the light is not good. The photo editor on the device lets you crop, rotate, and add effects to the images that you have captured.
When it comes to entertainment, the Nokia 3710 plays videos of various formats such as MP4, 3GPP, AVI, ASF; Codecs: H.263, H.264, MPEG-4 SP, VC-1 (WMV9) SP, VC-1 (WMV9) MP. It also supports audio files in MP3, Midi, AAC, AAC+, enhanced AAC+, and WMA formats. Thus Nokia has made sure that you do not have to think twice about the format of the audio or the video file when you copy your favorite music to your cell phone.
Connectivity is no hassle as the Nokia provides TCP/IP support and browsing on the Nokia 3710 is fast when it is connected to a 3G network. Additional standard features like alarm clocks, active notes, reminders, calendar, fixed dial support, etc. are a part of the Nokia 3710.
User Interface (4 out of 5)
The user interface of the Nokia 3710 is the standard Nokia interface present in other Nokia phones running on the S40 platform. The user interface is very easy to navigate and it will not be any issue if you have already used a Nokia. The font rendered in the Nokia 3710 is big and so you can read text messages received very easily without straining your eyes too much.

Performance (3 out of 5)
The performance of the Nokia 3710 is as good as it looks. The sound quality and clarity is probably the best feature of this cell phone as it beats every other cell phone in its range in this regard. Connectivity is really appreciated on the Nokia 3710 as it offers seamless connectivity when the person using it is on video calls.
Almost no fault can be found with the performance of this phone, however, the battery life is a big drawback. Many users have noticed that the phone does not provide more than four hours of battery life when it is in use. So talking, playing music, capturing back to back images, and playing games will drain the battery quite quickly.
Final Verdict (4 out of 5)
Although you get better cell phones for the same price today, those who do not want to go for a touch phone or a smartphone can go for the Nokia 3710. The spacious keypad will be a draw for some people. It is also light in weight (at 94g), has chic looks, offers you most of the same features offered by a smartphone and the camera, with image editing features, will really impress most users.
The best feature, however, is the volume of the speaker which is sure to be heard when you are talking to any person, even in a crowded place. The biggest drawback is the battery that doesn't last for longer than between four to five hours, but given the features available in this phone, this drawback can be overlooked.
You can also check out the best budget phones from Nokia or the top phones that Nokia has to offer.
References
Nokia, https://europe.nokia.com/find-products/devices/nokia-3710-fold/specifications