Nokia 5228 Review: A Decently Design Smartphone with Excellent Features
The Nokia 5228 is targeted at the emerging European markets. It's a device with resistive touchscreen technology that works with a stylus and allows handwriting recognition. It's an attractive smartphone that comes in a variety of colors, and it is lightweight and inexpensive.
Design (5 out of 5)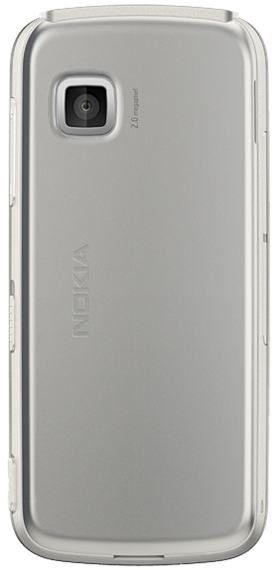 The Nokia 5228 is a solid candybar shaped phone, with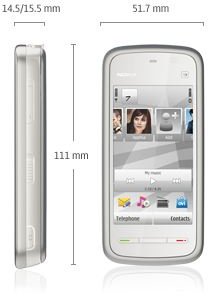 a high color touchscreen. It comes in a variety of fashion conscious colors. The front of the casing features either a white or a black finish and the back has a range of color assortments. The casing is very finely designed, which makes it easy to hold and carry. The materials used in the phone's design give it a luxurious look and feel, and as soon as you take the phone in your hand, you feel the perfection.
Image Credit: nokia.com, europe.nokia.com
User Interface (5 out of 5)
From using simple calling features to complex downloading options, everything can be done on the Nokia 5228. The touchscreen system works extremely well. The touchscreen measures 3.2 inches and supports up to 16 million colors, with a pixel resolution of 360 x 640. The display provides an onscreen keyboard, which is really responsive, and is very simple to operate. There is an accelerometer for automatic rotation, and a proximity sensor to prevent inadvertent touches, and to save power.
The Nokia 5228 has dedicated keys for power, send and end, camera, application menu, and volume. The home screen provides a music widget for play/pause and forward and back. The buttons and the widget are both easily accessible and easy to operate.
Features (5 out of 5)
The Nokia 5228 is a beautiful touchscreen phone with a variety of colors and features that are easy to use and user-friendly. The key feature of the phone is its decently designed casing, which is available in silver, red, blue, pink and yellow colors.
The phone has a 2 megapixel camera, music player, an Internet browser and it runs on the Symbian operating system. The Nokia 5228 phone is classified as a multimedia phone, and it can access Nokia's online music service to download music. You can store up to 70 MB of music in its built in memory, but if you want to increase the memory, you can use a microSD card of up to 16GB.
The phone supports a range of video formats including MPEG4-SP, MPEG4-AVC, WMV9 and 3GP. The audio files it supports are MP3, AAC, AAC+, WMA and WAV. If you ever get tired of music, you can turn on the built-in FM stereo radio that also has RDS support. RDS is a new FM radio technology that displays the song and the artist name on the display. It also allows you to scan for a particular program, for example science, popular music, current affairs, etc, without having to constantly change the FM frequency.
Nokia 5228 Features (5 out of 5)
The phone has a 3.5mm audio jack that allows you to listen to music with your own perso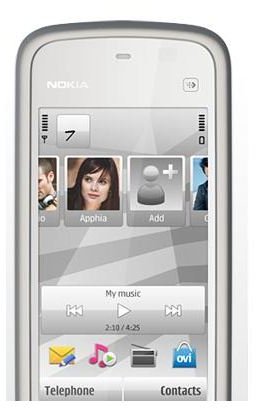 nal headset. There is Bluetooth 2.0 support, for transferring data to and from laptops, printers, and other mobile phones. The Nokia 5228 allows installation of different applications ranging from office tools to games to communication applications that increase the functionality of the phone.
There is a standard 2.0 megapixel camera on the phone, with not many features, but it makes very good quality video clips, at 30 frames per second. The Nokia 5228 has a conference call feature that allows the user to communicate with up to 6 people, at a time. It is very useful if you want to discuss a business matter with your colleagues or set a meeting point with your friends. When communicating with someone, a variety of messaging features like audio messaging, e-mail, text message and multimedia messaging can also be used.
The phone has a proximity sensor that disables the screen when you are on a call, to save battery, and prevent calls being accidentally ended. And, if you want to use the touchscreen during the call, simply tap on the screen, and it will unlock immediately. There is no GPS or 3G support on the phone. People who want to use the Internet and send e-mails will find the GPRS and EDGE support very useful, as they will gain the ability to browse the Internet, at a reasonably fast speed, wherever they are.
image credit: nokia.com
Performance (5 out of 5)
The phone runs on the Symbian operating system, which has been around for a long time and works well; so there's no chance of having any problem with the phone starting up or loading any applications.
The phone has an impressive sound quality, and when it comes to the quality of the camera, you will be satisfied with the results (provided your expectations are low). The battery has a talk time of 7 hours and a standby time of 432 hours along with a music playback time of 33 hours
Overall, the phone performs really well and gives very satisfactory results.
The Verdict (5 out of 5)
The Nokia 5228 is a very good touch display screen handset that features many calling and messaging features. It has an excellent music player, and various connectivity options. Overall, this is a very good quality mobile phone, and it provides everything you could want in a budget offering.
References