Top Five Nokia Fitness Applications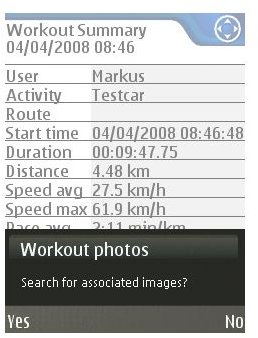 Nokia Sports Tracker
Nokia Sports Tracker is a Nokia fitness application that is full of features and everything you would want when organizing your day to day training. Nokia Sports Tracker uses GPS on your Nokia smartphone to keep track of your distance while either running, cycling, walking, skiing or any form of activity that requires extended motion. Nokia Sports Tracker measures calories burned, your altitude and your average speed as it does this. Nokia Sports Tracker has built-in maps, a step counter, time and distance calculators and can measure your heart rate with a compatible HR belt.
Nokia Sports Tracker gives you a full report after you complete your exercise. The report also gives analysis which includes a map showing the route covered, a diary where you can chart out your progress over time and see your strengths, weaknesses and improvements. With this Nokia fitness application you can pre-configure your personal details like age, weight and others so that you can have more accurate results over time. You can download Nokia Sports Tracker from the Nokia Ovi Store.
Endomondo Sports Tracker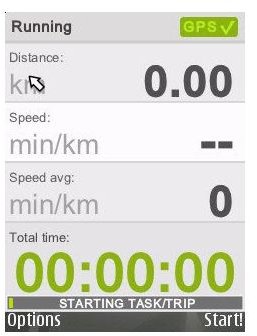 Endomondo Sports Tracker, a personal trainer app, keeps track of your running, cycling, walking and other activities such as windsurfing and kayaking too. It records your duration, speed, altitude and distance traveled. Using Google Maps, Endomondo Sports Tracker can visually display your route. Endomondo Sports Tracker integrates audio feedback at intervals, voice messages from friends, workout history and lap times. Endomondo Sports Tracker can store your information on www.endomondo.com for analysis purposes and live tracking of friends. You can also use Endomondo Sports Tracker for competitions through the website integration. You can download Endomondo for free from the Nokia Ovi Store.
eCoach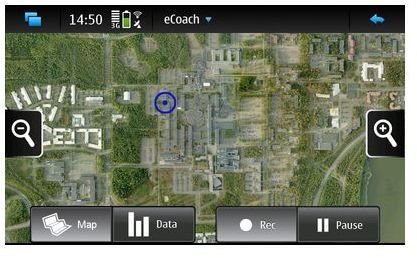 eCoach is a Nokia fitness app for Maemo devices such as the Nokia N900. eCoach can be used to track your sporting activities. eCoach makes use of the GPS receiver on the phone to keep track of your outdoor sports activities such as speed traveled, your heart rate, time and distance traveled. All this is done in real-time. Other features of eCoach include a built-in training diary for setting and tracking your training programs. The eCoach Nokia fitness app makes use of mapping applications such as Google Maps, Virtual Earth and Open Street Maps for visualizing routes. To download eCoach you can visit this link with your Maemo Nokia phone.
Body Mass Index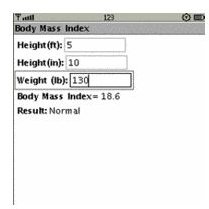 Body mass Index is a Nokia fitness calculator app that lets you calculate, as the title suggests, your body mass index (BMI). The Nokia Body Mass Index app returns results specifying if the user is overweight, underweight or normal. To determine this, Body Mass Index factors in the weight and the height of the user which it requires as input. These details can be taken in using either the Imperial system of measurement or the metric system. The BMI score is also given as an index within the three categories mentioned above. Records are stored automatically and can be accessed any time you so wish. Body Mass Index is available for only $0.99. You can purchase and download Body Mass Index from the Nokia Ovi Store.
GymLog for Nokia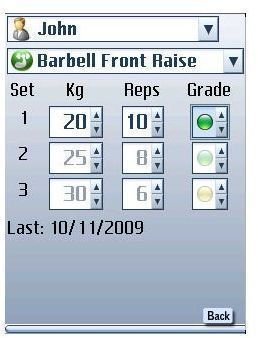 The GymLog Client for Nokia is a Nokia fitness app that lets you record and track your workout progress. Your recorded results can be uploaded to the Gymlog website for analysis of statistics and for sharing results between you and your trainer or training partners.
With the GymLog Client for Nokia you can fully customize your workouts. You can pick exercises from an exercise repository and build a personal routine and graphs to track progress. GymLog for Nokia has more than 80 exercises with descriptions and details of which muscle each exercise affects. You can export your records to MS Excel, Web or Facebook. All your GymLog data collected can be plotted in graphs and log sheets for up to three people. You can follow this link to download GymLog for Nokia.