Top Five Apps for Nokia 2730 Classic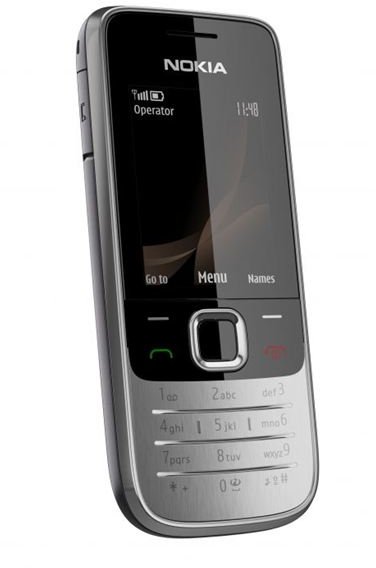 As we round up a few Nokia 2730 Classic apps it is good to understand the phone we are dealing with. This phone is a typical S40 UI phone with enough storage capacity to satisfy most people and support for decent 3G connectivity speed. Together with its looks, these features make the Nokia 2730 a simple, but sleek phone ideal for enjoying Internet services. So what apps can help make this Nokia phone even better?
eZReader DOC PDF Lite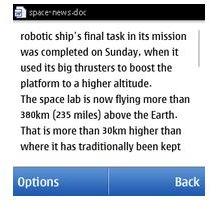 eZReader DOC PDF Lite is one of those apps that comes in really handy on your Nokia 2730 Classic. This is a reader that is capable of reading standard PDF documents as well as Microsoft Word documents right from the 2003 format to the 2007 compatible formats.
eZReader DOC PDF Lite is great, in that, with this app installed on your Nokia 2730 Classic, you no longer need to struggle to open document attachments when they are sent to you over email. This application takes into account the nature of mobile devices and the limits that are there as far as memory goes. Therefore documents opened can have the text reformatted to fit into place on the little screen.
Memory is also an issue when you try to open large PDF documents. This is not the case with eZReader DOC PDF Lite. For reasonably large PDF documents, this application will open those documents more efficiently.
You can download eZReader DOC PDF Lite from the Nokia Ovi store app.
Opera Mini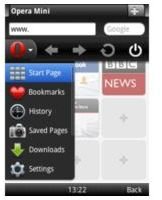 Opera Mini web browser is a compact, sleek and extremely fast web browser. This app is designed for users who have phones with limited hardware, as well as networks with slow Internet connectivity.
Opera Mini web browser can compress web data content by up to 90 percent therefore reducing data charges during Internet usage. In addition to data compression Opera Mini web browser has technology that speeds up the downloading of web content.
Opera Mini web browser comes in a sleek design with a modern looking interface that is user friendly. With this web browser you can save web pages, bookmark websites and even place them on the speed dial on the start page.
You can find Opera Mini web browser in the Nokia Ovi store for free.
Foursquare for Series 40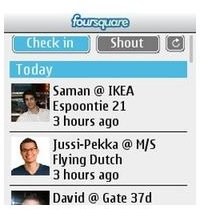 Foursquare for Series 40 is a social app that is ideal for your Nokia 2730 Classic. It allows you to get connected with your friends, to explore the world and to share your location with your friends and find out where they are. The sharing, also known as checking in, can be done with third party apps and even text messages.
As you do all this, Foursquare for Series 40 lets you accumulate points and collect badges in a fun and exciting way. With this app you can explore new places and businesses around you and learn more interesting things about them based on comments and suggestions put in by your friends and other users. All this can be done by becoming a member on foursquare.com.
This application has an API which you can use to build custom services and apps. Foursquare for Series 40 can be downoaded from Nokia Ovi Store.
YouTube Downloader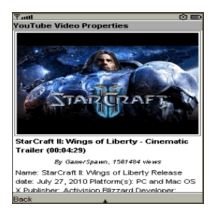 YouTube Downloader is a tool that is ideal for entertainment on the go. It allows you to download videos from YouTube and save them onto your mobile phone. It does not matter what the quality of the video is, YouTube downloader is able to handle high quality videos as well as low quality.
This download manager is capable of downloading several videos in the background as you go about using other applications. As you move with your mobile phone you may reach pockets where there is no cell network. YouTube download manager therefore comes with resume capabilities. This allows you to seamlessly continue downloading your video files once the network connection is re-established.
You can save the videos you downloaded on your external memory card and watch them at a more convenient time. YouTube Downloader is available through the Nokia Ovi Store for US $1.59.
Viitrio Converter
Viitrio Converter is an application that is the equivalent of the toolbox you have in your shed. This is one of those must have apps that you may not use each and every day, but that proves very handy when you need it.
Viitrio Converter is ideal when you want to convert units, for example you are preparing a recipe and your measuring utensils are in Imperial format and the recipe is using the metric system – Viitrio Converter will really save the day.
This utility app will allow you to handle conversions of every possible type from weights, length, pressure and volume to energy, area, time and temperature.
These conversions can be made within similar measurement standards or across the different standards as one sees fit. Viitrio Converter can be purchased from Nokia Ovi Store for US $2.29
This concludes my list of apps for the Nokia 2730 Classic. They are subtle and easy going apps that create an impact for the user. From an Internet browser for the best web browsing experience and a social networking app that keeps you close to friends as well as your city to a video download tool and an app to ensure you do not miss out on any important attachments, there's something here for everyone.
References
Sources:
Image credits