Samsung Intrepid SPH-i350 Smartphone Review
Introduction
The Samsung Intrepid made its way to market as Sprint's first Windows Mobile 6.5 smartphone replacing the Samsung Ace. Even though there's nothing especially impressive in the handset at first glance, the device is sure to outrun the HTC Snap in specifications. However, the package isn't quite as impressive as RIM's BlackBerry Tour 9630. Let's move on to the main review to look at the device more closely.
Design (4 out of 5)
The design and body of the Samsung Intrepid is common with an emphasis on utility rather than a flashy look and in no way behind when compared with the company's other similar devices like the Samsung Jack or Samsung Ace. Measuring 4.6 x 2.59 x 0.51 inches, the phone is wider by a few inches to accommodate the keyboard. It should still perfectly fit in your trouser pocket and give a comfortable feel while in your hand.
The Intrepid SPH-i350 features a 2.5-inch screen with a QVGA resolution of 320 x 240 pixels. The display is not very sharp with visible pixels and the edges of text and images are not so smooth. However, the phone does include a touchscreen for easy launch of apps or so you can perform tasks just with a few taps. The touchscreen is fully functional with the phone's new Windows Mobile 6.5 interface enhancements, which include a Today screen like the Zune, Lock Screen Notification and the new Start menu as well. The phone includes a stylus along with navigation controls beneath the display that include Talk/End buttons, OK button, two soft keys, a shortcut for Start-menu and a D-pad for navigating easily.
The Samsung Intrepid sports a fully functional QWERTY keyboard with decent-sized non-slippery keys that can fit any thumb. The spaciously laid keypad prevents any mis-typings and further includes shortcuts to several apps sitting on the bottom panel of the handset, while the numeric buttons are illuminated prominently in red. Moreover, the left spine of the smartphone device sports a micro-USB/power connector and volume rocker, while camera activation or capture key, stylus and a power button sits on the right spine. The top of the device contains a 3.5-millimeter headphone jack with an integrated camera featuring a self-portrait mirror and the flash is placed on the back-side. The SIM card and microSD slot are located at the rear of the battery door.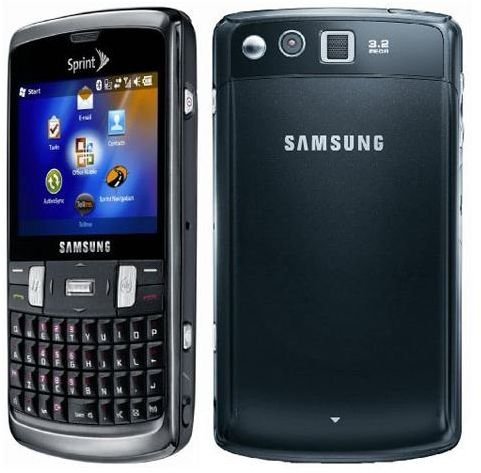 User Interface (4 out of 5)
Sprint's Samsung Intrepid SPH-i350 is among the Windows Mobile 6.5 devices with a long list of functional features and a new home-screen view. When you select or highlight any item in the list you can scroll left and right to view more information. Another noticeable feature of the UI is the Start Menu, which is now presented in a honeycomb like structure. You can rearrange it just the way you want if you wish. The context menu of the phone is also very friendly with large graphics.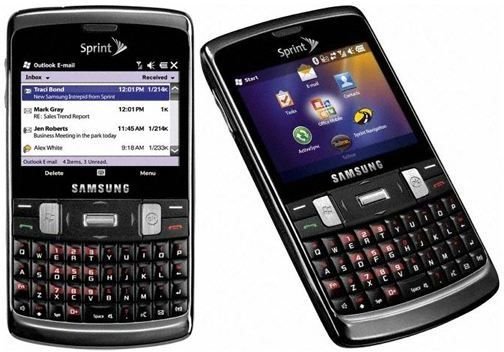 Features (4 out of 5)
Being a dual-mode mobile, the Samsung Intrepid supports both GSM and CDMA technology so that by default it will use the CDMA network of Sprint and automatically detect and switch to GSM bands when you travel internationally. This smartphone device also supports the 2100Mhz UMTS international band so that you get access to 3G data connectivity overseas.
The basic features of the smartphone include voice dialing, text and multimedia messages, speed dial, speakerphone and conference calling. Other features of Sprint's Intrepid are onboard Bluetooth with support for mono and stereo Bluetooth headsets, audio-visual remote control, personal area networking, hands-free kits and lots more. Wireless options of the phone include Wi-Fi, EV-DO Rev. and GPS. There is no specific limit to entries in the phone book and it is determined by the available memory space with spaces in each entry for multiple categories. There is also a backup option for all your phone book data to Microsoft's My Phone service, in case your phone gets lost or stolen. You also get Microsoft Office Mobile Suite and Internet Explorer Mobile 6 as well.
Other amazing features of the Samsung Intrepid include the Microsoft Tellme service, which allows you to perform some tasks via voice control and frees you from the keyboard or touchscreen. Another most outstanding part of this smartphone is that, even though Sprint ships this with a SIM card, the handset is not locked and you can use international prepaid SIM cards too. Other pre-loaded apps on the phone include a calculator, Solitaire, MSN weather, Adobe Reader LE, unit converter, MSN Money, Smart Reader business card scanner and some of the Sprint services like Sprint Music Store, Sprint Navigation, Sprint TV and NFL Mobile Live. There are various other apps available for download on your Intrepid for free and as paid services.
The Intrepid has a dedicated YouTube app and Windows Media Player supporting MIDI, AAC+, AAC, MP3 and WMA music files along with H.263, H.264, MPEG4 and WMV videos. The built-in camera offers good picture quality and a number of editing options. Sprint's Samsung Intrepid has 256MB RAM and 512MB ROM, with an expandable memory of 32GB.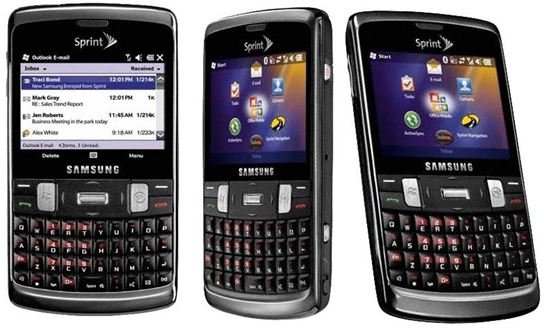 Performance (4 out of 5)
The call quality of the Samsung Intrepid was good when this dual-mode smartphone was tested with Sprint service. The audio was clear with no significant background noise. However, on speakerphone the voice fades a little bit and sounds a bit hollow. There is not much trouble if you want to pair the device with the Motorola S9 Bluetooth Active Headphones or with the Logitech Mobile Traveler Bluetooth headset.
Powered by a 528Mhz Qualcomm MSM7600 processor, the Samsung SPH-i350 smartphone is quite responsive with smooth video playback, good audio, picture and reliable navigator. The route calculation and re-calculations are fast and accurate. The phone features a rated 1480mAh lithium-ion battery with a talk time of 6 hours and has 1.07 watts per kilogram of SAR rating. There is also M3 and T3 Hearing Aid Compatibility.
The Verdict (4 out of 5)
Even though navigating through the interface is a bit difficult, the Samsung Intrepid SPH-i350 does have some great messaging and e-mail features. Although not the flashiest and not one of the best smartphones on the market, the Intrepid offers affordable messaging features at just $150 with a two-year contract from Sprint. On the whole Sprint's Samsung Intrepid SPH-i350 smartphone bags a 'Good' rating.
You may also be interested in Samsung Intrepid cases or other Samsung Intrepid accessories.
References
Reference:
Image Credits: