Samsung Galaxy Prevail Review - Entry Level Android Handset for Boost Mobile
The Samsung Galaxy series has been on a major upswing and the latest release is the Samsung Galaxy Prevail for Boost Mobile. This phone is set to target the entry level market while using the Galaxy name. This is not the first time the Galaxy name has been used to market an entry level phone, the Samsung Galaxy Apollo being an example, but it is the first CDMA Galaxy smartphone from Boost Mobile to be marketed towards entry level consumers in the United States.
Coming in at under $200, the Samsung Galaxy Prevail looks to be able to compete with the likes of the Optimus line up from LG, such as the LG Optimus C. The fact that there's no contract required may also be enticing for some people.
Specifications:
Dimensions: 4.43 x 2.26 x 0.47 inches (113 x 57 x 11.9 mm)
Weight: 3.8 oz (108 g)
Display: 3.2 inch LCD capacitive touchscreen display, 320 x 480 pixels
Memory: 32 GB MicroSD
OS: Android OS 2.2
Processor: 800 MHz Qualcomm MSM7627-3
Camera: 2 megapixel camera
Connectivity: CDMA 800/1900
Data: 1xEV-DO rev.A
Bluetooth: Yes
GPS: GPS with A-GPS
Battery: Li-Ion 1500 mAh
Design and Display (3 out of 5)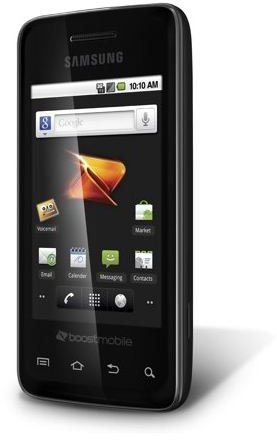 The Samsung Galaxy Prevail isn't the most unique phone when it comes to design or display. In fact, most people would easily glance over it and not really notice it. However, this phone isn't meant to 'wow' the consumer, it's meant to be an affordable, easy to use, Android powered smartphone. The Prevail has a very familiar look, a candy bar design with a 3.2 inch capacitive touchscreen display dominating the front of the phone.
Residing around the sides of the display are the volume rocker, microUSB, 3.5 mm headphone jack, power / lock button, microSD slot, and the dedicated camera button. Below the 3.2 inch display are the 4 capacitive buttons that are now very familiar with Android users for home, menu, back and search. Rounding out the back is a soft touch back and a 2 megapixel camera but unfortunately, no flash included. Overall the Samsung Galaxy Prevail looks sharp for an entry level smartphone, very much like its sibling, the Galaxy Apollo.
Hardware and Software (3 out of 5)
The Samsung Galaxy Prevail comes with a modest 800 MHz Qualcomm MSM7627-3 processor, not the latest dual core or even single core processor, but for the entry level market, definitely decent. It can easily be compared to the T-Mobile G2, or any of the LG Optimus series smartphones, such as the LG Optimus M. Running on this 800 MHz process is a copy of stock Android 2.2, with no TouchWiz UI. It's an interesting decision to not include TouchWiz UI, but hardcore fans of Android will enjoy the fact that it's stock. This also means the the Galaxy Prevail will be able to take on a future upgrade of Android much earlier than other Android powered handsets.
User Interface (3 out of 5)
The user interface is something most people are now very familiar with. For those who are unfamiliar with Android, it's extremely easy to pick up, as it is a touchscreen interface. Simply slide your finger across the screen or touch items on the screen to interact with the Samsung Galaxy Prevail. There was no noticeable lag that harmed user experience, though at times, it did pause, which is to be expected on an entry level smartphone. This same type of experience occurred on the LG Optimus T and occasionally on even higher powered smartphones such as the Motorola Droid Bionic, which ironically, is rumored to be cancelled.
Features (2 out of 5)
The Samsung Galaxy Prevail has the standard set of features found on most smartphones, though it does lack slightly when it comes to the camera. Coming in at 2 megapixels, it's a slight disappointment. Also, the lack of flash is another disappointment and it's strange that Samsung hasn't learned its lesson from the Samsung Galaxy S 4G, the Samsung Vibrant and the Samsung Captivate. Without flash, the camera really becomes a weak feature on a smartphone, even on an entry level smartphone.
The 2 megapixel camera itself takes decent pictures, though one must note that many flip phones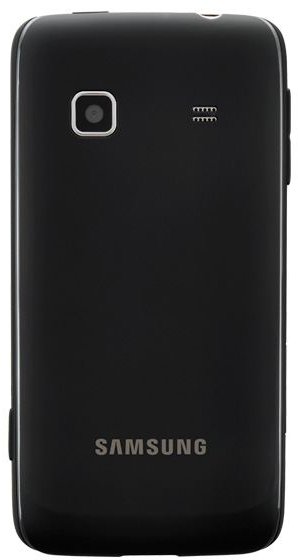 nowadays have 2 megapixel cameras. It would've been a bit more enticing if the camera was just slightly better. Not an 8 megapixel camera like on the LG Optimus 2X or even a 5 megapixel like those found on its older siblings, but a 3 or 4 megapixel camera would've been ever so slightly better.
Beyond that, the Samsung Galaxy Prevail gets access to the Android Market, giving it free reign to surf through 100,000+ different applications, both paid and free. Recently, Amazon released an AppStore of their own, increasing the availability of applications even further. For an entry level smartphone, this type of access and customizability is a huge help in garnering success, especially on a carrier like Boost Mobile.
The Final Verdict (3 out of 5)
Overall the Samsung Galaxy Prevail is a great little addition to Boost Mobile's line up and a great entry level smartphone for customers looking for a cheap smartphone. Like the LG Optimus C, it is a bit late to the market, and with no real differentiators, it can quickly get lost in the pack. In Boost Mobile's line up, the Galaxy Prevail comes off as a strong contender, but with the rise of cheaper smartphones on national carriers, the Prevail loses its advantage. However, from a consumer's perspective, this is an "Average" smartphone that runs on stock Android, has some okay features and a nice little design.
References