Introduction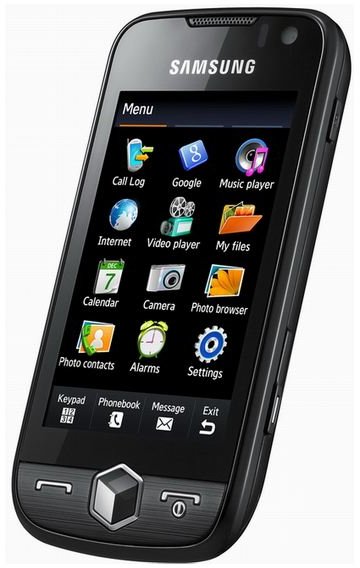 Feature phones are a dying breed. Smartphone prices have dropped to a phenomenal level, and users are becoming more tech savvy by the second. In such an environment, the old Samsung Jet S800 can still hold its own against lower and mid-range smartphones. If you are in the market for a very good phone that would give even the original iPhone a run for its money, then the Samsung Jet should be your first port of call.
More recent phones such as the HTC Freestyle feature phone, claim to blur the lines between what a smartphone and a dumb phone are capable of doing. The only evidence in such cases is usually a fancy UI and a good processor, but features wise most feature phones, all lower end smartphones and even some mid range smartphones tend to fall short.
So, does the Jet truly manage to stand up to its smartphone rivals? Has age dulled its edge and advancements in technology rendered it old and sold? Buckle your seat belts as we find out the answer to these questions and more in our review of the Samsung Jet S800.
Design (4 out of 5)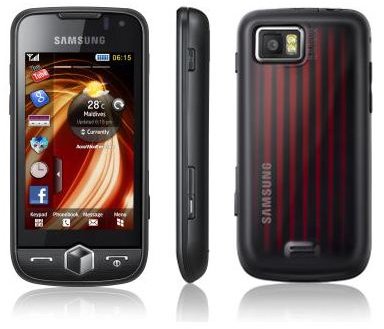 The Samsung Jet is a formal but very good looking phone. It weighs a very acceptable 110 g and has dimensions of 108.8 x 53.5 x 11.9 mm, by some mirage of design aesthetics the designers have made the Jet look smaller than it actually is.
At the front we have a WVGA 3.1 inch AMOLED resistive touchscreen, with a resolution of 480 x 800 pixels that is capable of supporting 16 million colors. So this screen is capable of standing up to the best in the business. Beneath the screen we have a very beautifully reflective 3D cube button, which serves as the back, homescreen and multi-tasking button if it is pressed for about 3 seconds. To the left of the cube we have the Call and to the right we have the End Call buttons, directly above the screen we have the automatic brightness sensor (using the Jet in full sunlight is a completely adequate experience), proximity sensor and earpiece.
Now to the sides, on the left we have the rather small but easy to press volume rocker, to the right we have the hold/lock button and a second rocker based button, this rocker is responsible for the 3D Cube and the Motion Gate UI. Up above we have the 3.5 mm headphone jack and the covered microUSB port, unfortunately the hot-swappable microSD card is located under the battery cover.
The back of the Jet features a square 5 MP camera with dual LED flash and the tiny loud speaker grill, speaking of the back, Samsung have put a exotic red back cover, which reflects different holographic shapes depending on which angle the sun reflects off it. Overall the Jet is sturdily built with no creaks from the back cover, and all buttons feel solid to press while providing excellent feedback. The only true design flaw is that the Jet is made from a very glossy plastic, as a result finger print smudges are almost instantaneous. Please keep a handkerchief close by, you'll be needing it.
User Interface (4 out of 5)
The Samsung Jet comes running the TOUCHWIZ 2.0 user interface, although rather dated by today's TOUCHWIZ 3.1 and soon to come TOUCHWIZ 4, in 2009 TOUCHWIZ 2.0 was the latest UI, and the only notable deficiency is that it is not as good looking as the newer UI's and lacks multiple homescreens or multiple menu screens.
So the setup is pretty basic, you get three non-negotiable home screens, with the widget bar to the left. You can have as many widgets as you like per home screen, but overlapping of home widgets will make it difficult to swipe across the home screens, you might accidentally touch a widget. The main menu is divided into three screens as well, you cannot add more or rearrange icons, but all applications are laid onto the main menu with the deeper digging reserved for the downloaded Java apps and the Settings menu.
There are three basic views across the Gallery; Graphical, Grid and List. The file manager is flawless, it shows items from the memory card and internal memory in an integrated view, you can choose to turn off this option, it automatically locates and stores media types, though you are free to ignore this and arrange them as you wish.
The moving or copying option works smoothly without glitches or any problem at all, there are two (technically three) picture galleries, one is opened when any folder containing pictures is accessed, the other is a dedicated gallery and the final gallery is from the Motion Gate or 3D Cube depending on which you access. Speaking of the 3D Cube and Motion Gate, here is an explanation as to what they are.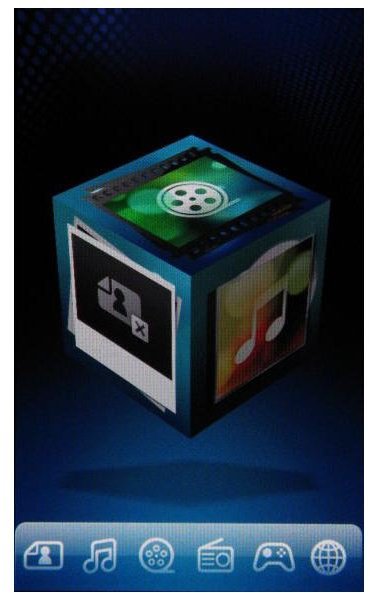 The Samsung Jet has very sensitive accelerometer, actually it's a combination of an accelerometer and a gyro-scope, so it can detect almost 4 dimensions of movement. Remember that second rocker button we reviewed in the Design section? This is where it shines. Holding the slightly raised part of the rocker launches the 3D Cube, a cube with all six media centered options presented in a very responsive and interesting fashion, flicking your finger across the surface the cube rolls around almost like a ball, the selectable options are; Videos, Music, Games, Pictures, Web and FM Radio. The 3D Cube is actually named Media Gate.
Now for Motion Gate, which is completely different from Media Gate aka "3D Cube", now pressing the other rocker button launches Motion Gate, which presents your; last song, last movie, last contact, last picture and last game. In short it presents the last set of items that were being used, unlike the 3D Cube, Motion Gate, as the name implies, relies on the accelerometer to move around.
By flicking the phone either to the left or right, you can select whatever option you please. Although it is fun to use, it is almost completely devoid of any practical purpose, it's just there so you can show off to your friends. All items in either Media Gate or Motion Gate are presented in their own unique 3D galleries, they are not shortcuts to the main menu. If you find any of this too complicated, Samsung have included a very entertaining tutorial in the Jet.
Now to shine some light onto the resistive screen, some of you might be thinking that having a resistive screen would ruin the whole experience of using the Jet. In actual fact the resistive screen of the Jet is the single most responsive resistive screen I have ever come across in over 7 years of touchscreen phone reviewing. It easily rivals the original iPhone and most mid-range capacitive screens, yes believe it or not the resistive screen feels like a very good, if slightly slow iPhone 3GS screen. So the chances of you noticing it is a resistive screen without being informed beforehand are virtually zero. The added benefit is that you can use the screen with anything, gloves, a pen, fingers, metal and anything else you like.
Now the phone book has a limited capacity of 2,000 contacts, which is a bit of letdown really, the Jet was doing so well I took limitless capacity as granted. But it does have photo tagging, ringtone tagging, video tagging and multiple field entries. There is an alternative to the phone book, however, the Photo Contacts application. It presents over 2,000 contacts via pictures in a very 3D-like gallery, think of it as the the picture gallery for contacts. It might not be practical, but it looks very cool.
Now for the Jet's messaging capabilities, it has a shared editor for SMS and MMS, E-Mail uses a separate editor, the three available text input options are D-Pad, QWERTY (simply flip the phone into landscape mode) and Handwriting. The handwriting recognition is phenomenally accurate and writing hand written messages is a complete breeze. Now for the native e-mail client, this is one place where the Jet takes second best prize, unlike smartphones and most other feature phones, your IMAP and POP3 information has to be entered manually, which is rather irritating. Other than the e-mail settings issue, the client is excellent.
Finally it should be noted the entire UI is silky smooth, there is never any lag or stutter, at all. Even when the Media or Motion Gates are active.
Features (5 out of 5)
The Jet has a set of features that would make most medium range smartphones give it a second look, as a matter of fact the only things missing is an OS (this is a feature phone) and app support from any major OS (Android, Symbian, iOS etc). You're limited to Java downloads only.
Let us start off with connectivity, the phone is perfectly suited to international travel with a 2G GSM network of; 850, 900, 1800 and 1900. 3G is also on board with Quad Band support of HSDPA 900, 2100, 850 and 1900, unfortunately the 3G has rather limited capacity of 3.6 Mbps, rather slow by today's standard of 7.2 Mbps but still adequate enough. Local connectivity is handled via Bluetooth v2.1 with AD2P, Wi-Fi, microUSB V2.0 and TV out, there is no cable supplied in the Jet's retail box, but it is TV out capable.
Now for processing power, which is a 800Mhz processor and Qualcomm MSM6246 chipset, almost as powerful as the new Samsung Galaxy Ace. So Samsung were not lying about the phone's processing power, it rivals the first three iPhones and current mid-range smartphones. The Jet has a very generous 2GB of internal memory, some European models have shipped with 500 MB though, but these models come with a extra 2GB microSD card in the box.
Now for the phone's 5 MP auto focus camera with Dual flash and a maximum resolution of 2592 x 1944 pixels. It has a very interesting set of features, including; Wide dynamic range option, Anti-shake, Digital image stabilization, Face detection, Smile shot, Blink shot, Geo-tagging and Viewfinder grid lines. Pictures turn out clear with no noise or color blurring, contrast is well balanced while colors are rendered precisely, almost perfect. Only real issue with the camera is that the dual flash is not as strong as it looks, adequate would best describe its power.
Video recording on the Jet just falls short of 720P HD, videos are recorded on a maximum 720x480 resolution at 30 FPS, there is also an option to shoot slow motion videos at QVGA resolution of 120 FPS. Videos are very sharp and clear on the Jet, while they will serve well enough on a PC or TV screen.
The normal music player on the Jet will replace your average MP3 player in a heartbeat, it has all the expected features such as filtering tracks by author, album, genre, automatic playlists, preset equalizers and album art. It also has the added bonus of 5.1 channel sound surround, although it does fairly good job of emulating 5.1 headphone experience, the best musical experience is via the supplied headphones.Supported file formats are; MP3, WMA, eAAC+ and WAV.
The generic music player is not a sight to behold, however, the Media Gate music player is, so if you want a cool looking musical experience, shift over to the 3D Cube. For those of you who enjoy FM Radio, the Jet has one with RDS, it also provides an option to record songs, for your inner pirate this is a great medium to obtain copyright content for free. The Jet also has a Find Music feature, ten seconds of any song and it tells you the name of the song and artist(s)/band.
Now for the video player, it supports a maximum resolution of 720x480 in WQVGA quality, and gone are the days of video re-compressing and conversions as the Jet comes with DIVX/XVID support, it can also play MP4 encoded in either H.263 or H.264 and WMV. If you have a common video format chances are the Jet will play it. The 800 Mhz processor really shows off its power here as videos play without any lag or stutter even at their highest resolution.
Other miscellaneous but necessary features include; Video editor, Image Editor, Digital compass, Organizer (Calendar, Alarm, Calculator, Voice Recorder, World Time Application, Unit Converter, Count Down Timer), Document viewer (Word, Excel, PowerPoint, PDF), Voice memo, Predictive text input, GPS and A-GPS. That was an extensive list.
Performance (4 out of 5)
Now we come to the pivotal point in our review, where we review the Jet's call quality, browser and battery life. Features which can make or break a phone.
Call quality on the Samsung Jet ranges from very good to average, it rarely goes down the path of terrible unless there is a storm or you are in a dead zone. The loud speaker is impressively loud, not as good as its much cheaper cousin the Samsung Star II oddly enough. However, carrying an entire conversation via the loudspeaker is a comfortable experience, and it can hold its own even in crowded areas.
The web browser on the Samsung Jet 8003 is the WebKit-based Dolphin, one of the best browsers on any feature phone, as a matter of fact the only rival to Dolphin is Opera Mini. Two features makes the HTML/xHTML compliant Dolphin browser stand out, first is its full Flash Lite 10.1 support and Samsung's new One Touch Zoom, Apple can say what they want about the Pinch To Zoom, personally I believe the One Touch Zoom beats it hands down.
The Flash support is something that the super high tech (or so we are led to believe) iPhone 4, iPad and iPad 2 lack, so the Jet's browser is not short changing the user in any way. The only real drawback to the browser is it starts to run out of resources rather quickly, three heavy Flash web pages are enough to produce the "Memory Full" message. This flaw is why this section is rated good as opposed to excellent.
Now to the battery, it is a rather small Li - Ion 1100 mAh that produces a phenomenal amount of power considering its capacity. I guess not having an OS really does make a difference to the battery, the quoted talk time of this phone is 7 hours, actually talk time is closer to 8 hours, while on 3G it truly is just 7 hours. I personally experienced 6 hours of video playback on only three battery bars. Stand by time is slightly lower then the quoted 435 hours, it is actually 422 hours, at absolutely no usage the phone should last for 18 days. Heavy users will be charging the Jet once every two days, medium users once very 4 days and light users once every 6 days.
Verdict (5 out of 5)
The Samsung Jet is a shining beacon of a production environment where the end user's needs and aspirations are put first, where the aim is to please the user with the best technology the company has available, where attention to detail has been paid to every detail. Too many companies today try and convince the user that their product is technologically advanced beyond belief, while this may be true, it applies mostly to high end gadgets, so in other words if you want the best, be prepared to suffer an empty wallet.
Generally companies hype their product, then deliver an average to inadequate range of features, their sole concern is profitability, going the extra mile for the customer is a concept they do not understand. The Samsung Jet is an exception to this general trend, the phone gives the very best it can at an affordable $200, it has features that most medium and high-end phones are missing, everything works between outstanding to average and it has an exceptional build quality.
The only detractor is its old UI, compared to modern UI's, it is showing its age. There is also no option to upgrade it to TOUCHWIZ 3.0, though it runs a very good TOUCHWIZ 2.1. So in the end, it depends on what is more important to the user, visual aesthetics or features. There is almost no phone on the market as good as the Jet at $200, so if a slightly older look is okay with you, the Samsung Jet is truly exceptional value for your money.
References