Samsung Galaxy Ace S5830 Review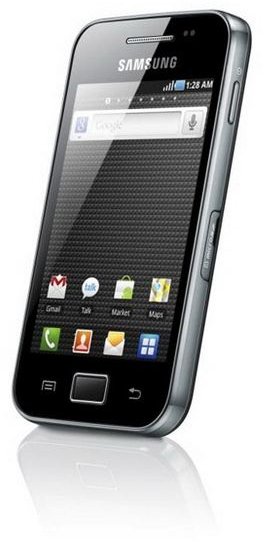 If mobile phones were categorized in the same social hierarchy as humans, the Samsung Galaxy Ace S5830 would most definitely be in the upper middle class category.
The phone has an average performance through most of its operation, but there are some truly excellent moments thrown into the mix to keep things worth the price tag. Please keep in mind that the potentially embarrassing "you bought an iPhone clone" moment may occur when your friends take a look it.
Having put that out and into the open, let's take a look at what's in store for you as we review the Ace S5830, a phone Samsung intend to dominate the mid-range budget phone market with.
Design (3 out of 5)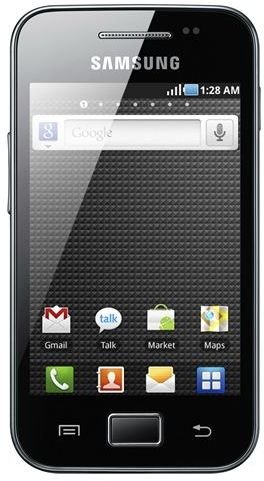 The Samsung Galaxy Ace 5380 has a straight, easy, and highly unoriginal design. To put it bluntly Samsung simply copied the iPhone design. However, as most iPhone users will inform you, that works out fine, as the phone feels easy, if slightly large to hold, and fits into a pocket easily as long as the pocket is relatively large. This is not a phone to carry around in skin tight jeans.
The Ace is not the lightest phone around as it weighs approximately 113 g and tends to stretch the palm slightly as the dimensions are 112.4 x 59.9 x 11.5 mm. However, most users will get used to the slightly larger dimensions very quickly. As for those downgrading from more expensive smartphones, the Ace will feel right at home in their palms.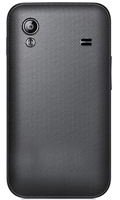 At the front we have the 3.5 inch TFT capacitive touchscreen capable of showing 16 million colors with a resolution of 320 x 480 pixels. Beneath the screen we have two touch-sensitive keys, the menu/back buttons and finally the big square home button right in the middle.
To the left we have the volume rocker which blends in perfectly with the rest of the phone. The rocker has a rather unresponsive travel and needs a precise press to work well. Not one of the better volume rockers out there.
On the right we have the long power button and… I am pleased to announce a hot-swappable microSD card slot! Yes, finally Samsung have come to their senses. The slot is covered with very flimsy plastic flap so do not be rough when opening or closing it.
On the top we have another flimsily covered microUSB slot and the 3.5 mm headphone jack. To the back we see three things, the 5 MP camera and directly beneath it the LED flash and to the right of the flash, the loudspeaker grill.
It should be noted that the back cover's plastic is made from a particularly fragile and breakage prone plastic, Samsung are infamous for their quality of plastic, but this is getting ridiculous. People pay good money for their products, please make good quality products.
User Interface (4 out of 5)
Now, UI is one department Samsung got right on the Ace. First the capacitive screen works amazingly quickly and is always ready for the next sweep or flick. As for the UI it is the age old blend of TOUCHWIZ 3.0 mixed with Android, which is of course, the OS the phone runs on.
The phone's HVGA display renders colors in a bright and crisp manner. While the phone's sunlight legibility is poor, at least it is there. The proximity sensor works perfectly and going thorough the call menu while talking is hassle free.
In the phonebook department Samsung score another ten out of ten as the entries are unlimited and the left/right sweep feature is a joy to use. Photo and video tagging are supported and any other feature you could possibly ask from a phonebook is available and more.
The texting section supports the Swype feature, so those who hate tapping a D-pad or QWERTY in landscape mode are catered for as well. Messaging otherwise is standard for this phone type, two separate e-mail clients exist and all messages are organized in thread view.
The drop-down Android notification bar contains four basic menus, Wi-Fi, Bluetooth, Profiles and Auto-Rotate. Speaking of the drop-down bar, the Wi-Fi displays networks that have been turned off as on unless you refresh the search option.
The home screen is limited to seven panes only, apparently the ten panes on a home screen is just for elite phones. However, the option to delete unwanted panes is available. The menu button also doubles up as the search button with a long press. Holding the home button launches the widget options menu. This phone is capable of supporting live wallpapers, it seems Samsung is finally pulling its act together with mid to lower ranged Android based smartphones. Scrolling in the main menu is, as usual, done sideways instead of the traditional horizontal sweep on most other Android phones.
Features (5 out of 5)
Now features, the Samsung Galaxy Ace S5380 is filled with all sorts of fun and interesting features to make sure there are no dull moments while you're swiping or tapping away on it.
Let us start off with connectivity as is the tradition in our reviews. For international roaming we have a 2G GSM network with the following frequencies supported; 850 / 900 / 1800 / 1900. For high speed connectivity we are also treated to a 3G HDSPA network with the following two frequencies supported, 900 and 2100. In the local connectivity department we have Wi-Fi 802.11 b/g/n with DLNA, Bluetooth v2.1 with AD2P and finally microUSB v2.0 that can charge the phone via a PC.
Under the hood of the Ace S5380 we have a 800 MHz ARM 11 processor, the Qualcomm MSM7227 chipset and the Adreno 200 GPU to deal with graphics based performance. So no slow-downs here at all with that kind of firepower in the Ace's arsenal. Internal memory is capped at 158 MB.
In the audio entertainment section we have a fully fledged MP3 player skinned in the traditional Froyo music player theme. Audio formats supported are MP3/WAV/eAAC, the player also comes with DNSE. Music can be organized in Most played, Album, Playlists and various other filters to suit your taste. Also available is an FM radio with RDS so it automatically switches frequencies of the current radio station while you're traveling.
In the video entertainment department we have a video player capable of playing MP4 formatted videos that are encoded in either H.264 or H.263, the only other video format playable is 3GP. The player can support up to a 640x480 framed video without any hassles. No 720p HD video watching here unfortunately.
In the photography and home video departments we are equipped with autofocus 5 MP camera with a maximum resolution of 2592x1944 pixels, it is also capable of Geo-Tagging and Smile Shot. It also has a rather weak but adequate LED flash and a video recorder capable of capturing motion at a measly 15 frames per second. Picture quality is clean and crisp, if lightly hazed when snapping a multitude of bright colors.
Other miscellaneous, but important features include – complete Google integration with Google maps, Picasa, Gmail, Calendar, and YouTube. We're not done yet, also along for the ride is GPS with A-GPS support, a Document viewer, Image editor, Organizer, Voice memo/dial, Accelerometer, Swype text input and finally an HTML/xHTML web browser with… no Flash. The YouTube app does not count as Flash support, sorry.
Performance (4 out of 5)
The Aces's OS, UI, call quality in strong or weakly covered areas, web browser, and loud speaker all perform very well. Samsung have not added anything outstanding or new to the Ace but they have not detracted anything either.
Weak points of the phone are its lack of Flash support, horrific build quality, poor video capture frame rate, weak LED flash and it should be noted there is no support for widgets or apps from the Samsung App Store, it is an Android show through and through.
The battery performance of the Samsung Galaxy Ace S5380 is average, it comes with a Li-Ion 1350 mAh battery with quoted standby times of 640 hours on a 2G network and 420 hours on a 3G network. Realistic standby times are actually 500 hours on 2G and 370 hours on 3G.
Talk time is quoted at 11 hours on 2G and 6 hours and 30 minutes on 3G, these times are actually accurate, however, if live wallpaper is turned on while talking the times get reduced by 15 minutes on 2G network and 20 Minutes on 3G network.
On heavy usage the Ace will need charged once a day and on completely minimal use the phone should run for 4 days before collapsing.
Verdict (4 out of 5)
Samsung have made absolutely no effort whatsoever with the Samsung Galaxy Ace 5380. Whether it be in the design department, UI, OS and any other part, the phone has no new features, specs or ideas to present to the consumer at all. As a matter of fact this phone was made purely for the sake of providing some competition to LG's range of mid-budget smartphones such as the LG Optimus One.
However, having said all the above, this phone performs superbly well, comes with all the bells and whistles you can expect within its price range, iPhone like looks (which can be a good or bad thing depending on the user's opinion) and a well placed microSD card slot.
The major detractor from the phone's appeal is its flimsy build, please be careful to never drop this phone on a concrete surface.
Battery life is average and to be expected from a phone with specs such as the Ace has, and is overall rather adequate. Which seems to be a running theme on this phone. Yes, the perfect word to describe the Samsung Galaxy Ace S5380 is indeed adequate.
References