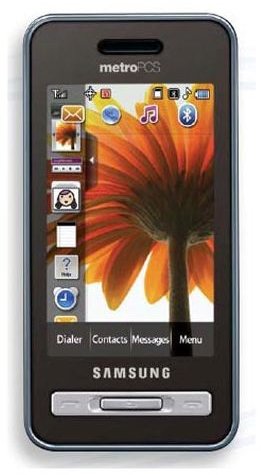 Introduction
The Samsung Finesse, is a cheap, well rounded, high speed phone from MetroPCS. The Finesse manages to capture a very rare niche in the phone industry, a low-range phone that actually works but does not cost a fortune. Makes sense, or does it?
Design (4 out of 5)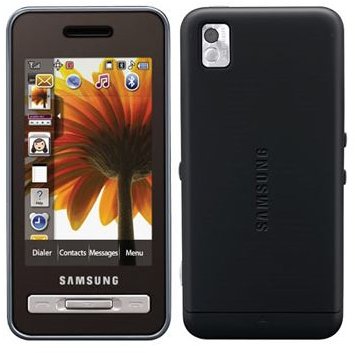 The Finesse bares a striking resemblance to its older cousin, the Samsung F480i.
It has a larger display and a better set of features, however, plus it comes relatively cheap now, about $200 without contract. For starters, we have a 3.2 inch WQVGA resistive screen with 240x400 pixel resolution, capable of supporting 262k colors.
Right underneath the screen we have three buttons, the elongated and thin back button, and the very well camouflaged receive call to the left and end call buttons on the right. All the buttons are flat but they do have a nice response when pressed and the tactile feedback is solid.
On the left we have the charging port and the volume rocker. On the right we have the microSD card slot, the voice dialer and the dedicated camera button. Above we have the 3.5 mm audio jack and the power button. Turning the phone around, on the back we see the 2MP camera lens and its self portrait mirror.
Now for weight and dimensions, the Finesse weighs 103 g and has dimensions of 116 x 58 x 12 mm. Comfortable enough in your pocket but perhaps a bit weighty if you decide to hang it around your neck using a lanyard.
User Interface (3 out of 5)
The Samsung Finesse comes running on a TOUCHWIZ OS and UI, thankfully MetroPCS did not try to use a home baked user interface.
As is tradition with TOUCHWIZ, you get a side bar filled with widgets you can drag out onto the home screen (you only get one on the Finesse instead of the usual three), above is a bar with shortcuts to the Bluetooth, Music Player, Internet and Messages settings. You are provided with dedicated touch buttons below, they are the Menu, Messages, Contacts and Dialer buttons. Starting from right to left.
The screen is bright and sharp, colors are rendered crisply and if there is one thing to be said about the overall display of the Finesse, it is that the screen looks good. Opening the main menu we find the typical grid arrangement for icons and folders. Unfortunately customizing and re-arranging icons is not a supported feature.
Text entry is supported in three formats, D-pad, QWERTY and handwriting recognition. Unfortunately the Finesse does not have an accelerometer and you have to tell the screen to rotate to QWERTY in landscape mode. Handwriting on this phone is an uphill task, as the resistive screen is necessary for the feature to work, it is also the very same resistive screen which makes errors and incomplete symbols a very regular occurrence. But with time and practice it will become second nature.
The phone supports SMS, EMS, MMS, IM and E-mail, with a native client and PC syncing in built, e-mails should come and go hassle free. But they don't, the PC sync feature is complicated and awkward to work out, and nine out of ten times it is a complete failure. The e-mail client demands a wealth of information before retrieving your e-mails from whichever service you use (Google, Yahoo, MSN etc).
The screen itself when not using the handwriting feature is actually good, it is not even close to a capacitive screen, but most gestures are registered and after a while of pressing the screen with a bit of pressure, it will quickly become second nature. The entire experience of sweeping and gesturing on the Finesse comes with vibration feedback, which can be customized to suit your taste or turned off entirely.
The Phonebook has a very limited capacity of only 500 entries, the least expected these days is 1,000. However, you can add two phone numbers and an e-mail address. Photo tagging and ringtone tagging are available features as well.
Features (3 out of 5)
The Samsung Finesse does not come with all the features you might expect from a phone of its range.
For starters the CDMA network supports the 800 and 1700 set of frequencies, which means this phone is never getting past immigration. For high speed connections we have the two CDMA 1x EVDO REV.o frequencies of 2100 and 1900.
Local connectivity is supported by Bluetooth v2.0 with every possible Protocol imaginable supported. Here is the basic list; music transfer (AD2P) Headset (HSP), Handsfree (HFP), Dial-up networking (DUN), File Transfer (FTP), Object Push (OPP), Generic Access (GAP) and Serial Port (SPP) access. Unfortunately there is no Wi-Fi, which was a feature expected to be on the Finesse.
There is a microUSB port for PC connections and it does come with PC charging capabilities, just in case you leave your charger at home. The internal memory is capped at 150MB. Not bad. You can expand the internal memory up to 8GB with a microSD or microSDHC card.
A few applications included courtesy of MetroPCS are Metro Navigator, which can be used with the phone's GPS receiver, MetroBACKUP, a service which can be used to back up your information on MetroPCS's servers and finally Metro411, which can be used to locate nearby businesses.
The Finesse comes with a fully packed organizer, featuring a calendar, a notepad, an alarm clock, a world clock, a calculator, a stopwatch, a currency/unit converter and a tip calculator.
The 2MP camera is actually a decent snapper in terms of picture quality, not as good as the camera on the Samsung Galaxy 5, but adequate enough. The maximum picture resolution is 600x1200 pixels, however, the zoom option seems to stop functioning at maximum resolution. The phone comes with all the standard features expected from Samsung, such as; ISO, White Balance and effects (normal, green, negative, sepia, black and white, aqua) self-timer, panorama, and various others. Pictures appear sharp and well balanced, with a slight negation of detail on outdoor shots. However, under low light conditions, indoor shots tend to blur and there is a slight white color effect in the pictures.
Video are recorded at 15 FPS per second and they are very pixelated, at best they are adequate for MMS purposes. Videos can either be taken at 320x240 or 176x166 resolutions. There is a serious issue with the picture gallery that should be noted, there is no way to move from one picture directly to the next, one has to exit the current picture and select the next one from the original line-up.
The music player supports album art, has six pre-rendered equalizer settings, playlist's, shuffle mode and all the features you can expect from a good MP3 player. The following audio formats are supported MP3, AAC, AAC+ and MIDI, no WAV format. Unfortunately while the music can be made to run in the background while other tasks are being performed, it cuts off completely when the web browser is accessed. The music quality via headphones is excellent, on the Bluetooth stereo feature it sounds slightly dull. On the loudspeaker itself the music sounds slightly hollow, there are no complaints about the sound quality.
The video player supports the only two video formats, MP4 and 3GP. MP4 videos coded in either H.263 or H.264 can be played, videos played at the 320x240 resolution play easily, while any higher resolution simply does not work.
Performance (4 out of 5)
The Finesse's call quality is excellent, in well covered areas calls sound natural and clear, with no background noise or static interference. While on loud speaker voices sound slightly hollow, but otherwise they are clear. The loud speaker is not very loud, carrying on a long conversation on the loudspeaker could prove to be tiresome. In areas with low coverage the Finesse manages to hold a good level of sound quality but static does creep in and background noise can become rather audible.
The Finesse's web browsing experience is decidedly average, with pictures and web pages rendering most of the time, the only real complaint is that the zoom function works unevenly and on larger pictures or pages, one is forced to pan and flick about a lot. There is also no auto text correction support, so please make sure to spell web addresses correctly. There is obviously no Flash support, but YouTube videos do play directly from within the browser. The Finesse has very limited support for added applications, so installing Opera Mini or any other application or game can prove to be a rather difficult task. The browser is a full HTML browser, so most sites should load with little to no problem, but do not expect an experience anywhere near a PC browser experience.
Now the Samsung Finesse does not have a very powerful battery life, but oddly enough it is stronger than Samsung's official quote of 3.5 hours of talk time. It actually scored 4 hours of talk time, while the 300 hours of standby time is actually 423 hours, so although not the most powerful battery, it is adequate enough for daily usage. The battery is 1000 mAh Li-Ion one, most users will be charging their phones once a day, heavy users twice a day and frugal user once every two days.
Verdict (3 out of 5)
The Samsung Finesse R810 is not a bad phone, but it does not live up to its potential, there are some rudimentary elements missing from it, such as the accelerometer, Wi-Fi, lack of app support and the very badly organized gallery.
However, most other features perform well, the touchscreen is easy to live with, despite being a resistive one, and all the basic features work well. Such as calling, texting and surfing. You're better off buying a cheap smartphone such as the Samsung Galaxy 3 or even the Samsung Star 2, as they are complete and usually come contract-free, they are also equally priced with the Finesse but perform much better.
References