Review of Samsung Exclaim From Sprint: Unique Double Keyboard is One Exceptional Feature to This Phone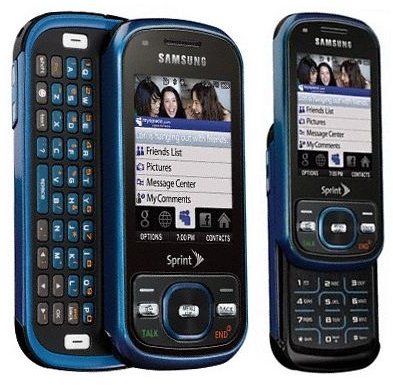 Would you prefer a phone with a QWERTY keyboard or a D-pad? How about both? If you answered yes to this last question, then you will be happy to know that Samsung and Sprint have joined forces to bring you the Samsung Exclaim.
The Exclaim is a user-friendly, basic phone. The phone's cool factor is it's QWERTY and D-pad, both of which slide out. Other than that, it's your basic color phone with a focus on social interaction and media.
Design (4 out of 5)
Now, lets talk about the main features, namely the QWERTY and the D-pad.
First, the phones slide mechanism works perfectly well, there's no clicking sound or any difficulty in using the down/up sliding motions. It works smoothly and efficiently, the QWERTY also features excellent backlighting.
The QWERTY keyboard is cramped. Not the most user friendly in terms of space, but this actually works out well as the keyboard has a comfortable and pronounced travel and the keys are raised. The keys are also comfy, and typing away becomes very easy and fun after a few minutes of practice.
It also has two soft keys buttons placed on either side. These were meant to be on the screen, however they do make more sense being on the keyboard, as they facilitate easier usage.
Now, slide the QWERTY shut and slide the phone straight up in portrait mode. and down comes the dialing pad, more commonly known simply as D-pad. Now the D-pad is not as comfortable to use as the QWERTY, as the keys are flat and depressed into the pad itself. The D-pad does have a funky design though, which might appeal to some people, but most will probably consider it's alien design uncomplimentary to the overall look and feel of the phone.
The four-way navigation button with a central "O.K.", is surrounded on either side by three buttons in the following order. Left side; soft button, speaker and receive call. Right side; soft button, back and end call.
Now let us move onto the phones dimensions. As you can expect, a phone with two separate keyboards is not going to be exactly thin is it? The phone overall dimensions with everything slid-in and shut are 113 x 57 x 17 mm and it is rather heavy at 133 g. This is not a phone to hang around your neck, and you will most likely feel its bulky presence in your pocket.
To the left we simple have the very flat and nearly useless volume rocker, it requires a rather precise push. The right side is completely jam-packed, with the microUSB, microSD and camera shutter keys all being placed there. On the top we have a… problem, the Exclaim uses a 2.5 headphone jack instead of the very common 3.5 jack. So in other words if you carry around a normal pair of earphones like most people, you will need an adapter.
The front has a bright and crisp 320x240 pixels QVGA screen, capable of showing 265 thousand colors. At the back there is the 2 MP camera and next to it a self portrait mirror.
User Interface (5 out of 5)
The Samsung Exclaim comes with Sprint's well loved ONE TOUCH user interface. It comes with a bar at the bottom, with shortcuts to preloaded applications. Since the Exclaim's focus is social networking, it comes preloaded with Facebook, Twitter and Myspace apps. it also comes with the NFL Mobile Live, Nascar Sprint Cup Mobile, Sprint Social Zone, Sprint Navigation and Sprint Family Locator apps.
The UI is smooth and all transitions occur without hampering the phones performance. The phone has a very short capacity for contacts though, only 600 contacts are allowed. However there are up to six options such as multiple number, IM, e-mail, birthday and various others, per contact to play around with.
All the phone's messages are organized in threaded format, including emails and MMS. For people who enjoy gaming, unfortunately the Exclaim only comes with three trial version games only. However the phone does support Sprint's entertainment network with Sprint TV, Radio and Music Store already installed.
The Samsung Exclaim also supports Google apps such as YouTube, Maps, Calendar and Gmail. It also has a native e-mail client capable of syncing with Yahoo, MSN, AOL and Gmail accounts. It however supports only the POP3 protocol.
Features - Samsung Exclaim Review (3 out of 5)
We continue our Samsung Exclaim review, by looking at the phone's features.
The Samsung Exclaim's list of features are completely run-of-the-mill for a phone of its pedigree, not one extra addition or pleasant surprise. However most of them work well.
Let us start off with connectivity, we have the dual CDMA frequencies of 800 and 1900, this phone is not really designed for international roaming. For fast speeds we have a CDMA EVDO REV.o, it works relatively well, with a 4 MB file downloading in approximately one minute. For local connectivity we have Bluetooth v2.0 with AD2P and microUSB, there is no Wi-Fi at all.
The Exclaim's internal memory is 568 MB, which is rather generous compared to most phones, even high end ones. It does however accept either a microSD or microSDHC card for memory expansion, with a maximum capacity of 8GB.
Now, for the multimedia performance. The Exclaim's music player serves well, it does the basics such as shuffling, equalizer settings, song filtering, and supports all the major music file formats such as; MP3, AAC+ and WAV. It should be noted that MP3 files cannot be used as ringtones on this Samsung model though. The video player only plays at its native resolution, and supports 3GP and MP4 formats. Videos are painful to watch for long, as they pixelate and stutter. This is, at best, a player designed for short funny video clips.
Sprint TV videos are not the best quality either, streaming tends to re-buffer a lot, and the video quality is indeed very poor. The phone does support JAVA though, so you are not limited to apps from Sprint only.
The 2 MP camera is a decent shooter, pictures tend to lack detail and appear slightly faded – other then that it performs well enough. Video shooting on the other hand is terrible, it barely musters enough power to be a real 15 FPS snapper, and should only be used for MMS purposes. Both pictures and videos can be shared via Sprint Album, Bluetooth, various social sites such as Picasa, Flickr and finally as a MMS.
The phone has a complete organizer, and all the following apps are present; Calculator, Tip Calculator, World Clock, Stopwatch, Notes and Memo.
Performance (3 out of 5)
The Exclaim's phone call quality is average, in well covered areas the phone sounds clear and bright, but background noise is audible. In areas with weak coverage, calls sound muffled on both ends and call drops occur frequently. The loudspeaker is also an average performer – it is a tad low on volume and sounds hollow during conversations.
Web browsing is also a completely average experience. The phone uses a WAP 2.O browser that loads and performs relatively fast, sometimes pages are rendered with text or images missing. However this is not frequent, and happens on heavy duty websites not designed for mobile phones.
The Exclaim comes with a 960 mAh Li-Ion battery with a quoted talk time of 7 hours, the reality is actually 5 hours at best. This is not one of the Exclaim's strong points. Standby time is 300 hours. Most users will be charging this phone twice a day on heavy use and once every two days on minimal use.
Verdict (4 out of 5)
We have arrived at the end of the Samsung Exclaim review, so what do we think of the Exclaim? Well, if you want a unique phone with good to average features and a decent price tag, then the Exclaim is not a bad choice at all.
It comes loaded with apps, is perfectly suited to the lifestyle of social networking aficionados, has a decent camera and all the bells and whistles you could expect from it. Major detractors from the phone appeal are: battery life, video playback, lack of contacts space, and no MP3 ring tone integration.
Other then that, it is a uniquely designed phone at a good price tag. If you want to show off a phone to your friends on a budget, the Samsung Exclaim could indeed be the phone for you.
References
Phonearena, www.phonearena.com
Cnet, www.cnet.com
Sprint, www.sprint.com
Image credit: www.sprint.com