Sprint Android Phones
If you've been wondering what Sprint Android phones are available then this article is for you. You can learn about all the Android capable smartphones offered by the Sprint/Nextel cellular carrier. Depending upon your location in the country, or the region in which you live you may find some smartphones unavailable to you or possibly limited. For further information on this please visit the Sprint/Nextel website at www.Sprint.com. Sprint offers an array of smartphones from several major manufacturers including HTC, Samsung, LG, and Sanyo. Additionally we will also cover the various plans and options including pricing for each phone.
Plans & Options
Data plans and options come in several variations and offer different things. All plans come with long distance service. Starting at the top the broadest and most expensive plan offered is Simply Everything®. This plan is aptly named as it provides unlimited data, text messaging, picture and video messaging, and talk time. The price for this plan is $99.99 per month.
The next plan is Everything Data - with Any Mobile, Anytime. This plan includes any mobile any time, unlimited data, talk time with nights and weekends starting at 7:00 PM. Unlimited messaging including text, pictures and video. This plan, with 450 anytime minutes and 45¢ each additional minute, costs $69.69 per month. This plan also offers 900 any time minutes at 40¢ each additional minute and costs $89.99 per month. Family plans also exist for each of these and cost the same as the standard plans but with a $10.00 discount per month.
HTC Brand Smart Phones
HTC Hero - $149.99
Screen size: 3.2 in
Input devices: Multi-touch Touchscreen
OS: Android 2.1 (Sense UI)
Physical size:
112 mm (4.4 in) (h)
56.2 mm (2.21 in) (w)
14.35 mm (0.565 in) (d)
Weight: 135 g (4.8 oz)
HTC EVO 4G - $199.99

Screen size: 4.3-in widescreen
Input devices: Multi-touch Touchscreen
Android 2.2 (Sense UI)
Physical size
122 mm (4.8 in) (h)
66 mm (2.6 in) (w)
12.7 mm (0.50 in) (d)
Weight:170 g (6.0 oz)
Samsung Brand Smart Phones
Samsung Transform (SPH-M920) - $149.99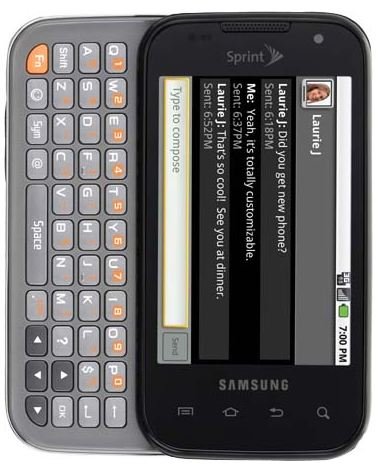 Screen Size 3.2 in. 16M-color HVGA
Input Devices: Touch Screen, physical keyboard
Android 2.1 (With update)
Physical size:
4.60 x 2.34 x 0.63 inches (117 x 59 x 16 mm)
Weight: 161g
Samsung Intercept (SPH-M910) - $99.99

Screen Size 3.2 in. 16M-color TFT LCD
Input: Touchscreen, physical keyboard
Android 2.1
Physical size:
4.43 in (113 mm) (h)
2.19 in (56 mm) (w)
0.59 in (15 mm) (d)
Weight 4.9 oz (140 g)
Samsung Galaxy (I7500) - $399.99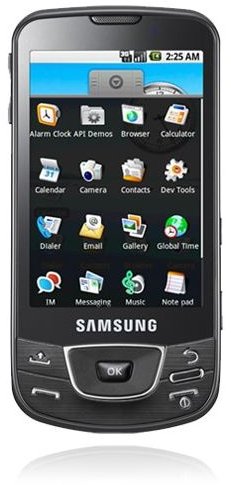 Screen size: 3.2 in
Input Touchscreen
Android 1.6
Physical size:
115 x 56 x 11.9 mm
Weight: 114g
Samsung Epic 4G (Galaxy S Pro) - $249.99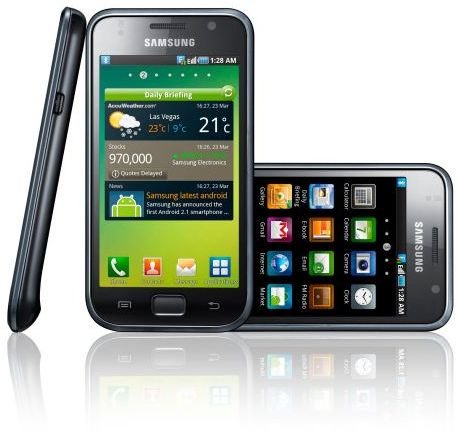 Screen Size: 4.0 in
Input: Touchscreen
Android 2.2
Physical size:
122.4 mm (4.82 in) (h)
64.2 mm (2.53 in) (w)
9.9 mm (0.39 in) to 14 mm (0.55 in) (d)
Weight: 118 g (4.2 oz) to 155 g (5.46 oz)
LG & Sanyo Brand Smart Phones
LG Optimus - $49.99

Screen Size: 3-inch/76-mm
Input: Touchscreen
Android 1.6
Physical Size:
109 (4.3) × 54.5 (2.1) × 12.9 (0.5) mm (inch)
Weight: 115.5 g (4.1 oz)
Sanyo Zio - $99.99

Physical Size:
116 mm (4.6 in) (h)
58.6 mm (2.31 in) (w)
12.2 mm (0.48 in) (d)
Weight 105 g (3.7 oz)