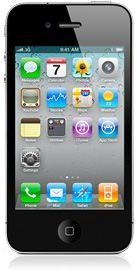 Verizon
iPhone enthusiasts who dislike AT&T rejoiced when it was announced that a Verizon iPhone would become available soon. That time is here; and so is the time to look at what Verizon iPhone deals are being offered. Many are speculating that AT&T iPhone users will flock to Verizon in droves, but will there be much incentive for them to jump ship? I put the time into researching the deals available so that you don't have to. What I found was that Verizon has a few small perks it's offering to try to entice iPhone users away from other carriers, but nothing shocking.
According to Verizon Wireless, iPhone 4 will be sold for $199. This deal is available for the 16 GB Verizon iPhone 4, but only to those signing on for a new 2 year activation and required data package. Verizon iPhone 4 full retail price is $649.99 for 16 GB or $749.99 for 32 GB.
$199 is a great price for new customers, but what about current Verizon customers that want to buy an iPhone 4? Verizon threw in a few iPhone deals to keep their current customers happy as well. Existing customers are able to use their "New Every Two" credit for the purchase of an iPhone, if they are eligible. Current Verizon customers that aren't eligible for a phone upgrade may use Verizon's Trade-In Program, where their current device may be traded in and the value applied toward a Verizon Wireless gift card.
If you bought a new phone during the holiday season and were angry when the Verizon iPhone 4 was announced, there is a deal for you too. If your smartphone, feature phone or certified pre-owned phone was purchased and activated between 11/26/2010 and 01/10/2011 you are eligible to receive up to $200 Visa debit card when you return your device to purchase an iPhone 4. The downside to that deal? You have to purchase the iPhone 4 at full retail price.
Keep reading for a review of the iPhone plans and data plans available for Verizon as well as a comparison to AT&T iPhone pricing.
All information obtained about Verizon iPhone deals was obtained directly from Verizon Wireless. Prices and offers are subject to change.
Image Courtesy of Apple
Verizon iPhone Plans
Thinking about making that switch to get iPhone for Verizon? You'll need to know what iPhone plans are available on the Verizon Wireless network. Verizon reports that iPhone 4 activation requires a current Nationwide plan. All individual Nationwide plans come with unlimited in-network mobile to mobile and unlimited nights & weekends.
Individual Verizon iPhone Plans
450 Anytime Minutes for $39.99 per month.
900 Anytime Minutes + 5 Friends & Family numbers (out-of-network numbers) for $59.99 per month.
Unlimited Calling for $69.99 per month.
Family Verizon iPhone Plans
700 Anytime Minutes for $69.99 per month.
1400 Anytime Minutes + 10 Friends & Family numbers (out-of-network numbers) for $89.99 per month.
2000 Anytime Minutes for + 10 Friends & Family numbers (out-of-network numbers) for $99.99 per month.
Unlimited Calling for $119.99 per month.
Information obtained about Verizon iPhone plans was obtained directly from Verizon Wireless.
Verizon iPhone Data Plans
For iPhone activation on the Verizon network, a purchase of the unlimited data package for Verizon iPhone is also required. Verizon's iPhone data plan costs $29.99 per month (in addition to the cost of the Nationwide calling plan that you select). Not only is the unlimited data plan required, it is the only data package that Verizon has available for their iPhone 4. However, Verizon is currently reporting that the unlimited data package will only be available for a limited time. As long as you get the unlimited data package during the limited time that it is offered, it will remain available to you as long as you remain a customer of Verizon Wireless. Verizon is being vague about the implication behind their "limited time only" statement in regards to their iPhone data plan. Analysts are speculating that Verizon will go to tiered data plan options similar to AT&T's iPhone data plans.
Information obtained about Verizon iPhone data plans was obtained directly from Verizon Wireless.
Verizon iPhone Plans vs. AT&T iPhone Plans
So now you know what Verizon iPhone plans will cost you. But how does it compare to AT&T iPhone plans? Turns out that both networks have the exact same pricing. There are only slight differences in their special offers. For example, AT&T offers rollover minutes for their plans, while Verizon does not. But Verizon has unlimited nights and weekends for their lowest Nationwide plan (450 minutes per month), while AT&T only gives the same plan 5000 night/weekend minutes.
The real difference between Verizon and AT&T iPhone pricing comes with their iPhone data plan pricing. Verizon has one data plan available for iPhone: unlimited data for $29.99 per month. AT&T no longer offers unlimited data for iPhone, but instead has tiered data plan options: $15 for 200 MB of data or $25 for 2 GB of data.
Your turn to weigh in. I'm interested to hear your thoughts. Do you think it's worth it to switch to Verizon for iPhone? If you currently have an iPhone with AT&T, do you plan to switch to the Verizon iPhone? Why or why not? Comment and let me know.
You may also be interested in reading Switching from AT&T iPhone Service to Verizon.
Information about AT&T Wireless plans was obtained directly from AT&T.