Motorola Droid Pro Review - Motorola's Approach to an Android Business Smartphone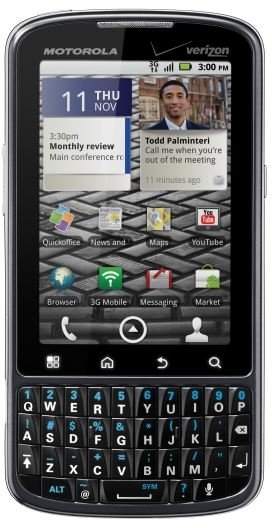 The Motorola Droid series of phones on Verizon has proven to be a huge success. Motorola has been working on pushing that success to the next level with releases like the Motorola Droid Pro. It made its debut on Verizon in November, this hands on review will give you a general idea on whether or not the Motorola Droid Pro is the phone for you. It comes with a new approach to design for the Droid series. Featuring a candy bar design, with a physical keyboard underneath the capacitive touchscreen, the Droid Pro is familiar yet, at the same time, unique in design.
Specifications:
Dimension: 4.69 x 2.36 x 0.46 inches (119 x 60 x 11.7 mm)
Weight: 134 g (4.72 oz)
Display: 3.1-inch TFT capacitive touchscreen (HVGA, 320 x 480) with full QWERTY keyboard
Storage: 2 GB built-in & expandable up to 32 GB via micro SD/SDHC card slot
OS: Android 2.2 (Froyo) with MotoBLUR
Processor: TI OMAP3620 @ 1GHz
Camera: 5MP Autofocus camera with dual-LED flashlights, 720p HD recording
Connectivity: UMTS 850 / 1900 / 2100 MHz, CDMA 850 / 900 MHz, GSM 850/900/1800/1900 MHz
Data: 1xEV-DO rev.A
Bluetooth: Bluetooth 2.1
GPS: GPS with A-GPS
Battery: Lithium Ion 1420 mAh
Design and Display (4 out of 5)
The Motorola Droid Pro takes on an a slightly new approach to the candy bar design. It features a beautiful 3.1 inch touch sensitive display and a full QWERTY keyboard. Unlike the other Droid series of phones from Motorola, the Droid Pro's QWERTY keyboard is not a slide out keyboard, rather it's a full keyboard right underneath the display. This isn't Motorola's first attempt at creating this type of smartphone, in fact, just recently they released the Motorola Charm on T-Mobile's network. Unlike the Charm, however, the Droid Pro is actually aiming for the upper-tier, enterprise market, rather than the mid-tier market.
The phone is very much business oriented, and really mirrors the design aspects of the BlackBerry. The QWERTY keyboard under the 3.1 inch display has keys that have a small slant, making one handed typing easier than on other smartphones. Between the display and the keyboard are the 4 familiar touch sensitive controls, menu, home, back and search.
Behind the display and full QWERTY keyboard, the phone has a 5 megapixel camera with dual LED flash. The dual LED flash is definitely a welcome addition. There is a chance that a more business oriented version of the Droid Pro may actually get rid of the camera. The back also has a nice bit of design with curved lines countouring the back of the phone. Overall, a beautiful design with solid material makes this a smartphone that both high end users and business users alike will be drawn to.
Hardware and Software (4 out of 5)
The Motorola Droid Pro has some powerful hardware, possessing the 1GHz TI OMAP3620 processor and 2 GB of built in storage. It is well equipped to take on competitors such as the Sprint Samsung Epic 4G, AT&T BlackBerry Torch and T-Mobile HTC G2, all of which feature full physical QWERTY keyboards. The 1 GHz processor was able to handle multiple applications with MotoBLUR and faced little to no lag until several processor heavy applications were loaded.
The phone runs on Android 2.2 (Froyo) with a slimmed down version of Motorola's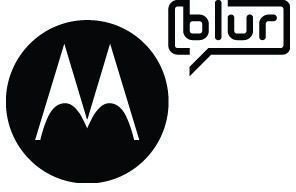 third party proprietary overlay, MotoBLUR. This particular version of MotoBLUR is less in your face and does not take as much space as the original version. Unlike the previous phones that used MotoBLUR to cater to younger audiences, it is slimmed down here in order to reach out to the business users. Also, since the Droid Pro runs on Android 2.2, it also supports Flash, a huge plus.
The Droid Pro features software that allows you to remote wipe and encrypt data. This means that if you lose the phone, you don't have to worry about your business information or contacts falling into the wrong hands. A huge plus over the BlackBerry. The Droid Pro also features QuickOffice, which allows you to quickly create, open and edit documents right on your phone. Another feature that's set to cater towards business users.
User Interface (4 out of 5)
The Motorola Droid Pro has the familiar Android interface. New users may feel a bit scared at first, but once you begin working on the Android platform, it's extremely user intuitive. The touchscreen display is easy to use, just slide your finger and move through the various home screens. Hold onto an icon to move, click on an icon to open an application or widget. Hold onto the screen to get options and to add widgets or applications. Very easy to operate thanks to the touchscreen.
The keyboard is also extremely easy to use and the staggered, raised and slightly slanted keys allow you to type quickly. BlackBerry users will find this keyboard a welcome addition and it is very similar to the keyboards on the newer BlackBerry devices being released. The slight slant allows for easier one handed typing, for folks on the go. It's best advised not to use this as an excuse to text while driving, but it's useful if you need to type something while in a meeting and you are trying not to look too distracted.
Features (5 out of 5)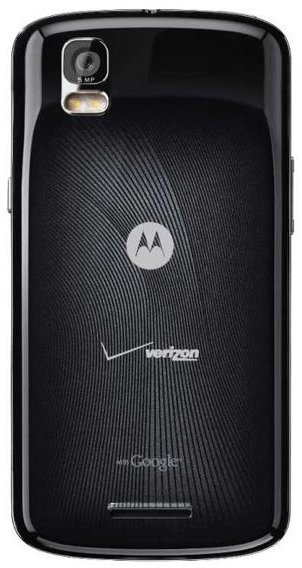 This smartphone really shines with its features. The 5 megapixel camera with dual LED flash is very handy and takes some high quality pictures, even in low light. Now, some corporations disallow the use of camera phones, so Verizon is possibly set to release a version of the Droid Pro without a camera. A sad choice, but in some companies, a choice that needs to be taken.
The unique abilities that the Droid Pro offers include remote wiping and the encrypting of data. In today's information rich world, smartphones are also targets of cyber crime and it will only get worse. When you lose your phone you lose a lot of personal information, but if you lose a smartphone that you also use for your job, you put yourself in a very vulnerable position. The remote wiping allows you to have peace of mind if you just cannot locate your phone. The encryption allows your data to be protected while you search for your phone, once again, piece of mind.
Final Verdict (4 out of 5)
Overall the Motorola Droid Pro ranks as a solid 'Good' phone. For BlackBerry users who are looking for a change but are worried that an Android powered smartphone can't handle business needs for you, this phone is a good choice. The Droid Pro has a good mixture of technology that allows you to use it as a personal phone as well as a business phone. The main selling point for business users is that the Droid Pro encrypts data and supports remote wiping.
References
Source: Author's experience