Read Our Review of the Motorola Droid Android Based Phone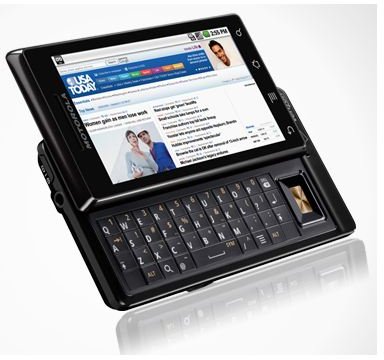 The Motorola Droid is a powerful Android phone with a rich array of features that can compete with any mobile phone on the market. The phone has a full QWERTY keyboard with a touchscreen and various functions like Wi-Fi, GPS and Bluetooth stereo.
Design (4 out of 5)
The Motorola Droid is a thin slider phone with a full QWERTY keyboard. For a phone with a slide out keyboard it is one of the thinnest in the industry today. It measures 4.5 inches in length, 2.3 inches in width and 0.5 inches in depth. It has a touchscreen measuring 3.7 inches, with a resolution of 480 x 854 pixels and is able to support 16 million colors. The phone also comes with a virtual keyboard that automatically rotates according to the phone's orientation.
On the left spine of the phone is a volume control toggle and camera shutter. There is also a port for micro USB for USB cable connection and charging of the battery. There is also a 3.55 mm headset jack, while on the rear face of the phone are the camera lens, stereo speakers, and flash.
Features (5 out of 5)
The phone is packed with all the features one would expect from a high-end gadget. The essential features include text and picture messaging, calculator, alarm clock, and vibrate mode. There is also a good list of organizer options such as file manager, to-do checklist, world clock, and note pad. The phone can also work as USB mass storage and it supports Wi-Fi, voice search via Google, Google Talk, PC synchronization and voice powered dialing.
The Droid is powered by the operating system, Android 2.0 that integrates Google services with other apps. The phone features fast 3G connectivity and an integrated GPS with driving directions from Google Maps and voice activated prompts powered by the Google Maps navigation app. You can also download loads of great Motorola Droid apps from the Android Market.
There is also a 5 megapixel camera which has different settings like white balance, multiple scene function, image quality options, macro setting, geo tagging and various color effects available. The camera is also capable of capturing DVD-quality videos at a resolution of 720 x 480 pixels with a maximum of 24 fps capture. Check out Motorola Droid Camera Tips to get the most from the camera.
There is also an expanded personal information management tool that can store information like email, contacts, and calendar. The phone can also synchronize with Microsoft Exchange for email, contacts and calendar, aside from supporting Gmail, IMAP and POP3 accounts. With the phone, users can have their messages from various accounts displayed in a single inbox, with color codes to indicate where the messages came from.
The Droid also has a built in media player that can play various media formats including Window Media Player 9 audio formats, while allowing users to make playlists, or shuffle and repeat a track. The phone allows downloading of songs through the Amazon MP3 online store, where users can browse files according to title, genre, album, and artist.
User Interface (5 out of 5)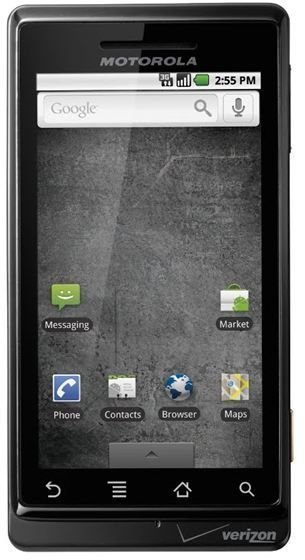 The Droid's physical keyboard has the right size to make inputting of text and messages easier. The design allows for faster and more accurate typing than touchscreen input alone.
There are four touch controls located just below the phone's screen - Menu, Home, Back, and Search. These keys perform similar functions as those on other Android mobile phones. The Search key automatically activates the Google Search function while the Menu key gives access to different menu commands. The touch controls are big enough for users to have an easier time inputting text messages, or simply accessing the various apps on this phone.
There is no talk control key on the phone, instead, users have to make calls using a widget displayed on the screen. The change can be bothersome to many people since they need to go through the main menu first in order to make calls.
Performance (5 out of 5)
The phone's camera delivers good quality images, with bright colors and realistic tones. The flash can provide enough lighting although is still somewhat lacking, particularly at night. The video quality is good, and very useful for capturing quick clips when there is no video recorder around.
The Motorola Droid is a lot faster at opening applications thanks to its improved operating system, a definitive upgrade from previously sluggish Android models. Its 600Mhz processor has been pointed to as the reason behind the lightning-fast performance.
In terms of calls, the Motorola Droid is pretty impressive. Voice calls made using the phone were clear, loud and very audible. Likewise, the web browser is fast and can load websites in less than a minute.
The Motorola Droid has a battery life of 6.5 hours of talk time, while on standby it can last up to 11 days.
Verdict (5 out of 5)
The Motorola Droid is certainly one of the best mobile phones to have come out in recent years. Its great mix of powerful operating system, multimedia functions, and connectivity options make it one highly rated handset. There is no denying that this is one powerful and sleek gadget to have around.
Except for the Motorola Droid's design, the features, user interface and performance of this phone deserve an excellent score. And for the overall rating, the Motorola Droid is surely a must have with a score of 5 out of 5.
If you already have one check out Tips to Get the Most from a Motorola Droid.