Samsung WEP470 Review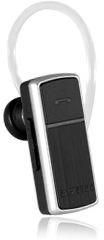 Samsung is one of the largest technology companies in the world. They make everything from laptops and smartphones, to high end consumer electronics. They have even launched their new smartphone OS: Bada. They also manufacture Bluetooth headsets and have had quite a few hits, like the Samsung WEP870 and the Samsung SBH 600 stereo headset.
The Samsung WEP470 is a budget Bluetooth headset which provides a standard design and some really good features with nice sound quality in a compact package. It is priced at around $21.99 currently and offers a great deal for budget shoppers.
Samsung WEP470 Specifications
Dimensions: 1.7 x 0.75 x 0.43 inches
Connectivity: Bluetooth
Bluetooth Profiles: Headset (HSP), Hands Free (HFP)
Range: 33 feet (Class 2)
Talk time: 6 hrs
Standby time: 8 days
Features: Call Transfer, Noise Cancellation, Quick Pair
Design (3 out of 5)
The Samsung WEP470 has a simple design which doesn't focus much on style. It is a standard rectangular block design which is really compact with dimensions of 1.7 x 0.75 x 0.43 inches. It is very light in weight and has excellent build quality.
On the front of the headset is the multifunction call button and the LED indicator. On the left lies the volume rocker while the charger slot and the power button are on the right. The power button allows you to easily switch off the headset to conserve battery life when not in use.
On the other side of the headset, there is a small rubber coated earpiece which sits in your ear. It also has an ear hook so you can securely wear the headset without the risk of it falling. As it is a budget headset, Samsung doesn't include different sized ear buds. The ear hook can be a bit uncomfortable and the headset keeps falling off at times.
Features (3 out of 5)
Despite being a budget headset, the Samsung WEP700 doesn't skimp on any features. It comes with the usual features: answering, rejecting and making calls. It has a redial function which allows you to redial the last number. You can also transfer calls to and from the phone. It also has noise and echo cancellation features which improve the sound quality.
Performance (4 out of 5)
The Samsung WEP700 headset has a range of 33 feet. It has excellent sound quality and works well even in noisy surroundings. The noise cancellation works quite well in normal situations but fails to perform against wind noise when riding a bike at high speeds. It has a rated battery life of nearly 6 hours and a standby time of 8 days.
Conclusion (3 out of 5)
The Samsung WEP700 is a very good option if you want a budget Bluetooth headset around $20 which is packed with features and sports a standard design in a compact form. You could also consider buying the Jabra BT2080 in the same price range, but the Samsung WEP700 is much better.
If you can increase your budget, I would recommend going with the Aliph Jawbone 2 headset.