GelaSkins Mobile Art For iPhone Review: Apply The Skin And Forget It
iPhone Vs. Conformity
Some might think that there's a fine line between individuality and mass conforming but let's get real. When it comes to consumer products, what you buy is the same as what anyone else can buy. You can't differentiate yourself from Joe down the block who also bought an iPhone by just saying you're "thinking different." You have to find some way to own your iPhone in a manner that others can't.
Skins Protect Without Intruding (5 out of 5)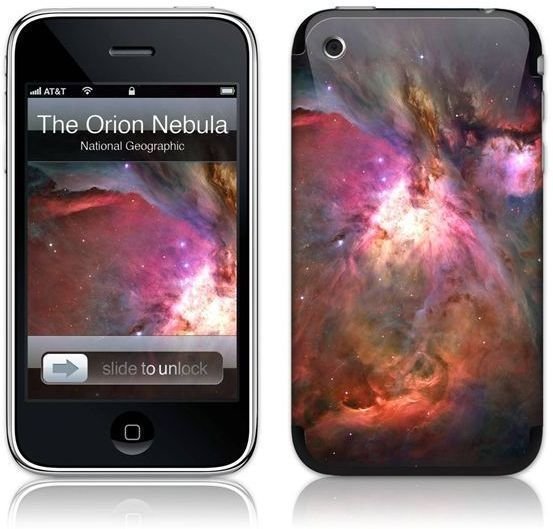 Continuing to keep it real, you could scribble on the back with a permanent marker, but unless you're Picasso it's better to leave it to the experts. Which, coincidently, is what the folks at GelaSkins are. These guys make - wait for it - skins which consist of digital art that wraps around the iPhone's back to protect it from scratches and the like.
They also give you iPhone wallpapers to download that match the skin so you can use them on the iPhone (and since they've now branched out to the iPad, you can use them for your home screen there as well).
Better yet - you also get a front see through skin that matches the back and which will protect the screen while letting you poke through to your heart's content (of course since the news about Apple wanting to eliminate front screens from devices of their iPods and iPhones has come out, this bit could be on borrowed time).
Skins Don't Get Stuck (5 out of 5)
And bestest yet (if such a word exists, and if not say hello to its debut) the skins can be repositioned. Meaning you don't have to worry about getting them on perfectly the first time out. Patience is a virtue they say, but when working with skins it's a necessity as well. The fact that the GelaSkins don't leave a residue takes a lot of the angst out of the situation too. You can take your time, position the skin and put it on. Then if there's a problem beyond dealing with, just carefully lift the skin off from an edge and then try again. Your iPhone won't be damaged in any way.
By making the skins able to handle repeated positioning - even if it isn't going to be an issue - GelaSkins removes a liability that causes many (such as myself) to avoid skins altogether. I'm not saying there's no issues to dealing with this, just that it's been minimized to the point where it's no longer the burden and aggravation it once was.
Applying A Skin (5 out of 5)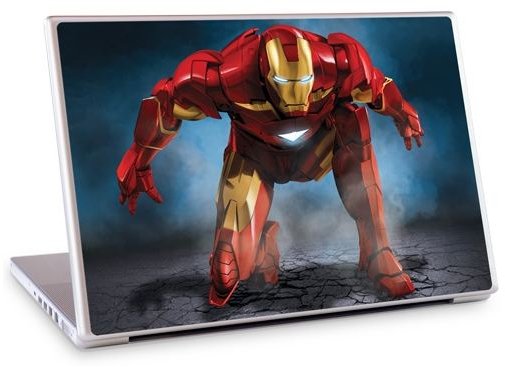 Putting on a GelaSkin is easy, especially if you don't rush. Clean the back of your iPhone with an LCD cleaner (i.e., the same stuff you use to clean the screen) sprayed or applied to a soft cloth or chamois. Let the back of the iPhone dry. Now take your skin back and gently peel it off from one of the edges of the board it's on. Place it on top of the iPhone's back and lift the two together. Wrap the sides and top around the iPhone and you're done. Of course you'll want to make sure there's no air bubbles working (pushing a stiff piece of cardboard against the GelaSkins from top to bottom can help here), and whether you'll be putting the front cover on is up to you (I don't care for such things so I leave them off myself). You can also still dock your iPhone even with the skin applied.
I do have to admit the larger the size of the device, like a laptop for example, the easier it is to put the Gelaskin on. Maybe it's just me and the fact I've got big fingers. Truth be told though, compared to skins I've put on in the past - Gelaskins are mighty easy to use and reuse.
It's All In The Design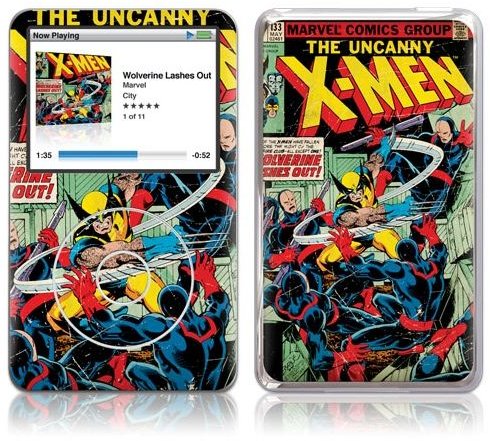 Now it's the designs that add the versatility and the individuality to your iPhone. Check out their website to see what you like because there's a lot to discover. Those with a "nature" bent will find the new National Geographic appealing - but fanboys like myself are heavy on the Marvel Comics line that also just appeared. And no I'm not talking about Spider-Man or Iron Man, both of which are available, because hey - how individual is that when everybody is probably pushing to get one of them? I'll stick with one of the old, and I mean old, X-MEN covers - yep I still have the original issue put away which was bought when it came out for the amazing cost (at the time) of 50 cents. If you're going retro, go retro and go individual.
Now none of these GelaSkins have any use if you stick the iPhone inside of a case - protective as they are. But maybe that's even better because only you will know what is on your iPhone. Maybe we should forget about "individuality" and go for "secretive" instead.