Review of the Best Droid X Docking Station: Top 3 Revealed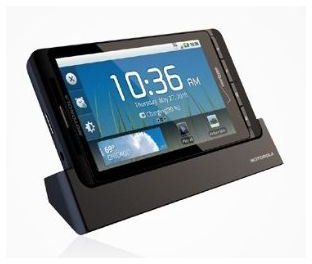 Motorola Droid X Desktop OEM Charger Multimedia Docking Station
The mother of all charger docks for your Droid, is the official Motorola Droid X Docking Station. The looks are very simple and streamlined, allowing the phone to fit snugly into the dock, in perfect harmony with the phone's looks. But of course for 40 dollars, you expect more than that, and indeed you get it. The Droid X desktop OEM charger has HDMI technology, which turns your phone into a HD multimedia station.
You can basically choose what you want from your phone today, and this dock will transform your phone into a digital photo frame, an alarm clock, a weather station, or you can listen to music, or watch movies. Using the dock's HDMI technology, and a standard HDMI cable you can even watch HD movies, and all this while your phone sits in the dock merrily charging away. As soon as you put your Motorola Droid X into the dock, the desktop mode is activated and you are presented with a large clock, charging indicator, and app bar at the bottom of the screen, so it couldn't be easier to use. A simple touch of the X button, brings you back to the more recognizable screen.
Motorola Droid X Desktop Sync and Charge Dock with Additional Battery Slot
OK so this "Sync and Charge" Droid X docking station, might not be as attractive or quite so versatile as the official Motorola version, but it does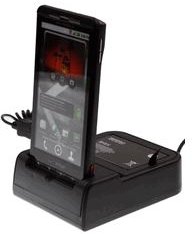 everything you'd expect from a charger dock, and a bit more besides. The desktop cradle holds your phone securely, allowing complete usage of your phone, whilst at the same time charging the unit. There is also a handy, additional battery slot in the back of the device that means you can charge a back-up battery whilst simultaneously charging your phone.
This model comes with a USB cable that permits syncing from the device, so you can manage your contacts, emails, music etc., as the phone is held at a comfortable angle by the docking station.
Slightly clunky in appearance, but still small and sturdy, at just $26.99 the Droid X Desktop Sync and Charge Dock, it is a more affordable option to your docking and charging needs.
Motorola Droid X OEM Car Mount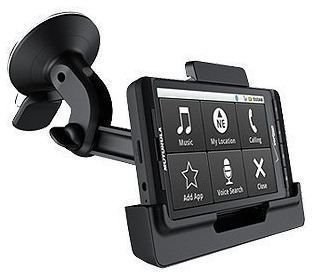 The Motorola Droid X OEM Car Mount was designed by Motorola specifically for in-car use, but that doesn't mean that it can't be used as a cradle and charging station too.
This well-designed dock holds your Droid X securely and at an angle to suit you and at the same time your phone is being charged through your car's auxiliary port. Something other designers of such accessories should take note of is that there is a spacer that can be added or removed to suit your phone's particular protective case, meaning you don't have to mess around taking your case off each time you want to use the charging dock. Apart from this though, this clever device actually makes your phone recognize that it is in the car, and automatically switches to the car dock app.
One negative aspect of the Droid X car mount though, is that for some reason it doesn't come with the charging cable, you need to purchase this separately. This does seem a little strange when so much has gone into the design of the device, especially given that the cable can be integrated into the actual dock, meaning that you don't have the hassle of messing around with cables constantly.
Other than that though, this is definitely one of the best Motorola Droid X accessories on the market, and at a little over $30 from amazon.com, it's a great buy too.
Whilst the official Droid X docking station is indeed an appealing option, the options presented here will have proved that it's good to know that there are other devices out there that can do a similar job for you too.