What is the Best iPhone Dock Speaker Compact?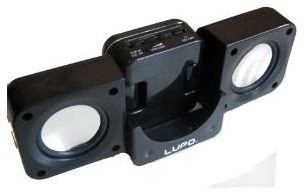 LUPO Black Portable Folding Speakers for iPhone & iPod
The first highly rated iPhone dock speaker is compact and a terrific budget buy, for slipping into your travel bag or suitcase. There's nothing particularly fancy about it, but for the price you don't expect it to be - it does exactly what it is supposed to. It is a neat little unit, with the dock for your iPhone flanked by two mini speakers with a 1.25w output each, and these speakers can also fold up when you don't need them.
You need 4AAA batteries for speaker service on the go, although there is the option of using mains power if you wish. At this price you don't expect supreme hi-fi quality sound, but they do have a surprisingly good bass, and all round the sound is plenty loud enough to hear your music and clips when you are out and about. Also works with iPods and other MP3/MP4 players.
A bargain from amazon.co.uk for just £4.99.
Your iPhone can help in lots of different ways when traveling too, check out our guide to the best iPhone apps when flying.
iHome HDP29 Harley-Davidson Portable Speaker Case iPhone iPod
One look at this iHome Harley Davidson Portable iPhone travel speaker dock, will tell you that it is aimed at the travel market. It is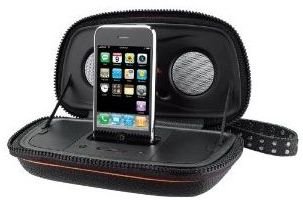 designed much like a toiletry bag on the outside, making it easy to pack without worrying about anything getting damaged - it is a tough, splash resistant case, that also features the Harley logo (although there are models available without the logo too). Simply unzip the unit to reveal the dock in the base, and 2 compact speakers installed in the lid. Don't let its novelty appeal put you off though, this compact little speaker unit is quality all the way.
4AA batteries are required to power this unit, or if you are near a power source an AC adaptor is included. The iHome also allows you to charge your iPhone too, although only if you are using mains power.
Users report that the sound quality is very good, with good stereo separation, and no distorted sound even at high volumes, which is pretty good performance for such a compact iPhone speaker dock.
Available from amazon.com, usually for around 50 dollars.
Altec Lansing IMT320 inMotion Compact iPhone iPod Speaker System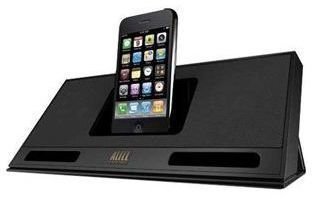 Definitely one of the most streamlined and sophisticated looking iPhone dock speaker compact units on the market, that hides away into a protected and neat little unit suitable for travel. The Altec Lansing IMT320 inMotion Compact iPhone iPod Speaker System has the looks and performance of a standard speaker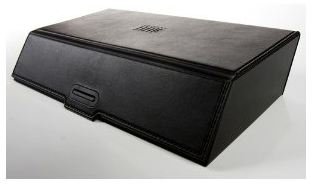 dock unit, but is well designed for on-the-go iPhone users. One simple flip can transform the unit, using the lid as the speaker dock stand, or flipped back over for easy and convenient packing into your case.
At the size of a book, featuring a leather look outer case styling, the speakers are front facing, but hidden in a very aesthetically pleasing way - a styling issue most other compact units seem to suffer from. 4 AA batteries are all that is needed to power this unit to listen to your tunes when traveling - a rumored 24 hours worth of play can be gained from just using the batteries, but a mains adaptor is included too.
The speakers deliver pure sound that belies the Altec Lansing's small dimensions, and it also has a neat music pause function that kicks in automatically when a call is received.
Available for around 60 dollars from amazon.com.
Whatever your tastes either musically or stylistically, there will be an iPhone dock speaker compact option to suit you.
Image Credits