Top 5 Best HTC Inspire Cases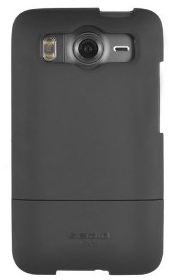 Cases for the HTC Inspire 4G
The HTC Inspire is a still a newbie on the smartphone market, so although the choice of cases is slightly limited, more and more are coming out all the time. You still need to know which are the best ones to protect your phone in style, which is where this article comes in - we've selected only the best options around so you can make an informed decision.
Be sure to check back as we update our list of the best HTC Inspire cases over the coming weeks.
Seidio Innocase II Surface Case (Black)
The rubberized coating on this case means it retains a nice grip even though it's a plastic cover. The Seidio Innocase II, has all the usual cut outs for ports, and the camera cut out is specially designed to make sure the camera is protected when you put it down on a flat surface. Although it can be a little tight to get the phone in the case, you get the reassuring feeling that your phone is well protected because of it. The inside of the case is felt-lined, so your phone is well protected in every way.
A tiny gripe about this phone is the accessibility of the power button. As the HTC Inspire has its power button at a slight angle, having it encased in such an exact way means that it sits very close to the plastic of the case, making it slightly tricky to operate - a bit more room for maneuver would be nice. It will add a certain amount of bulk to your phone compared to some other options, but not in any real way that should bother you.
Wrap-On Silicone Protector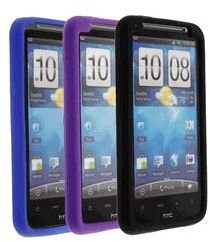 For a softer option this HTC wrap-on silicone protector is perfect. Adds little, to no bulk, to your phone, as well as giving a superb grip. For fashionistas among you who like to make a color statement, there are a range of different color options too. It's also super-easy to get this case onto your phone.
The drawback with such a case though, is that it won't offer your phone as much protection as some of its tough-guy hard shell counterparts, but the case will protect it from basic damage. Whether or not this is a good option for you really depends on how accident prone you are.
Purple Speck CandyShell Case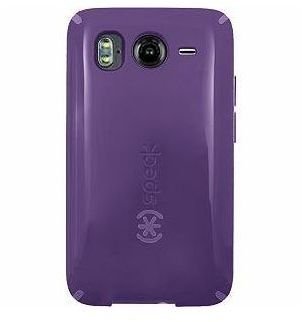 Add a bit of color to your phone with this hard purple case from Speck. The glossy hard shell will protect your Inspire 4G from impacts to the max. The double layered design means the interior rubber-like lining offers shock absorbing protection too.
One huge advantage this case offers over other HTC Inspire cases is that it has button covers for the top and side buttons, meaning the phone is protected all around; the buttons are protected but still accessible. The design of many cases means the buttons are protected but not easy to press. This option also adds very little weight or bulk to the phone. A great design all round.
High Gloss Black FlexiSkin TPU Case
The slip resistant material used to make this case for the HTC Inspire, makes it a perfect option for the accident prone users among us, as it offers a great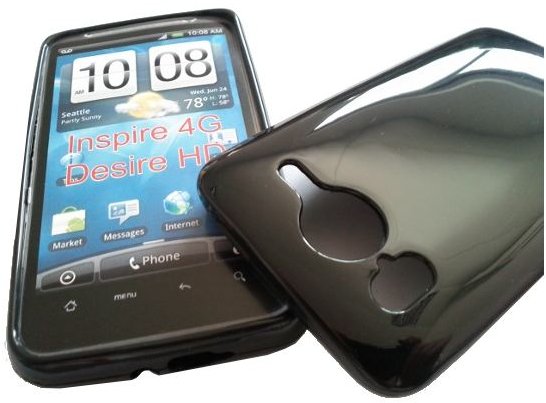 grip in the hands, and is non slip on surfaces as well. Unlike many of the other options, this case has a gloss finish, so it really compliments the looks of the Inspire too. Easy to fit, with precise cut outs giving you full access to all ports at all times. The advantage this TPU material has over its silicone brothers and sisters is that it's a much tougher and stronger material, but still retains good looks. If you don't fancy the black option then add a bit of extra style to your phone by using the Argyle patterned option.
Case-Mate Pop! Case (Black/Gray)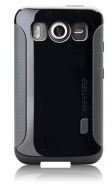 When you see the words "Case Mate" you know you are getting a quality product, and this Pop! case is no different. The design of this case in terms of looks has actually been taken one step further compared to most of Case Mate's options. It's a striking look of gray and black combined which you'll either love, or hate. The black section is protective plastic, and the grey section adds some rubberized grip. Should the grip fail you and you drop the phone, the protection offered is so great you could drop it on concrete and your phone is likely to survive the fall.
The Pop! also has the buttons covered too, as well as leaving the usual ports open for access. The design may not be for everyone though, so if a less bulky Inspire case is more your thing, then opt for Case Mate's "Barely There" hi-gloss case instead.
Pop! Case [Link To Buy]
Barely There Case [Link To Buy]
Which Is the Best?
The choice of case for your HTC Inspire 4G is likely to be as personal a choice as picking the phone itself, so the best for you may not be the best for someone else. However in terms of price, style and protection you can't go wrong with either the Speck Candyshell Case for the Inspire 4G, or the Case Mate Pop!
To add some more style to your phone, why not read our article on the best HTC Inspire 4G Accessories.
References
All images courtesy of respective manufacturers.