What Are Clingo Accessories for Mobiles & Do They Work?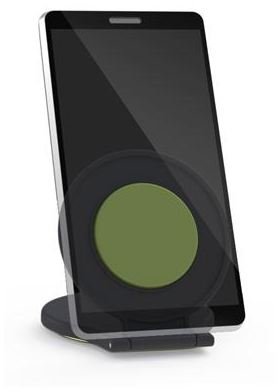 How Do Clingo Accessories Work?
Most of Clingo's products for mobile phones offer many of the same features - the main one being the use of a tacky green substance used to attach your phone to the surface of whichever accessory takes your fancy. It is secure enough to hold any phone in place, but a quick press and peel, means your device is soon free. Many of Clingo's products also feature a quick release system, so you can get to your phone even more quickly. Here's a rundown of Clingo's accessories for mobile phones, along with a review for each product.
Clingo Universal Mobile Stand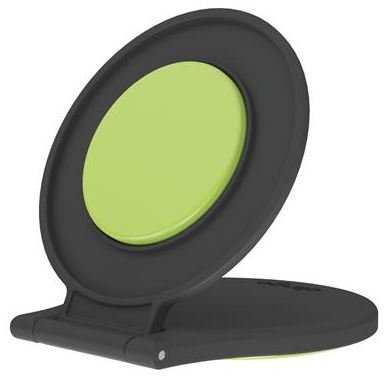 The Clingo Mobile Stand, is a deceptively cool little gadget. Deceptive, because for one thing it's so small, and for another, because it looks like a slightly groovier version of a compact mirror. The two disks that are hinged together both have the green goo on them - one sticks to your desk, table on the train, etc., and the second is then free to hold your phone. It is very versatile (although not great for using in a car - you really need one of the specialist car mounts for this), as well as being very portable - you could easily carry this around in your bag for when you might need it.
Clingo Car Mounts : Clingo Window Mount & Vehicle Vent Mount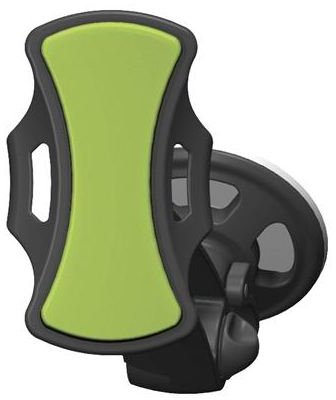 Car mounts, are what Clingo are primarily known for, and they offer two options in the way of in-car accessories for mobiles - one is a mount for the windshield, the other is a mount for the vehicle vent.
The clingo sticky stuff really comes into its own when used as a car mount, as it keeps your phone in place so well - if you stick it down hard enough, you really shouldn't have to worry about retrieving your phone from the floor on any journey. Clingo window mount instructions are much the same as any other, using the standard "sucker" attachment to stick to the window, and the vent mount clips nicely into the vent of most vehicles - the adhesive section then keeps your phone in place.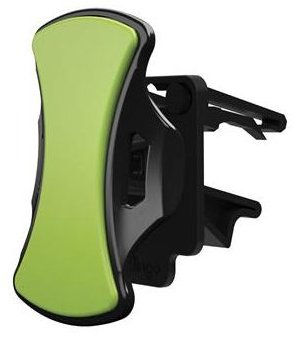 The big downside to the Clingo car mounts overall, is that if a phone has a matt finish, or a porous case on it, for example, the green goo has a hard time getting a grip. Many users of larger phones such as the HTC EVO 4G, have also complained that due to the size of the phone, the Clingo sometimes holds the phone in place, but sometimes it doesn't - and you don't want a phone like that to be hitting the floor.
This product, made it into our top 5 HTC 7 Mozart accessories, although it is suitable for almost any mobile phone you care to mention.
Clingo Parabolic Sound Sphere - Dock Alternative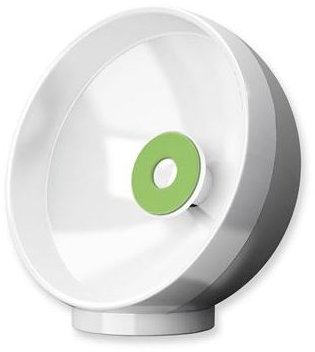 The Clingo Parabolic Sound Sphere is not just a dock alternative, it is a somewhat inspired piece of design

too. So is it just a dock, or is it a dock with speakers? Well, strangely it's probably somewhere between the two. It doesn't have any additional speakers, but uses the parabolic shape of the dock to multiply the sound - the manufacturer claims the design amplifies sound by a further 10 decibels.
For some reason Clingo have decided to go down the white with green route, instead of the black and green seen on most of their other products, but it is still such a sleek bit of kit I don't think the color detracts from it - perhaps a choice of colors would be nice on future releases.
Clingo Universal Mobile Neklit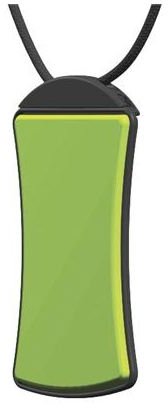 Upon first seeing the Clingo Universal Mobile Neklit, I wondered at why anyone would want to walk around in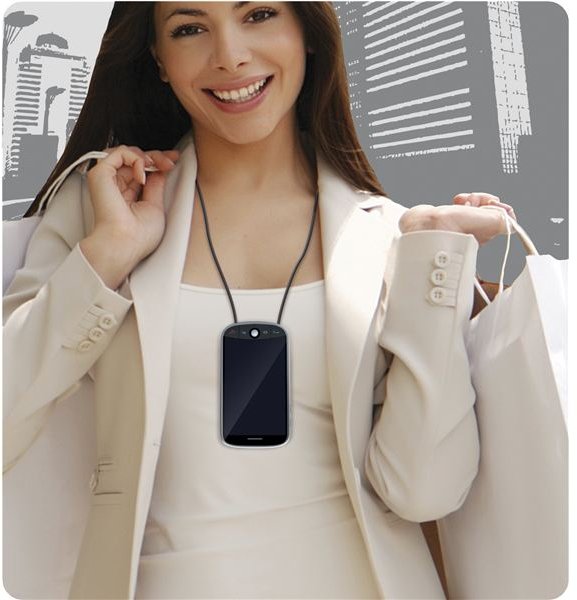 public wearing their mobile round their neck like a medallion. Clingo claim that the neklit is a great idea, so you don't have to fumble around in your bag or pocket, for when you get in incoming call. I'm not so sure this a great idea, and if you proudly wear your phone around town, aren't you just a walking advert targeted at thieves? Maybe the Clingo green sticky stuff is so strong that a thief wouldn't have a chance. However, if you do get fed up of reaching into your pocket every time your phone rings, especially if you have an active job, then maybe this is the perfect gadget for you. Would also be the best gadget aimed at those who leave their phone in their back pocket when going to the bathroom - you know what I mean!
Clingo Game Wheel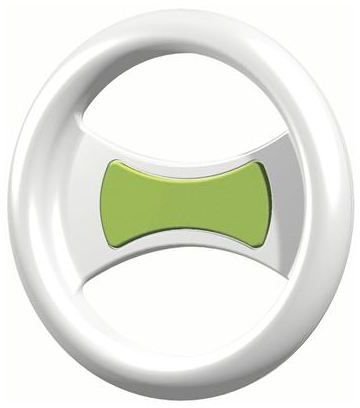 There are a number of game wheel devices available for mobile phones, but most of these are only designed for specific phones. There are so many different phones around now, and with new ones coming out almost every week, it's hard for manufacturers to keep up with demand for new products. The Clingo Game Wheel is the perfect alternative to something like the well known Marware Gaming Grip, or Posimotion Helix Gaming Grip listed in our top 5 iPhone 4 gadgets. For the rest of us gamers that don't have an iPhone, the Clingo solution is a positive one.
For some reason, unlike most other Clingo products, the colorway is white and green, rather than black and green, which I personally feel does take something away from the design appeal - especially as most phones are predominantly black.
Clingo Mobile Tether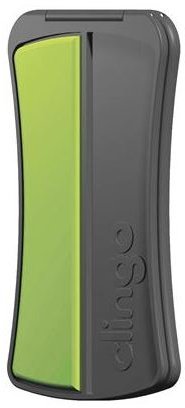 For a more unique mobile phone accessory, the Clingo Mobile Tether is a clever little idea. Taking up less room then most phones themselves, the tether works by folding out to hold your phone to something else such as a laptop. The dual pads mean one part sticks to your laptop, tray table, iPad etc, and the other will hold your phone in place. Not only is that a good idea for regular travelers, it's also a good idea for the more forgetful amongst us too - no leaving your phone behind if it's stuck to your laptop!
Definitely a good iPhone accessory, or for any other high-end smartphone you want to keep tabs on.
Clingo Podium - Hands Free Device Holder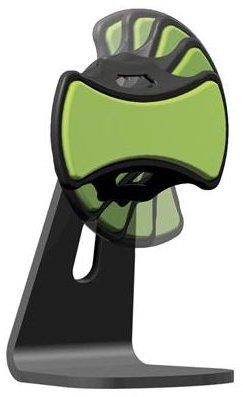 For something a bit more substantial and visible on your desk, the Clingo Podium, offers much the same experience as the Mobile Stand (page 1), with a few added extras. It is likely to be more of a permanent fixture on your desk, or even in your kitchen, due to its size (still doesn't take up much room though), and its multi-axis joint will ensure that your phone is at an optimal viewing angle whatever you are doing. Absolutely ideal for busy environments where you want to talk, but keep working at the same time; think of it as a car mount for your home/office.
Are Clingo Products Worth Buying?
The general consensus of opinion on Clingo accessories, is that while some of their products are certainly better than others in terms of performance, they are all worthy mobile accessories, that look pretty sleek and special too. As crazy as the idea sounds of putting your precious iPhone or HTC Desire onto a green sticky substance, it does actually work. You need to press it pretty hard, but then your phone of choice will stay there, even on a bumpy commute. The big question is: do Clingo products leave any stickiness behind on your phone? Nope, they don't. As strange as it sounds, the clingo substance is sticky but not too sticky.
There are so many Clingo accessories for mobiles, that there is sure to be one that catches your eye, and they are all reasonably priced too, ranging from 14.99-34.99 USD. Clingo accessories are available direct from the manufacturer's website, and many of the products are available from Amazon.com too.