All You Need to Know About the Kyocera Rio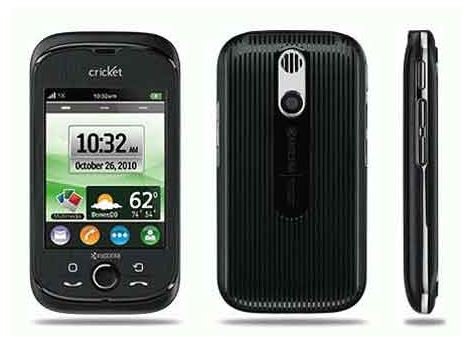 The Kyocera Rio is perfect for people needing a basic smartphone device with features that will keep them occupied while on the go. It features a music player, video and photo capture camera and supports 2G GSM 900/1800 networks. This Kyocera Rio review will summarize all the basic components of the smartphone including a review of its design, user interface, features and performance.
Design (4 out of 5)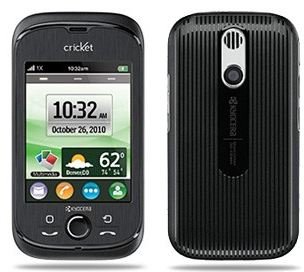 The Kyocera Rio features a 2.6 inch resistive QVGA touchscreen melded into a grey or black glossy body with curved edges and three hardware buttons. The touchscreen promotes haptic feedback for a great sensory experience and can be used with a stylus or finger. Above the touchscreen is the Cricket or Kyocera Logo and speaker/earpiece.
The physical controls below the touchscreen include a Talk and End/Power key, navigational array and on the sides of the device you'll find a volume rocker, dedicated music player button and camera key, micro SD card slot and 3.5mm headset port. On the back of the device is a 1.3 megapixel camera and speaker.
The Kyocera Rio is a slim and basic smartphone device void of many of the features normally carried on similar devices. It measures 4.13 by 2.20 by 0.5 inches in length, width and depth, respectively and weighs approximately 3.17 ounces. The 2.8 inch display also supports 262,000 colors and a resolution of 240 by 320 pixels.
The Rio does not feature a physical keyboard but instead opts for a virtual keypad for messaging and dialing calls. The smartphone's relatively small display ultimately leads to smaller keypad buttons which can be a hassle when inputting information.
User Interface (4 out of 5)
The Kyocera Rio has a very basic interface powered by the Cricket network. The home screen features a large clock and date feature, including weather shortcut and a bottom icon bar with several quick launch applications such as Mail, Keypad, Menu and Contact List.
The Quick launch bar at the bottom of the device can be customized to sit on both the top and bottom of the display area. The keypad is backlit, all icons can be seen on screen and its screensaver and wallpaper can be customized to the user's preference.
Features (4 out of 5)
The Kyocera Rio has coupled some very basic features with more advanced services. It carries the usual call list, notepad, voice dialing, voice command software, Bluetooth version 2.1, a WAP browser and SMS and MMS messaging.
It also features vibrate and airplane mode, a scheduler, multiple languages including Spanish, French and English, as well as hearing aid compatibility and speakerphone.
Some of the Rio's more notable features include its built in music player which allows users to manage and create playlists while on the go. Its 1.3 megapixel camera is great when taking pictures outdoors but may seem blurry or dark when indoors. The camera function features a digital zoom controller, editing tools and settings as well as an easily accessible dedicated camera key on the body of the device. Unfortunately, the Rio's digital camera does not support flash or optical zoom but takes photographs at a maximum resolution of 1280 by 960 pixels.
The Kyocera Rio also features SMS chart view software which allows SMS messages to be threaded in a handy interface so users can view messages in an IM-like format from a single contact. The phone also supports email access, PC syncing and hands-free mode.
In terms of entertainment, the Kyocera Rio has several fun and addictive games preloaded into the smartphone, as well as a video player and radio feature. It also features polyphonic and MIDI ringtones with optional vibrate. The phone can be coupled with a microSD card of up to 16 gigabytes as it has no internal memory.
Performance (3 out of 5)
The Kyocera's basic array of features and easy-to-use interface would not be complete without great reception and call clarity. The smartphone experiences minimal lag while browsing its applications and features and when surfing its WAP browser. Dialing and texting on the Rio is a bit tedious due to its small display screen. It also has no physical keypad which some users describe as a serious design flaw.
The Kyocera Rio has a 920mAh Lithium ion battery which lasts up to 5.5 hours of talktime, 336 hours or 14 days on standby and can withstand almost 20 hours of extended music play without running out of power. It is also features a CDMA2000® 1xRTT Tri-band (800MHz, 1900MHz), AWS/GPS and G-Block modes.
Verdict (4 out of 5)
The Kyocera Rio is a great basic mobile device for those seeking a small and efficient smartphone to get them through the day. With its MMS, SMS and email capabilities users will be able to stay in contact with family and friends.
The Cricket network offers the Kyocera Rio for the low cost of $129 and it can be found at www.mycricket.com.