Sony Ericsson Aino Review: Design and UI
Sometimes, there is a phone you just want to own no matter what. Unfortunately a dubiously expensive price tag tends to shatter most people's dream of owning that one phone that they really would have loved to show off to all their buddies at a cafe or bar.
The Sony Ericsson Aino is, or more accurately was, one such phone, or at least that is what Sony Ericsson wanted customers to believe. But a hefty price tag and the fact it was not a smartphone sent most people on a quest for alternative mobile media hubs. But that was three years ago, and the question being asked now is – is the Aino a viable mid-range phone now that its price has dropped? Well, that's what we are here to find out, so sit up and get ready as we kick off our review of the Aino.
Design (4 out of 5)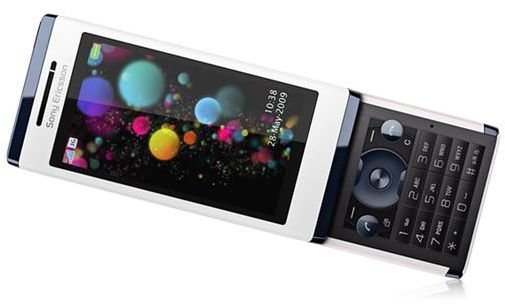 Phone: The Aino has a deceitfully elegant design. It walks and talks like a smartphone. The front sports a big rectangular design with a 3 inch WVGA display. It has a very rare resolution of 432 x 240 pixels and is capable of supporting 16 million colors. Your wonderful mirage of having a touch-screen phone is shattered when you realize there is a sliding D-pad, which when slid open, renders the touch functionality void. Yep, that's right, the Aino is a partial touch-screen phone, but more of that later in the user interface section. The dialing/navigational pad looks cool, but it's on the cramped side and difficult to use, the directional ring makes touching the two soft buttons on either side by mistake a very real possibility. In short, it's a cool looking, but badly designed, keypad.
The Aino is a middle weight phone as it weighs 134 g, and it is a bit large and brick-like with dimensions of 104 x 50 x 15.5 mm. It's a bit unwieldy to hold with the keyboard slid out, as it becomes freakishly tall at that point, but it's not a particularly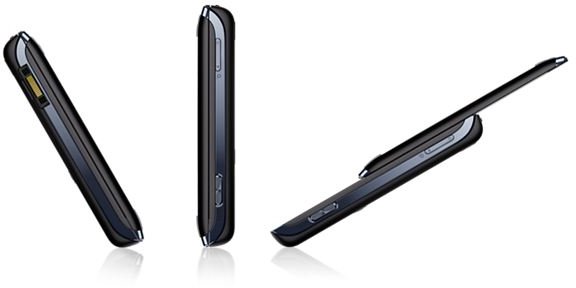 **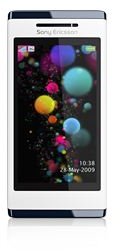 **taxing phone to handle on a day to day basis. Despite being made from plastic it does feel well built.
The phone's left side consists of the proprietary Fast port connection, while the left side holds the rather press-resistant volume rocker and pressure sensitive shutter key. The top holds the lock button, flipping open the back reveal the SIM card and microSD card slot, you don't need to pull out the battery to access either. The Aino comes pre-loaded with an 8 GB microSD card and PC sync software, do not agree to buy the Aino from any vendor that does not agree to include the 8 GB card.
It's pretty rare for me to write a review about a phone's peripherals, most peripherals can be easily replaced, so they are not really worth paying much attention to. But the Aino breaks the mold this time around, as it comes bundled with an amazing Bluetooth headset and charging stand, both of which we're going to review right now.
Bluetooth headset: The bundled in 6 inch plastic earpiece is truly outstanding, it comes with a 3.5 mm audio jack pin, a touch sensitive volume control and and Voice call, Hold and End call functions. It also has a multi-colored flashing light that beats in time with the music, but keep in mind you can't turn off the lights.
Charger desk: The Charger desk is another very important part of the Aino experience, losing it means you won't be able to access sync functions easily or charge the Bluetooth hands-free, the charger stand also allows you to watch movies in full 16:9 view.
Normal User Interface (2 out of 5)
The Sony Ericsson Aino is one of the few phones in the world that can claim to be running two OS's, the normal keypad based OS/UI and the touch based OS/UI. We're going to review the main keypad operated UI, since this handles all the phone's core functions.
The UI is a pretty standard affair, it is the same UI that you'll find on most of Sony Ericsson's feature phones, and it is one I rather enjoy. It's got plenty of eye candy, shortcuts, bright colours. It is simple and logically arranged, and has a lot of social networking shortcuts. So why has it been rated below average? Because on the Aino it is slow and clunky, it also freezes more often when you're running more than a single JAVA app, and has constant auto-shutdowns and re-boots. Apparently the freezing and re-booting problems have now been fixed with a firmware update, but even so I still found the phone's response very lackluster. Using the phone on a day to day basis will become a bit irritating eventually, this feels like the Samsung Monte all over again.
The phone book is limited to 1,000 contacts, with field entries and photo tagging, no video tagging though. You can choose to save all your contacts on the microSD card, which means you can later save your contacts on a PC, that's a pretty cool option. The Aino also guesses the name of a contact via gradual typing very well, it was perfectly accurate 9 times out of 10.
Messaging on the Aino is nothing short of simply awesome, for a feature phone that is. SMS conversations are arranged in cute speech bubbles, which makes them look and feel like instant messages, and if a reply comes in while you're still writing your SMS in the bubble format, it gets added automatically to the chat without appearing as an alert, sweet!
You can also send MMS, email and IM. The native email client purports to be easy, just enter your email address and password, but 7 out of 10 times it got it wrong and I had to manually enter all my POP and IMAP settings myself.
At least the smart dialing worked like a charm, it never failed to get the correct name, not even once,
Touch User Interface (2 out of 5)
The Aino's touch based interface activates once the keypad is slid shut and and the phone is in landscape mode, then it's a whole new ball game in a whole new ball park.
Unfortunately, despite how awesome the touch UI looks, it is pretty bare bones and even a little laggy. What's worse is that the amount of time it takes for the phone to refresh is colossal. You could probably finish humming your favorite nursery rhyme by the time it's done, the OS is very slow and under powered here.
You're presented with the following five options; Camera, Gallery, Music, Movies and Radio. It should be noted that the phone has no multi-touch or pinch-to-zoom capabilities. Although the capacitive screen works pretty well here, there is the occasional slow down and non recognition of a sweep or touch.
The biggest problem with this interface is the really long refresh times, no one is willing to wait 45 seconds for their song library to load. Are they?
Features (2 out of 5)
The Aino has a pretty common and fully expected set of connectivity options by today's standards, plus an ace up its sleeve with its fabled PS3 connectivity. Let's start off with the basic range of connectivity options, for calling we have a 2G GSM network of 850, 900, 1800 and 1900. High speed connectivity is handled via 3G HSDPA 900 and 2100, local connectivity is handled via Bluetooth 2.0, Wi-Fi and USB 2.0.
Okay, now for the showpiece, the PS3 connectivity. It is, at best, sporadic and at worst just plain useless. It can be used over 3G or Wi-Fi. First a series of codes must be exchanged and synced, then you must enter your PSN password and username, and then sit down to read a book or something because the phone is going to begin a very long and convoluted search process. As a general principle, Wi-Fi works better and faster then the 3G, while 3G rarely, if ever, works. Basically you can use the remote play function to play the content of your phone via a PS3. Both connectivity options are pretty slow and sometimes you may be forced to disconnect from the network entirely.
The phone has an 8.1 MP camera, which can also shoot in a semi-HD 16:9 resolution. Colors are reproduced in a stunningly colorful fashion, grey water appears as a lovely blue, white as a pearly white, colors are represented beautifully, but not realistically. Picture quality is above par, with sharp angles and almost zero pixelation on distant objects such as leaves or gate rails. The camera has an almost infinite amount of modes, you can seriously spend the whole day just playing around with the modes only. A short list of available functions includes – Geo-tagging, face detection, image stabilizer, smart contrast, red-eye reduction, touch to focus, auto focus, LED flashlight, screen split (up to 4 screens), panorama view and white balance. But, there is always something to spoil the party when it comes to the Aino. In this case, if you access the camera via the touch based menu, you have to deal with a very unresponsive screen, really quite an annoying issue to deal with, but wait! There is something even worse at work here – it takes upwards of six seconds for a picture to snap and save. If you take pictures in a hurry, this is not the phone for you. Another major detractor from the overall experience is the very weak flash, it is almost useless, you'll be better off using it as a torch.
Video recording is also good. You can only shoot in VGA at 30 FPS, but the overall quality is pretty good and the NearHD means you can view decent videos on a large screen if you so wish, but again, this time the party downer is the long start up time. It takes 6 to 8 seconds to start. The good news is that videos save much quicker than pictures do.
Music is, in short, simply amazing. Sound quality can easily rival any dedicated music player you may have, and the Bluetooth headset only enhances the experience. Apart from the excellent sound quality provided by the on board Walkman 4.0 brand, the interface is spectacular when accessed from the pad based menu (which is Flash) instead of the touch based one. The tape recorder, gramophone, CD players and radio interfaces look wonderful and keep the entire experience fresh and funky. Plus you get a very wide range of formats to choose from, such as – MP3, WMA, AAC+ and ACC and many more.
The video player is no slouch either, plain and functional are the main themes, with pause/play, fast forwarding and video skipping available, but then the Aino wouldn't be the Aino without something to spoil the party. This time round we have to deal with a lack of DiVX/XVID support, considering the fact that the original competition had XVID/DIVX support, it makes you feel like you've haven't gotten your full money's worth with the Aino. But at least video plays smoothly and at a maximum resolution of 640 x 360. The only niggle here is the slightly washed out look of videos.
Now for the list of miscellaneous features which includes – GPS, A-GPS (put to use by the WayFinder app), JAVA, FM radio with RDS, Picture Editor, SenseMe, Voice recorder, Memo, Organiser, Document reader, YouTube, Facebook and Google Maps.
Performance (2 out of 5)
We have arrived at the phone's final and most testing destination – its performance evaluation.
Call quality is decent, a lot of phones forget their main purpose is to make a phone call, the Aino has not. Call quality is clear and concise, if a little flat over over the earpiece, while the loudspeaker could be a bit louder. You might have to strain your ears a bit to hear a phone call in a crowded bus. Signals hold pretty well, but the 3G bar might not always be accurate, keep that in mind.
Now, for another major disappointment, the HMTL NetFront 3.5 web browser. There is no point in having Wi-Fi and 3G if you have an almost useless browser, now is there? The browser is slow and stutters at every given opportunity, what's worse is that there is no touch based functionality whatsoever, it's all in the keypad. Pictures render slowly and there is no Flash support. Again there have been reports of the browser working perfectly, with little to no lag and respectable picture rendering. This means the Aino is a phone that was released without proper testing of the units or the OS. On the upside, you can download and use Opera Mini, which actually works with the touch-screen functionality.
The Aino comes with a bafflingly tiny 1000 mAh Li-Po battery, the quoted time of 365 hours on standby is just a plain lie, this phone will barely last you the day. Heavy users will be charging the phone every 7 hours, medium users every 14 hours, and light users who have turned off everything about once a day.
Verdict (2 out of 5)
The Sony Ericsson Aino, like the Samsung Monte, feels like a prototype rather than a properly tested and refined phone. No matter where the phone shines, something or other puts a dull sheen on the proceedings.
Sony Ericsson pretty much shot themselves in the foot with this phone. In the beginning of this review a question was asked–three years down the line, is the Aino finally worth purchasing now that the price has come crashing down? The answer is no, and probably always will be no.
Any mid-range post 2010 smartphone can be recommended in place of the Aino. If you want a multimedia monster with a hefty price tag, try the Nokia N8 or Samsung Galaxy II. Either way, steer clear of the Aino.
References
Author's personal experience.