Review of the Acer beTouch E140: Another Budget Android Smartphone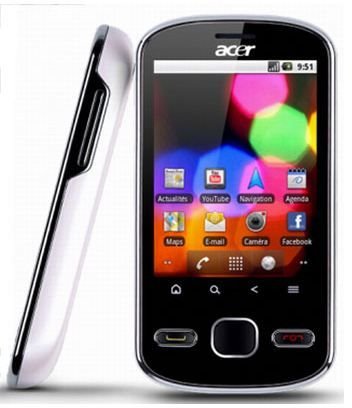 In our review today, we are introducing the latest member of Acer's beTouch, cheap smartphone family, the Acer beTouch E140.
Now there are more cheap Android phones on the market than there are stars in the sky, so the beTouch E140 is going to need something a bit special to stand out.
So does the E140 possess that something special? No, it does not. But that does not mean it is a bad phone either, it's just your run of the mill, low-end smartphone. There are better phones out there and worse phones as well. So to find out if it is worth your $200 contract free, please read on.
Design (3 out of 5)
The design immediately notifies the user they are using a low-end smartphone, small phones are like a red flag that screams "cheap phone". However, despite the all plastic build and small screen, the phone feels well made. No loose parts or creaks, the plastic is not by any means strong, three or four drops from an average height should kill the phone, and it loves being bathed in finger smudges and prints.
The E140 weighs 95g, which makes it just about perfect, and with dimensions of 104.5 x 55.8 x 12.8 mm it will fit well enough into your palm.
The front is, of course, dominated by the TFT 2.8 inch QVGA resistive touchscreen, capable of supporting 256,000 colors. Beneath the screen we have four touch sensitive (resistive) buttons - Home, Search, Back and Menu. Beneath them we find three physical buttons - Call, Back and End call.
The right side houses the volume rocker, the top houses the power/lock button and 3.5 mm jack. At the bottom we find the naked microUSB port. The back consists of the 3.2 MP camera and small, round loudspeaker. To access the microSD card slot you will need to pop open the back cover.
User Interface (3 out of 5)
Now, whenever I find out an Android phone has a resistive screen, I usually end up in a mad, frothing rage. My eyes start to go red and my skin turns green… I'm pretty sure you know where this is going. Oddly enough none of the above mentioned happened when using the E140. Despite being a resistive screen it is pleasurably responsive, although it requires a slightly harder press when compared to a capacitive screen, everything responded immediately and there was little to no lag.
Froyo really handles itself well on the E140, even with live wallpaper running nothing slowed down or stuttered, the only time there was noticeable lag was when several apps were open at once, so make sure you constantly check up on your task manager. You get the normal three home screens to play around with, plus a really cool default live wallpaper of the earth rotating. Speaking of rotations, the accelerometer is a bit on the quick side, but it also looks like someone just gave it a slap, in other words the transitions are fast but not smooth.
Unfortunately, despite almost nailing the resistive screen and processor, Acer pretty much screwed up the screen. Colors appear washed out and bland, the QVGA display sometimes renders text virtually impossible to read without a magnifying glass, icons appear ever so slightly pixelated, and the screen is virtually a mirror in sunlight. Add to that the lack of customization options and you're pretty much in for a bad experience. Though you do get two very cool apps, the first one is SpinLets which is a free media streaming network app, and the second is UrFooz, which allows you make a cute virtual self of… uh yourself.
The phone book is traditional Froyo, with limitless entries, multiple field entries, photocall, photo-tagging and Facebook/Twitter integration. Messaging is also fully supported via SMS, MMS, E-mail and IM, though the QWERTY is a bit of a problem. It's not the resistive screen's fault this time (weirdly enough), but the actual Froyo keyboard, the buttons are rather small and very close to each other, so please keep in mind that typos will be inevitable.
Features (3 out of 5)
The Acer beTouch E140 is a GSM compliant phone, which means it can only work in countries that are GSM compliant, plus it is more suited to international traveling than CDMA phones.
The supported frequencies are; 850, 900, 1800 and 1900. For high speed connectivity (3G) it relies on UMTS 900 and 2100, capable of 7.2 Mbit/s HSDPA. Local connectivity is handled via Bluetooth 2.1 with AD2P and EDR, Wi-Fi 802.11 (b,g) and microUSB 2.0.
CPU power is the expected average across all low-end smartphones with a 600 MHz ARM 11 processor, Adreno 200 GPU and a Qualcomm MSM7227 chipset. Internal memory is 265 MB (RAM) and you also have a 512 MB ROM, the E140 can easily handle a 32 GB microSD card.
Now we come to the 3.2 MP camera, is it any good? No. Seriously this camera is almost as bad as the monstrosity found on the ZTE Racer, but thankfully not as bad. There is no auto-focus or flash, but you do get features like white balance, brightness, ISO, scenes , image stabilization, Geo-tagging, auto exposure and various others.
Pictures turn out bright and well colored in full sunlight, but there is almost zero detail that the naked eye can discern, once you move into artificial lighting conditions everything starts to go downhill. Colors appear saturated, There is permanent shadow over pictures and details start to appear fuzzy. At least the interface is easy to use, and it takes about four seconds to take a picture, save it, and snap the next shot.
Video recording is shot in QVGA at 12 FPS, and the videos are just short of un-viewable, pixelation and frame-rate shifts are constant, colors are all over saturated, in short things are awful.
Multimedia is one thing the E140 handles relatively well, music enthusiasts will find an average serving of quality, whether it be via the loudspeaker, which suffers from low volume, or the average sounds that come out of the boxed-in earphones. Treat yourself to a nice pair of earphones if you do purchase the E140, especially if you're going to listen to the FM radio. Supported audio formats are MP3, WAV, WMA and eAAC+.
However, if watching videos is more to your tastes, then you will be pleasantly surprised to know that the phone can play a maximum of 480 x 800 resolution videos, though on the down side you can only watch MP4 (either H.264 or H.263 encoded) or 3GP videos, but still videos play smoothly and with no stutters. What's really noteworthy on the E140 is the NEO Player, it brings all your songs, movies and images into its media gallery and you can use it directly, it is a pretty good alternative to the standard Android Gallery.
Now for the miscellaneous list of features - digital compass, social networking integration, organizer, voice memo, predictive text input, JAVA (MIDP 2.0) GPS and A-GPS. As the more eagle-eyed viewer might have noticed, there is no in-built document reader, you will need to avail yourself of a relevant app.
Performance (2 out of 5)
Now we see if the Acer beTouch E140 functions as a phone should, as we review the call quality, web browser and battery life.
Call quality is simply terrible. There is a constant hissing sound during calls, voices sound muffled and weary on both ends, and the loudspeaker is not worth a penny in crowded situations. At least the signal tends to hold well, but what's the point if your callers sound like they're about to fall asleep with a snake hissing right next to their mouths?
Right, now for the web browser. It's pretty much in the same league as the call quality, the resistive screen obviously throws any hopes of multi-touch right out the window. As for pages they render fast enough, but the QVGA is murder on the eyes, text will become microscopic at some point, images render slowly and are of terrible quality, the zoom functions (both buttons and tap-to-zoom) just plain suck, text re-flow is way too slow. Overall it is a rather disappointing browsing experience.
Battery life is not bad, not fantastic either but somewhere in the middle. The Li-Ion 1300 mAh battery pulls off about 6 hours of talk time on 2G and 5 hours on 3G. Standby times are 400 hours (2G) and 300 hours (3G), heavy users will be charging their phones every 9 hours, average users once a day and light users once every two days.
Verdict (3 out of 5)
Our verdict of the Acer beTouch E140 (couldn't they have come up with a simpler name?) is pretty simple, it's an average phone. Average by low-end smartphone standards, which means there are phones out there with the same OS, at the same price, that can perform better.
Which leaves the poor E140 hanging, as there is virtually no real reason to buy it. It's really not a bad phone, the problem is there are better phones for the same price. Among them are the Samsung Galaxy 5, ZTE Blade, Huawei Ideos, and HTC Wildfire, so please shop around a bit, there is much better in store for you.
References