Acer beTouch E130 Preview: Specifications and First Look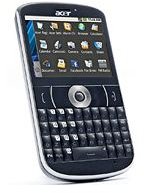 Acer beTouch E130 : Specifications and First Look
Acer has been trying to reinvent its mobile phone lineup by adopting Android on a large scale. It has released a few Android devices in the past including the Acer Stream, a high end Android smartphone, and the Acer Liquid.
However, it is planning to launch a few other Android based devices in various form factors. Two of these will be the Acer beTouch E120 and the beTouch E130.
In this article, I will talk about the Acer beTouch E130 which is a QWERTY candybar device by Acer. It is a bit outdated when it comes to core specifications but it will probably be priced low enough to make up for that.
Design
The Acer beTouch E130 sports a really unconventional design, which hasn't been seen before in the Android world. It sports a BlackBerry-esque QWERTY candybar design which is quite a refreshing change from all the boring touchscreen candybars we have been seeing.
It has a 2.6 inch TFT touchscreen display with a resolution of 320 x 240 pixels. Below the display is the QWERTY keyboard and the optical trackpad. It has dimensions of 115 x 62.5 x 11.5 mm and weighs just 109 gms.
Hardware and OS
It is in this criteria that the Acer beTouch E130 is severely lacking. It has outdated software - it runs the Android 1.6 OS, which is relatively ancient by today's standards. Most budget phones have already upgraded to Android 2.1 Eclair with a few also running Android 2.2 Froyo.
Even the hardware is lackluster; it has a 416 MHz processor with 256 MB RAM. It has 512 MB ROM and supports up to 32 GB memory cards.
Multimedia
The Acer beTouch E130 comes with a decent set of multimedia features. It has a 3.15 MP camera with an image capture resolution of 2048 x 1536 pixels. It doesn't offer autofocus or flash though. It also has a built in stereo FM radio with RDS and supports MP4, 3GP and H.264 video playback. Audio support is standard - MP3, WMA, WAV and eAAC+.
Connectivity
The Acer beTouch E130 is pretty good when it comes to connectivity options. It offers all the standard features - GPRS, EDGE, 3G HSDPA, Wi-Fi 802.11 b/g. It also has Bluetooth 2.0 with A2DP and microUSB 2.0 connectivity. It also comes with a GPS transceiver with A-GPS support. It has Facebook, Flickr and Twitter integration in the UI and comes with the default Android Webkit browser.
Verdict
The Acer beTouch E130 may be a good Android option if you are looking to get that particular form factor, but apart from that, it has nothing that stands apart. The OS and hardware is outdated and it doesn't have anything remarkable about it. If it gets an upgrade to Android 2.1, it should be a good buy, but as it stands currently, I wouldn't recommend it.
Check out our list of the best budget Android phones or the top Symbian phones if you need more buying options.