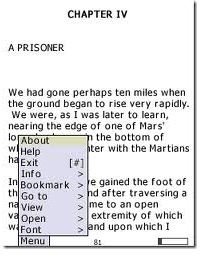 The number of free LG Vu apps is growing by the day. These free LG Vu apps make the use of the device even more enjoyable. Here is a list of the must-have free apps for the LG Vu.
The Libris e-book reader instantly turns the LG Vu into an e-book reader. It features a user friendly interface with clear and easy to read font so reading will not be a chore at all. The free application reads books in various formats- PalmDoc, plain text and the Libris format. The Libris e-book reader likewise can convert books easily from sources like Project Gutenburg. Other features of the app include bookmarking, direct page navigation, table of contents, reading timer, and dictionary for word definitions.
Lists2Go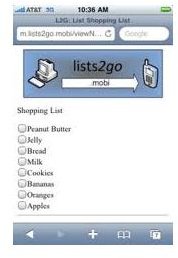 A must-have for any owner who keeps a fast-paced lifestyle, Lists2Go is a downloadable app that allows users to create and keep track of their to-do lists online. Aside from this basic task, the app can enable users to share their lists with other LG Vu users, and update their lists as soon as the tasks have been completed. The app appeals mostly to businessmen and professionals, as it can store various data like addresses of stores and restaurants, make reservations on hotels and restaurants, or keep information on how to go to a certain place. The Lists2Go app is a great virtual assistant that any LG Vu user should have.
Mobile Call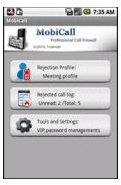 The Mobile Call application handles incoming calls on the LG Vu and give users a personalized approach to their callers, like sending an SMS in lieu of picking up a call, and hiding call records. The app supports various scenarios like accepting all calls, rejecting all calls, accepting calls of numbers stored on the phonebook, or rejecting a number not stored on the phonebook. There is also a VIP function that can add a new contact as a VIP.
Bolt Browser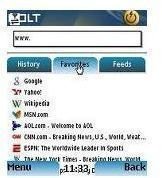 This is a fast web browser that users can use to view web pages at record speeds. According to its developer the app can make display of web pages up to 50 percent faster compared to other web browsers. The Bolt Browser also features tools such as video and photo uploading, video streaming, copy and paste. Users can also keep track of their favorite websites through customized folders. The browser is also capable of zooming in to any part of a web page seamlessly and works well even on smaller LCD screens.
TWIM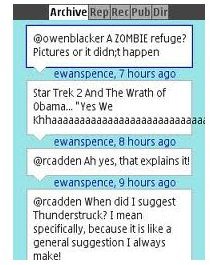 A mobile client for Twitter, Twim enables LG Vu users to browse the latest entries on their Twitter timeline and update their status. Some of the main features of Twim include sending of photos and videos, viewing of friend timeline, archive, replies, and direct messages, opening of status, opening of shown link in browser, and replying to selected tweets. The app also allows for sending direct messages and display of transferred bytes, as well as searching of tweets.
For more mobile fun, check the Best LG Vu Games.