LG Tritan Detailed Review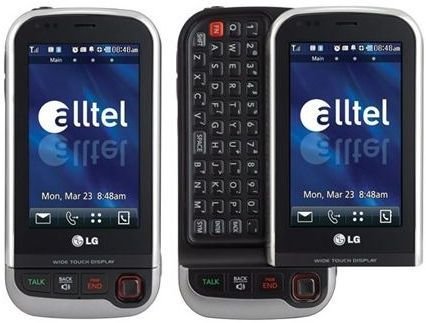 LG Tritan
While LG is not the innovator in touchscreen mobile phones, it may just be the most successful manufacturer of this type of handset. The LG Tritan impresses users with its keyboard design, fully-customizable display and advanced multimedia functions. Let's take a closer look at the LG Tritan.
Design (4 out of 5)
The LG Tritan is no different from most touchscreen mobile phones as it has a large screen located on the front. The phone has dimensions of 4.4 inches in length, with a width of 2.24 inches and thickness of 0.65 inches. The phone is scored by critics for its blocky design but it makes up for it with curved corners that make it more comfortable to handle. The phone is also fairly heavy weighing 5.03 ounces.
The screen has a size of 3 inches, with images stunning enough to impress any user thanks to its capability to support 262,000 colors at a resolution of 240 x 400 pixels. A screen overlay displaying time and date appears whenever the phone is idle, as well as other information like messages, missed calls, and even a listing of the user's schedule. The user also has the option to adjust backlight, font type, dial font size, and brightness settings. There is also an integrated accelerometer that tilts the screen from landscape to portrait modes.
There are four- and not just one- home screens on this phone. Users can switch between these home screens by swiping the finger horizontally on the screen. The main menu screen comes with customizable banner and date information, while the widgets screen has widgets and app short cuts. There is also the contacts home where information on favorite contacts can be stored while the multimedia home screen tracks frequently used media files.
User Interface (4 out of 5)
The phone comes with a touchscreen interface that is equipped with haptic feedback. There is also a calibration wizard that ensures the accuracy of the touchscreen, and a thumbpad effect that adjust the response time of the touchscreen.
There are physical keys located at the lower part of the touchscreen These include the Talk button, the Back key which also serves as a key for the speaker phone, and the end button. There is a navigational joystick located at the far right of the device, useful for scrolling through a list and for web surfing.
The touchscreen's phone dialer comes with huge virtual keys that make it easy for users to dial phone numbers. There are two options when typing text messages - the T9 input and the virtual QWERTY keypad that appears when the phone is tilted to its landscape mode.
Features (5 out of 5)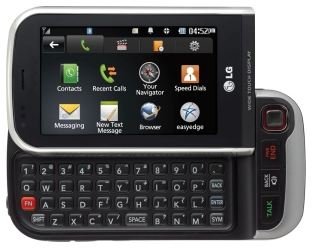 The LG Tritan comes with a phone book capable of storing a thousand contacts. It can also store up to five phone numbers and a couple of email addresses for each contact. Users also can utilize basic features like speakerphone, multimedia and text messaging, calculator, stopwatch, and notepad. There is also a fun drawing panel app which enables users to sketch doodles and then send them to other contacts.
Other advanced features include GPS navigation, Bluetooth, USB mass storage, and a viewer that allows viewing of frequently used files like Word, PowerPoint, Excel and PDF documents.
The handset also comes with mobile email that is compatible with frequently used email services like Gmail, Hotmail, and YahooMail. The browser is capable of supporting numerous windows similar to browser tabs and comes with RSS reader, JavaScript support and a search function.
The phone has a decent music player that can divide tracks according to genres, artists and albums, as well as recently played music. Users can create and edit their own playlists with this phone. The device is also capable of supporting various file formats like MP3, WMA, and AAC.
Performance (4 out of 5)
The LG Tritan is noted for having a good audio quality during calls, with voices on both ends clear and distinct.
In terms of music playback the LG Tritan pales in comparison with other mobile phones as the bass is noticeably weak while the overall sound quality is unimpressive. Using a stereo headset is required to get better results.
The web browser may be advanced but it still performs poorly when compared to those of other mobile phones. A typical, big web page will take up to a minute to load. When playing video on YouTube, the video quality is good but buffering can take several minutes.
The battery life of this handset extends up to 3.5 hours of talk time and about 8 days while on standby.
Verdict (4 out of 5)
While the LG Tritan packs in a lot of features and comes in an excellent design, the phone still comes up short in performance. While call quality is good, the music and web browsing leaves a lot to be desired. This phone is not the best of the lot, but still is a pretty solid model from LG.
If you have your heart set on an LG phone then you may want to take a look at a detailed review of the LG Chocolate.