Been Verified: Free Background Check App for iPhone
Background Check Controversy
Been Verified released a free background check app for the iPhone which turned out to be one of the most successful of its kind. This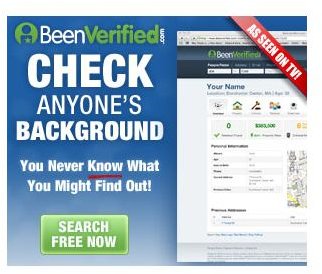 quickly began to spark controversy due to the amount of data you are able to obtain through the app.
While a background check is perfectly legal to run, Apple did not feel it was appropriate for users to have access to that much data on their iPhones. As a result, this free background check app for the iPhone was finally pulled from the App Store. Users who previously purchased the app are able to continue to use it. The app may reappear in the App Store in the future.
The review remains accurate, using the latest version of the Been Verified app which is currently functioning. There are several other free iPhone background check apps which are still available in the App Store, however, they offer very little information and only provide details which could be obtained by a simple Google search.
Functionality & Potential Usage (4 out of 5)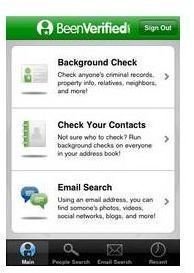 This free iPhone background check app is not only incredibly useful, but provides access to a wealth of information. Been Verified's iPhone app provides access to a large number of public records, property records, general internet searches (searching social networks, etc) and phone number searches.
The app is quite simple and works very efficiently. Simply choose the type of search such as by name, address, email or phone number and run the search. The search will map out the person, provide known residences, provide information about their date of birth, family members, age, past criminal records, phone number and much more. Depending on the particular person, more information may be available.
Been Verified markets the app towards just about everyone. Boasting that speed-daters and just general daters could use this app to find the truth about the other person. The app does automatically scan the web and social networks to find any trace of the specified person, providing access to related pages and profiles. Been Verified also boasts that their free background check iPhone app is great for small business owners and private investigators.
While the suggested causes may seem cynical, there are some very practical uses. Private investigators could obviously benefit from this app and those in the real estate business as well. Background checking potential tenants is a great idea before renting a house to them. Small business owners will also find this valuable before hiring a new employee. It should be noted that in most states you need consent before running a background check for employment purposes.
Conclusion (4 out of 5)
Overall the information provided by the Been Verified background check app is very useful. Results are quick and include many things which you could probably find on Google or other paid sites, however, it does a nice job of consolidating them.
Been Verified also offers access to crucial information such as property records, known addresses, date of birth and even criminal records. This information can be very useful but is also very personal to an individual. That's where this app could be problematic in the wrong hands and is likely why it was pulled from the App Store.
In the end, it is still a great app and it gets a thumbs up for the strong content and easy to use interface. For details about the Been Verified app, visit the official website.
For some more great app ideas take a look at: Top iPhone Apps and the Funniest Fake iPhone Apps.