SunTrust Bank iPhone App Review
Introduction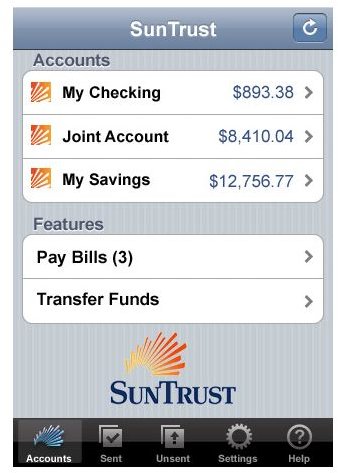 Initially released on the 30th September 2009 v4.0.1, the SunTrust Mobile Banking iPhone App was a huge disappointment for the majority of SunTrust bank clients. Clients complained of a lack of proper installation instructions, annoying activation process and the very basic interface and features which did not meet their needs. People pointed to Bank of America's iPhone app as a much better solution and hoped that SunTrust would reach a similar level of quality. Below we review the application, highlight the improvements SunTrust has made to it over time and we discuss clients' hopes and expectations.
Features and Functionality (2 out of 5)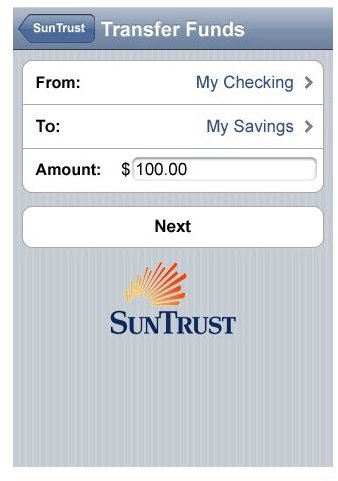 Although updated in April 2010 to version 4.1.4, we found no new feature additions despite the tremendous amount of protests from SunTrust clients. The main improvement was compatibility with other devices which we will be discussing later on. When it comes to the features. Only the very basic ones were present (and still are): check account balances, review account history, transfer funds and pay bills.
Design and Usability (4 out of 5)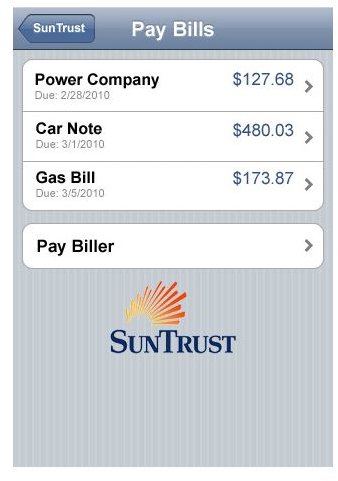 With the very basic functionality of the application, I can't really say it was a big challenge to design a clean interface. The challenge comes when there are a lot of features and it's still easy to reach what you want. Nevertheless, the interface is indeed clean. A customer review, however, mentioned a minor improvement suggestion which is making the deposits and expenses in two different colors.
Security (5 out of 5)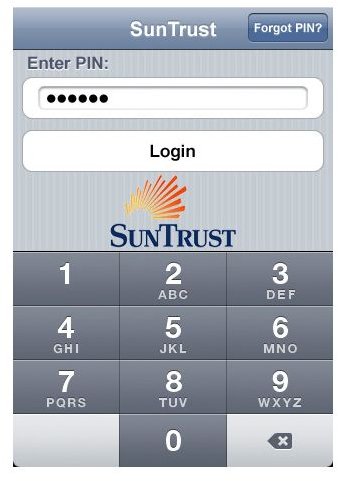 Perhaps that's the one thing that SunTrust really put an effort into. On the app itself, there is no record of account numbers. Only nicknames are used that mask both your account and your biller account information. Of course, all transmitted data is SSL encrypted. The application is protected by a PIN which is required each time you attempt to access it. In addition, it is safe-guarded in case your iPhone (or idevice) is lost or stolen in which case deactivating the app online is simple. Last but not least, you can only process bills to existing billers; the app cannot be used to add new billers.
Compatibility (4 out of 5)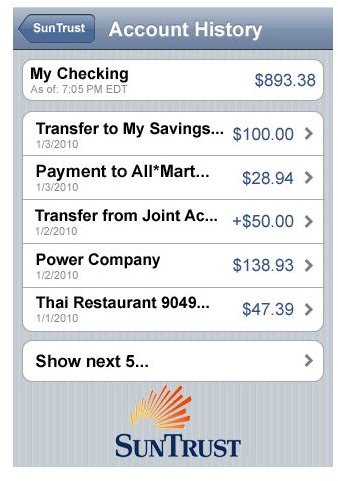 SunTrust initially started on the wrong foot with this one. The iPhone was the only supported idevice at the initial release of the application which caused an unexpected client rage. In the latest version, support was added for the Apple iPod Touch and the iPad calming down previously dissatisfied clients.
Client Reviews and Expectations
I read through iPhone app download websites (iTunes.com and AppleStoreHQ.com) to see what customers think about current versions and what they expect in upcoming ones. The average customer review was 2.5 stars on AppleStoreHQ which we assume includes the total ratings on all the versions. On iTunes, the average rating for the current version is 3.5 stars (785 ratings at the time of writing this article) and for all versions is 3 stars (2228 Ratings at the time of writing this). This makes sense since support for other idevices eventually caused ratings to go up while the continuous lack of features held back that increase. SunTrust seems to have solved the compatibility problem and the lack of instructions problem (I see installation steps there now). Feature requests include adding the ability to search for transactions by name, amount and date, the ability to see pending transactions and update transaction posting more frequently and decrease lag time, and finally the ability to specify date for bill payments, since many customers may want to pay long before bill due dates. These were just some of the customer requirements.
Conclusion
I would recommend the application for users that find the current features suit their needs and really, really have no time to use a PC or go to the bank. I simply recommend it because the security is top notch and that is really what matters to me. Online banking from the computer is just as convenient to me so I wouldn't waste my time with this application until it reaches a higher standard. The application is free, click here to download it from iTunes.
Image Credits