Talking Tom Cat 2 Review: How it Stands up to Talking Tom Cat 1
What is it?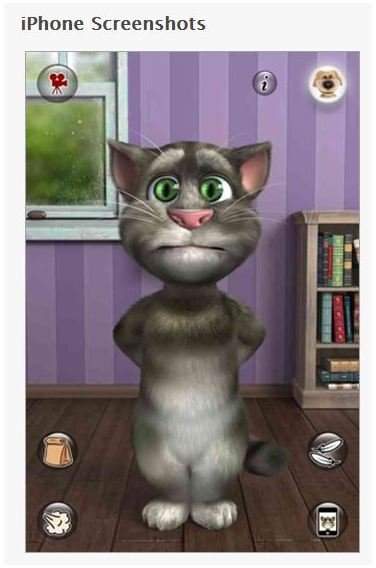 Talking Tom Cat 2 is a virtual talking cat that lives inside your iPhone and repeats what you say in a chipmunk sounding voice – even the background noise. You can pet him, poke him, pull his tail, and record all of this to share with your friends on Facebook, YouTube or MMS. Talking Tom Cat 1 was such a success the company decided to produce an updated version of the talking cat that everyone loves to play with.
How Does it Work?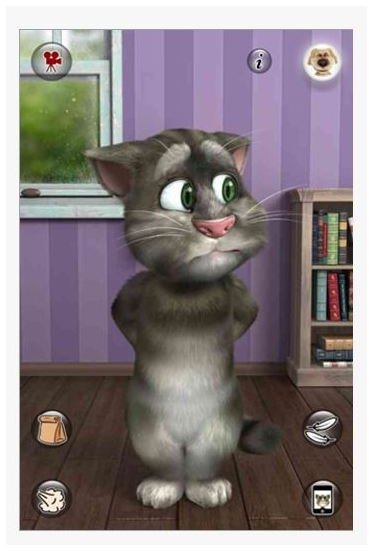 Playing with Tom has never been more fun. This app has most of the same features as the original app, with the added bonus of slapping his face, and having Tom play with the original Tom app, and repeat after himself in a hilarious loop.
Ben the Dog is another new feature in this updated version. Even though he has his own free app that is similar to Tom's, he has generously been featured in this app. In a hilarious stunt, if you press the bag button, Ben will pop a paper bag and Tom will go flying up to the chandelier in a frightened panic that will be sure to make you laugh. If you press the feathers button you can see Ben hit Tom with a pillow, but it will ask you if you want an upgrade pack for an additional $0.99. Another hysterical feature is if you press the bottom left wind button, Ben will pass gas and Tom will hold his nose in disgust. Not something that would appeal to everyone, but if you love toilet humor or you're getting this iPhone app for the kids then this will be a favorite action in no time.
The game is extremely simple. My son was able to navigate around this app without any assistance. All of the actions that you can perform on Tom were very easy for a four year old to figure out on his own.
How are the Graphics?
Talking Tom's graphics are one of the best out there. With a simple interface and top quality animations this game, along with all of the talking friends collection, gives its rivals a run for their money. Similar apps fall short in comparison of the graphics because they do not seem as realistic as Tom and his friends.
How Does it Stand up to the First?
So how does it compare to the original Talking Tom Cat? Well since Tom is now a celebrity with over 390,000 Facebook likes he has moved up from the alley and into a swanky cool apartment. I would say this upgraded version of Talking Tom is excellent. In the new update you now have the ability to customize Tom's appearance, change his accessories and make him look like a policeman or a pirate. This is great news to my son who loves that he can now dress Tom up. Also with Ben the dog teasing him, and being able to see Tom play with the original Tom, I would say this interactive virtual cat is definitely worth the download.
Changes I Would like to See
One of the features that I would like to see added in the next upgrade would be, being able to change the pitch of Tom's voice. Although the chipmunk sounding voice is adorable it would be fun to try other voices, maybe something a bit deeper. After reading some online reviews, customers suggested they would like to see Tom have a sister or be able to change Tom into a girl cat. This could be a great addition to the game. Having the abillity to see Tom interact with his sister would make for great entertainment.
The only room for improvement I could find would be to not charge for additional actions or charge one price as a whole. It costs $0.99 for an upgrade package that only provides two extra actions. Although this is a free app, two extras do not seem worth the money. There are only a handful of things that you can do with Tom anyway. They could add extras to the free version and charge $0.99 as a full price, or add more than two extras and charge $0.99. That would make more sense to me.
Overall Rating (5 out of 5)
Overall, This is a great app! The graphics are amazing and the new features make it even more fun than the first one. As a Talking Tom Cat 1 fan, I was thoroughly impressed with the new features. My kids love it and when they are happy, so am I.
I would recommend downloading the Talking Tom Cat 2 iPhone app to any fans of talking iPhone apps, and anybody who is looking for a free way to entertain their kids – I promise that you will enjoy it just as much.
References
Talking Tom Cat 2 -https://itunes.apple.com/us/app/talking-tom-cat-2/id421997825?mt=8