iPhone App Review: The Dealmap
Being able to find information for anyplace in the world is one of the great things about the Internet. Yet, there are times when what you most need is local information. It doesn't matter to me if I can get a great deal on something two hundred miles from my house, it matters if I can get it across the street. The Dealmap is an iPhone app like Groupon, which lets you find deals using the iPhone near your home, rather than across the country.
How It Works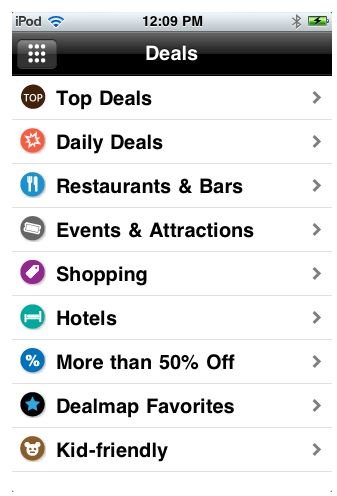 When you start The Dealmap app, you'll be taken to the nearby deals. This gives you a list of nearby stores with deals, most of them within a couple of miles. Each of the stores may have multiple deals, and you can go into a second menu to see the list of deals. There is also a map button which will let you see where those stores are.
There is also a system for you to add deals. This is set up very easily with a list of local businesses already in the Dealmap directory. You simply need to enter the deal. In addition there is a leader board for those who have found the most deals, thus encouraging more user interaction.
Does The Dealmap Work?
I live in a midsized town and often social apps find little or no activity. This app found three deals in the local area; all national companies including AT&T and KFC. This means that there is likely no one in the immediate area finding deals, but it still gives some value to the app. This means that anyone living in a large city is likely to find a great many deals. In addition, the map aspect of this worked perfectly, showing the exact location of the deals, which would likely be more useful in bigger cities also.
User Interface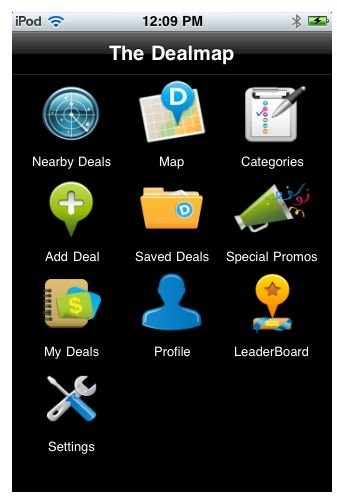 The ease of use of Dealmap is one of its best functions. By having deals listed by store, it limits the amount of unimportant information and makes it easy to find. You can also easily search by category for those areas where there are enough deals that make this necessary.
Finally, and just as importantly, is that the ability to add in deals appears to be very easy. Simply choose the business from a list (or add it if necessary), and fill out a simple form including start and end dates, what the deal is and, if you want, a photo. This hopefully will encourage more people to use this app.
Conclusion (4 out of 5)
There are certainly functions which could be added to this app, and more users will add a lot of functionality to it, but even as it is, this is a very well designed app for iPhone, which deals with some of the weaknesses of other deal finding applications.
(Price: Free) Download The Dealmap here.
Resources
Source: Author's own experience.
Apple iTunes, https://itunes.apple.com/app/the-dealmap/id384635413?mt=8&ls=1
Images, iPhone screen capture taken by author. All images remain the property of the developer.