All-in Pedometer iPhone App Review
All-In Pedometer
These days, fitness and iPhones go hand in hand all thanks to apps like the All-In Pedometer. This unique app tracks workout statistics so that you can see how far you run, how fast you run, and how long you run. However, these aren't the only functions available on this app. You can get an estimate of calories burned and you can even set a specific workout goal. Here is a complete list of features found within the app.
App Features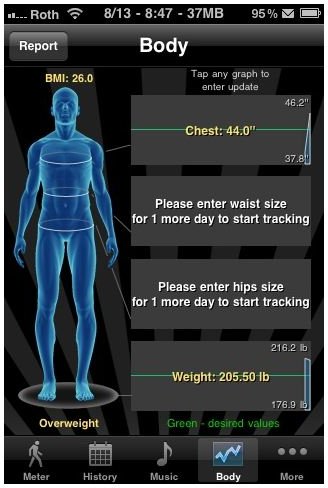 Pedometer that automatically detects walking/running speed - This is very convenient for people who don't want to waste time. However calibration features are also included to allow for more accuracy.
Calculates distance covered, total time spend running/walking, and average speed - You get much of the same information that you would on a treadmill with the convenience of exercising outdoors.
Graphs pace, calories burned, and steps taken - This is a great way to measure how fast you can lose weight.
Adjustable audio pace for use when walking/running - Functions much like a metronome and is a great tool to help you maintain a steady speed.
A daily goal feature that can be set based on calories, distance, or time - This allows your iPhone to function like your very own personal trainer.
Body shape tracker (based on chest, hips, and waist measurement), weight tracker, and BMI tracker - This lets you know if you are making any progress.
Social sharing via Facebook, Twitter, and e-mail - This allows you to share any progress you made with your friends.
iPod music integration - Allows you to listen to your favorite songs while you run. After all, music does elevate mood during a workout.
Things That Can Be Improved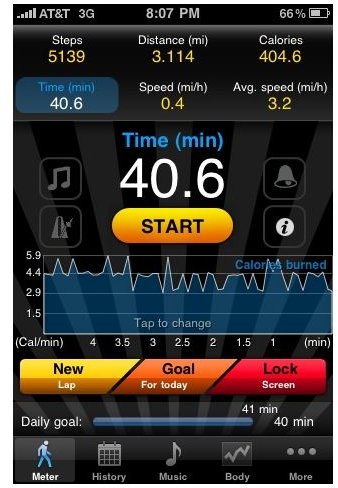 The main screen is cluttered - At first, most people are only concerned with their time and speed during a workout. It would help if the All-In Pedometer didn't clutter steps, distance, calories, speed, and average speed all in one place all at the same time.
Battery power gets drained easily - It seems that this app uses quite a bit of battery power. Some estimate that about a third of the iPhone's battery power is utilized for each hour that a person works out. You may find that you need to recharge your iPhone after a run.
The screen locks after 2 minutes - This is good in one way because you don't have to worry about accidentally closing the app or dialing someone's number during a workout. However, the slider used to unlock the phone is difficult to operate.
The app alarm has only one stage - For example, if you run 5K down a road, you will be notified when you reach half the distance so that you can run back to where you started. Many other apps have multiple stage alarms that you can set at different times, allowing you to cover warm ups, the actual exercise, as well as your cool-down.
Overall
Overall, All-In Pedometer is a great app. Everyone needs a way to meet their fitness goals more easily. The social sharing feature on this app allows you to do that. Furthermore, you can use the same feature to brag to your online buddies about how fit you've become. Another great thing about this app is that it comes with weight loss tips to help get you started.
You may also be interested in the best iPhone pedometer apps and the best iPhone calorie counter apps.
References: