How to Use Apple's iPhone Support Online and Through the Phone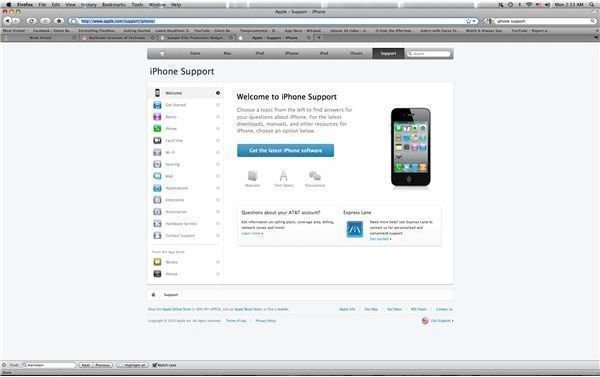 Getting Into iPhone Support
The iPhone is much more than just a phone. Instead, the iPhone has more in common with a mobile computer device that runs lots of different software, connects to the internet through a 3G network or Wi-Fi connection, can make calls, send text messages, and do a laundry list of different things. Though this series of options offers a great many features that are useful, it also brings with it a lot of possible problems that can occur. The iPhone support system is in place to help out with any problems that can occur or even just to help you get to know the technology, and has a depth that has never existed before in mobile technology. The amount of iPhone support that is available can be a little overwhelming, so here are some tips for how to use the iPhone support service more effectively.
iPhone Support Website
Though most people think of an Apple help number or customer service number for iPhone support, the actual iPhone support begins on the Apple website. Here the iPhone support section will be broken down into sections for Phone, FaceTime, Wi-Fi, and other areas that you can select from the left hand panel. Here the iPhone support section will have fairly detailed How To and Troubleshooting guides for different problems that could arise with your iPhone, and you can search through here if you want to try to find your specific problem. This is not only going to be the place to go to find iPhone support if there are problems, but you will also be able to find information about how to develop for the iPhone, different accessories that are available for the iPhone, and the contact information and iPhone customer service number that you will use for the actual technical iPhone support. This web service for iPhone support should be the first step when trying to either find out information relevant to your iPhone, or to fix a problem that has come up.
iPhone Support Website from Apple
Contact Support
The most important form of iPhone support is what Apple terms Contact Support. This iPhone support includes a direct contact between the user and Apple. To begin the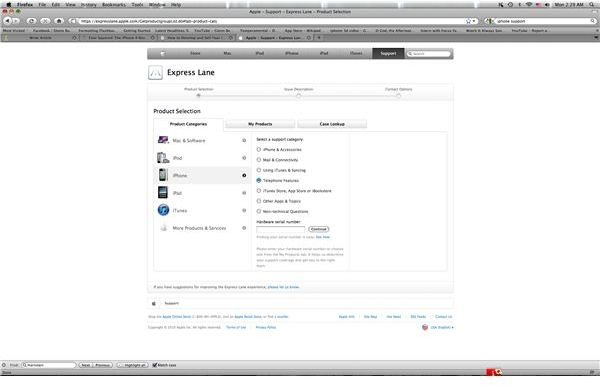 iPhone support process with Contact Support you should go to the Contact Support page at the Apple website.
To start out you have a few options, the top option being Apple Express Lane service. Here you go through a streamlined process where you indicate the product that you will need support for, which in this case is your iPhone. You will then select from a generic problem that best fits yours and you will then enter your iPhone's serial number, so it is important to have that at hand. If you have already worked with Apple's website, maybe you've purchased products from that Apple website, then you can then enter in with your Apple ID to deal with products that are already registered. What this essentially does is report your issue to Apple and your need for iPhone support and then you will leave information to be contacted.
The more conventional form of iPhone support is through the Apple help number, or technical support number. Here you can just call in, provide your Apple information, and see what iPhone support options you have. From here you will make the arrangements to either send your phone in for repair, go into an Apple Store location, or make changes yourself.
Apple iPhone Customer Service Number: 1-800-APL-CARE (1-800-275-2273)
Before actually calling the iPhone customer service number you may want to check the status of your iPhone specifically. This means that you want to see if you are still under warranty, or if you have AppleCare for iPhone support. On the main Contact Support page you can enter in your iPhone serial number to check the status of your iPhone.