Increase iPhone Battery Life - 16 Ways to Improve iPhone Battery Life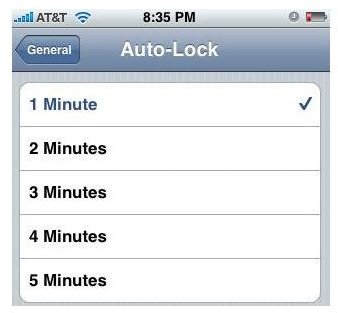 1. Use Auto-Lock
iPhones are set to lock automatically after a certain amount of time. When the Auto-Lock feature of the iPhone is activated, the phone
goes to sleep. Setting the phone to sleep after 1 minute of use will ensure that minimum iPhone battery life is wasted. The Auto-Lock/sleep feature of the iPhone is found in General -> Auto-Lock.
2. Turn on Auto-Brightness
iPhones come with a built-in automatic brightness adjuster, which adjusts the screen brightness based on how much ambient light is present. Turn Auto-Brightness on from Settings -> Brightness, and you will save some iPhone battery life because in bright conditions, the screen will be dimmer and less power will be consumed.
3. Turn Off Vibration, and Don't Play Rich Graphic Games
A lot of games have very frequent vibrations, and they can drain your iPhone battery life very quickly. If you can afford to play phone games without vibrations, you can turn the vibrations off, and save some more battery life. Also, games like Modern Combat 2 and other rich graphic games drain the battery very rapidly. So if you are running low on battery, don't play these demanding games.
4. Check Email Less Often
The less the iPhone is used, the less battery will be used. Unless you are expecting a very important e-mail, set your iPhone to check your e-mail account less often. Set it to check every hour, or check it manually. To change the settings of e-mail, go to Settings then into Mail, Contacts, Calendars and select Fetch New Data.
5. Protect From Heat
Heat discharges the battery very quickly. So be careful not to leave your iPhone in sunlight, in your car parked in the sun, or beside a heater and you can extend iPhone battery life.
6. Turn Off Equalizer
Turn off the equalizer if you can still enjoy the music without it, as the equalizer can decrease your iPhone battery life. To turn it off, go to Settings-> iPod ->EQ.
7. Turn Off 3G
3G gives you fast access to the Internet and e-mail, but it requires more power to get the higher quality calls and faster data rates. It's irritating to use a slow network connection, but if you need to use your iPhone for long periods, turn off 3G and use EDGE. To turn 3G off, go to Settings then into General then Network.
8. Keep Wi-Fi Off
Wi-Fi is another type of network the iPhone can connect to. It is faster than 3G but it only works where there is a hotspot. Keeping Wi-Fi turned on at all times, hoping for a hotspot to be suddenly detected by the phone is a definite way to drain your iPhone's battery life quicker. So, unless you are using Wi-Fi right now, keep it turned off by going to Settings -> Wi-Fi.
9. Turn Bluetooth Off
Bluetooth has many benefits but it is particularly useful when we want to go hands-free with wireless earpieces or headsets. But transmitting voice wirelessly through Bluetooth takes battery, and leaving it on to receive incoming calls at all times also requires power. So keep Bluetooth turned off except when you're using it. You can turn it off from Settings -> General.
10. Turn Off Location Services
Built-in GPS is no doubt one of the best features of the iPhone 3G. The GPS helps you find anything, anywhere. It tells you where you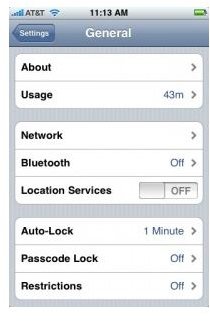 are, gives you driving directions, and helps you find tourist places, restaurants, airports etc; but as any phone feature requires battery to work, GPS also needs battery power to work. So, if you are not using GPS, turn the iPhone's Location Services off, and save that iPhone battery life. To turn Location Services off, go to Settings -> General.
11. Reduce Default Screen Brightness
You can adjust the default brightness of your iPhone screen. The brighter the screen is, the more power it requires. So, go to Settings -> Brightness and lower the default screen brightness.
12. Be Updated
Check for latest software for your iPhone, as old software versions may not have as good performance and consume battery faster. You can check for available updates for your phone by connecting it to the computer, and going in the Summary Tab of the iTunes application. You will see there a button called "Check for updates". Click this button and the latest software will be downloaded on your iPhone in a few minutes.
13. Turn Off Sound Effects
You can save a lot of iPhone battery life by turning sound effects off. Sound effects are warning alert sounds, button press beeps, etc. You can turn off the sound effects by going to Settings -> General and Sound Effects.
14. Drain Battery Completely
At least twice a month completely finish up the battery of your iPhone. The lower you get the battery level, the better. Once the battery is at the lowest level or completely empty, recharge it fully. This will sort of reset the battery, and it will regain its maximum capacity. The more you recharge the battery, without letting it empty completely, the lower its life will be. So, empty the battery twice a month, and recharge fully to get better battery life.
15. Turn SSH Off
The SSH service runs in the background (means you won't see it running) and drains the battery. The purpose of SSH is to detect any network activity, but it can be turned off to extend iPhone battery life. To turn it off, use the default SSH icon, or go into the BossPrefs application.
16. Turn Your iPhone Off
Turn your iPhone off, when you do not need it. If you are driving in heavy traffic, or attending an office meeting for an hour or more, turn the phone off. This way also you can save your phone's battery (actually, prevent it from being wasted, when not needed).
Conclusion
These tips on iPhone battery life are very useful, especially when you're running very low on battery or traveling and need extended battery life on your iPhone. With these tips you can save power as much as possible and use your phone for a longer time.
Image Credit:appleinsider.com